Coroner identifies cause of death of stunt motorcyclist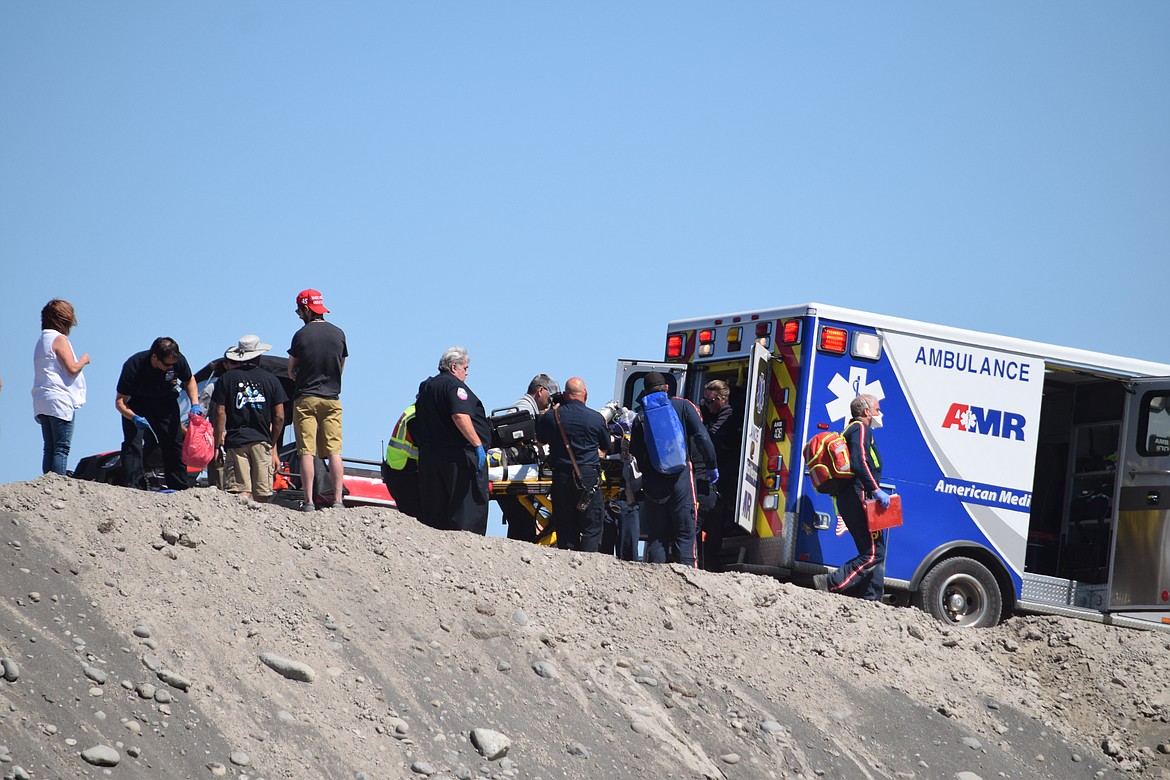 First responders lift motorcyclist and stunt racer Alex Harvill into an ambulance Thursday morning after Harvill crashed during a landing while attempting to set a motorcycle jump record for the Guinness Book of World Records. He later died from his injuries.
Charles H. Featherstone/Columbia Basin Herald
by
CHARLES H. FEATHERSTONE
Staff Writer
|
June 21, 2021 1:00 AM
MOSES LAKE — Daredevil motorcycle jumper and motocross racer Alex Harvill died from "blunt force trauma to the torso," according to the results of an autopsy done by Grant County Coroner Craig Morrison.
In a statement issued on a Grant County Sheriff's Office social media page, Morrison ruled Harvill's death was "accidental."
Harvill, 28, died as a result of injuries suffered during a practice jump Thursday on the warm-up day for the Moses Lake Airshow at the Grant County International Airport. Harvill was attempting to break the Guinness World Records' longest motorcycle jump from a moveable launching ramp to a dirt landing ramp, which is 351 feet.
In a statement posted on its social media account, Moses Lake Airshow organizers expressed "deepest sympathies" to Harvill's family. A previous posting said air show organizers were going to share Thursday proceeds with Harvill's family.
Harvill is survived by his wife Jessica and their two children — Willis, 5, and Watson, 1 month. Friends have established the Harvill Family Support Fund at the GoFundMe website to help cover family expenses since "Alex was the sole provider for the family." As of Sunday afternoon, $82,240 was raised, nearing the fund's $100,000 goal, according to the website.
For more information, or to donate, go to https://gofund.me/f753ee0b.
Charles H. Featherstone can be reached at cfeatherstone@columbiabasinherald.com.
Recent Headlines
---