'The Places You'll Go': Moses Lake High School honors 2021 PALS Club graduates on stage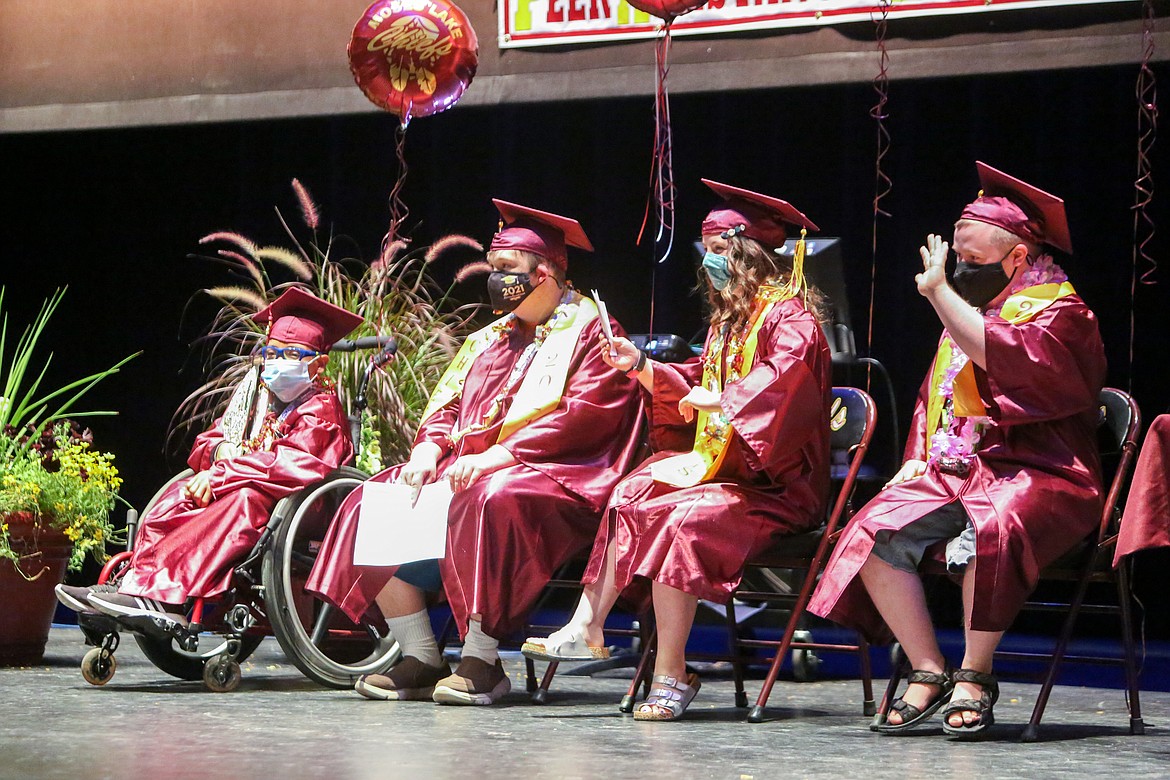 Left to right, Moses Lake High School graduates Osvaldo Arroyo, Jared Grant, Kailee Truman and Brogin Mathenia greet family and friends in the crowd at the high school theater on Wednesday afternoon.
Casey McCarthy/Columbia Basin Herald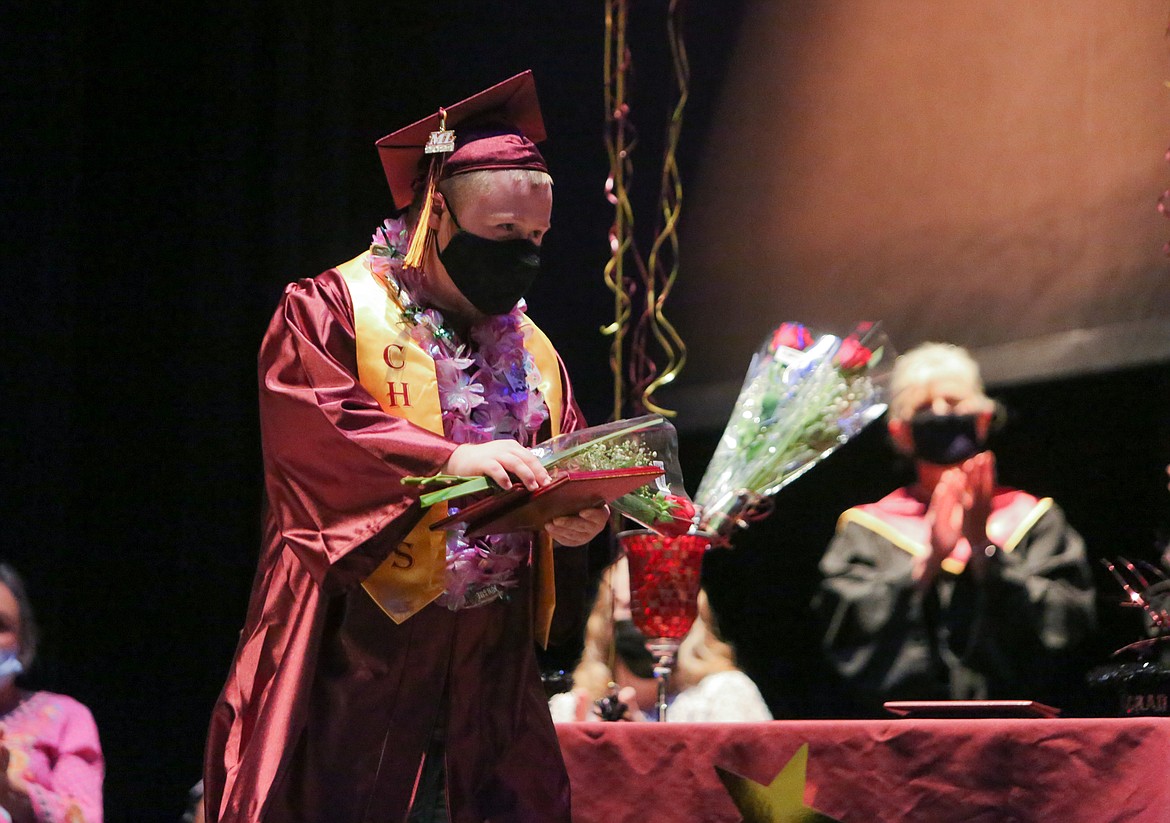 Moses Lake High School 2021 graduate Brogin Mathenia walks across the theater stage after receiving a rose and his diploma on Wednesday afternoon.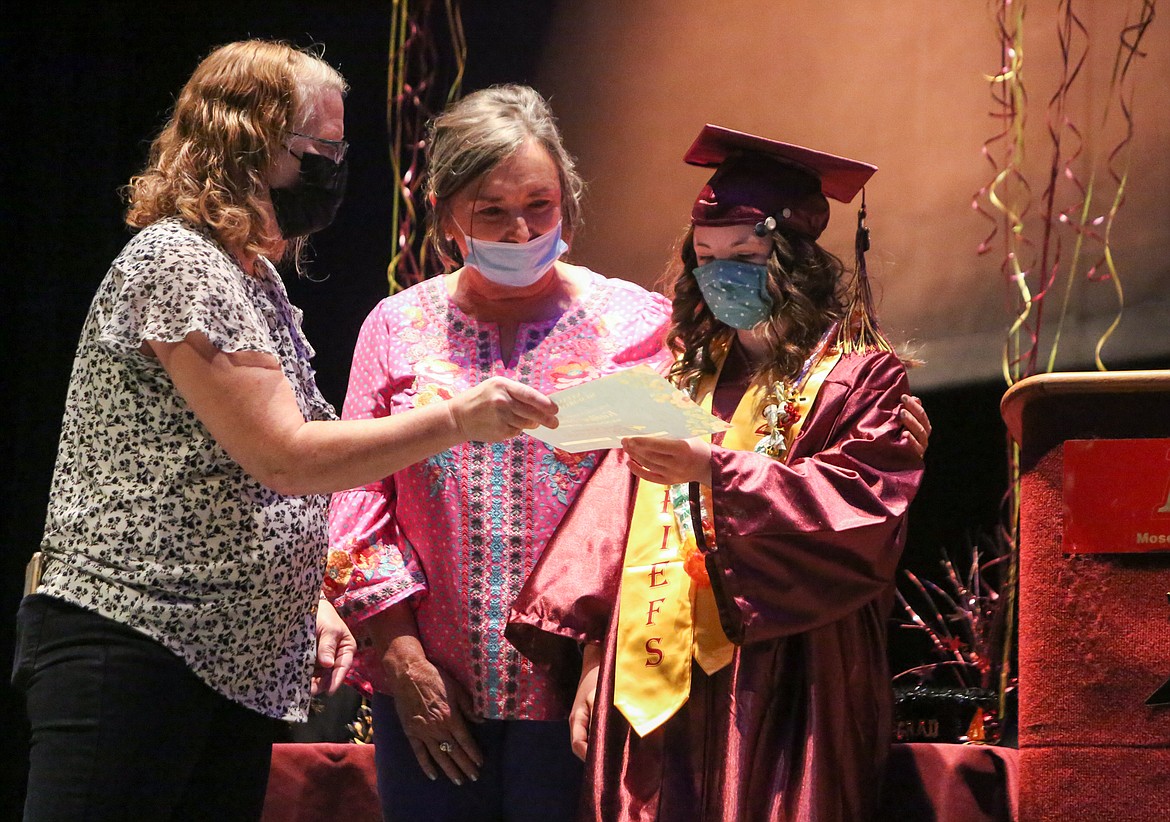 Left to right, Denise Ketola and Pam Hare with the Down Syndrome Society of Grant County award Kailee Truman the Natasha Hastings Memorial scholarship fund at the graduation ceremony on Wednesday afternoon at Moses Lake High School.
Previous
Next
by
CASEY MCCARTHY
Staff Writer
|
June 17, 2021 1:07 AM
Moses Lake High School had a graduation celebration Wednesday afternoon for four special needs students, capping their time with the high school.
The PALS, Peer Assistance and Leadership Service, Club students were honored on stage in front of friends and family. Kailee Truman, Brogin Mathenia, Osvaldo "Ozzie" Arroyo and Jared Grant were the graduating "super seniors."
Life Skills teachers and paraeducators opened the ceremony with a brief dance intro before a welcoming speech from MLHS Assistant Principal Kay White. Moses Lake School board member Vickey Melcher read Dr. Seuss' book "Oh, the Places You'll Go" before students were introduced one-by-one by teachers from the department.
A few students shared messages with family and friends before receiving a rose and their diploma. The Down Syndrome Society of Grant County (DSSGC) presented Truman with the Natasha Hastings Memorial scholarship, which awards funds not just for college, but for job training, camps, therapies or any other areas of financial assistance needed.
DSSGC President Denise Ketola said Truman wants to further herself and be involved in the community.
"Going to Big Bend (Community College), she'll be able to socialize more, too, going to their dances and any of their community events a lot easier than if she wasn't in school," Ketola said.
After the changing of the tassel and a look at the senior slideshow on the big screen, students and staff celebrated on stage with dancing to the song "Celebration" to cap off the afternoon.
Judi Truman, Life Skills teacher at MLHS and parent of Truman, said her daughter took part in the MLHS graduation parade ceremony on Friday afternoon alongside her brother Jayden Truman.
But, Judi Truman said Wednesday's ceremony is very individualized and special for all involved.
"These kids spend more than four years, oftentimes in high school they spend six, sometimes seven, so this is like a sendoff," she said. "We prepare them for the world as best we can and make them as independent as possible so they can live as independently as possible."
Judi Truman said it's always bittersweet saying goodbye to students as they leave the program, but it's rewarding being a part of that transition process. She said she's excited for her daughter to get to connect with a new community at Big Bend Community College next year.
She said it's very important for Kailee Truman to be social and it's one of her biggest strengths. She also said she's hoping her daughter will be able to make new friends and shine her light on the Big Bend community like she has with the high school these past years.
Jill Allyn, a Life Skills teacher at MLHS and one of the leads in setting up the graduation ceremony, said it was a team effort putting everything together.
Allyn said it's been a year of a lot of ups and downs, with some students coming and going due to family situations. But, the staff made it work.
"We all came together and teamed up, you take this group and we'll take that group and make sure everyone's covered, socially and emotionally first, and academically second," Allyn said.
Allyn said the staff could have just stuck with the typical graduation parade for their students, but wanted something special for these families who go through so much. She said it takes a village at times to help raise these wonderful individuals and it is something that should be celebrated.
"Yes, it's about the graduates, but it's about the families as well," Allyn said. "They need a true ending to all this hard work."
Allyn also said the lessons learned from traversing this school year will be beneficial moving forward, as both staff and students picked up a lot of new skills overcoming this year's hurdles. She said there were some good things that came out of the pandemic that can hopefully be carried forward.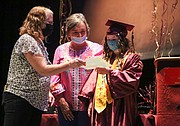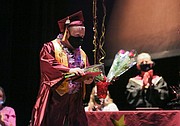 ---