Wilson Creek seniors 'just kept swimming' through tough year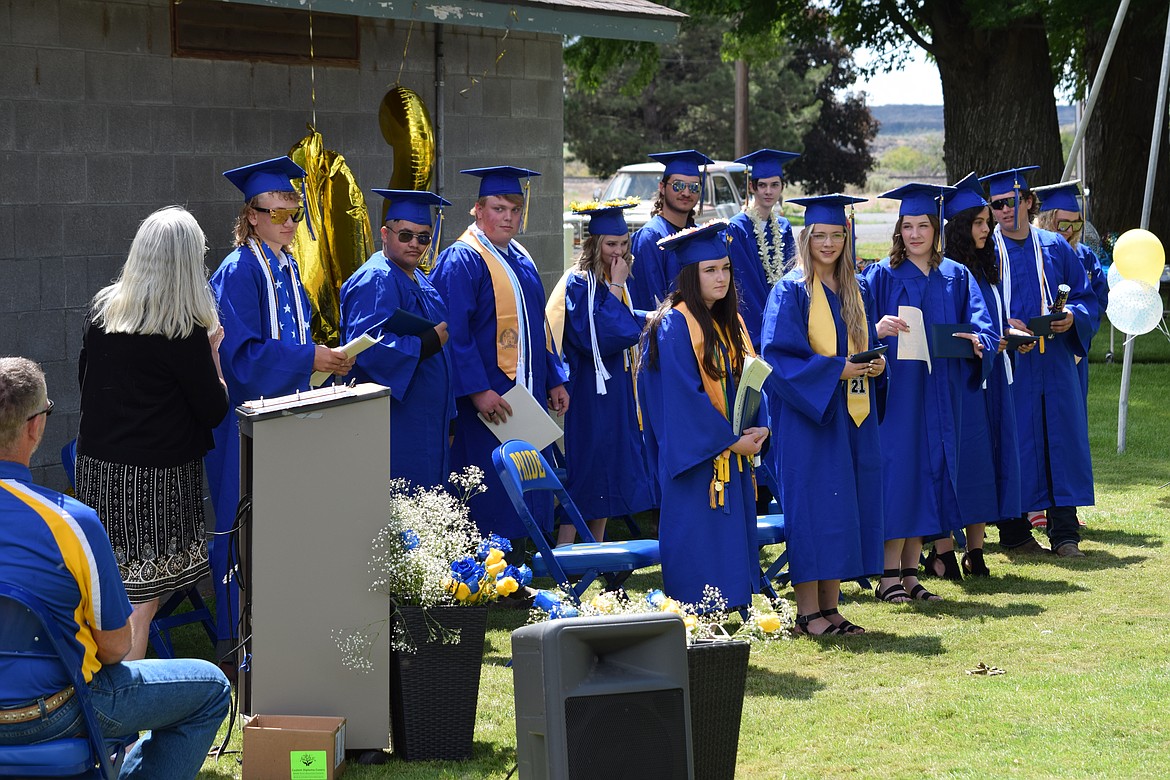 The members of the Wilson Creek High School graduating class of 2021 — all 12 of them — at the school's commencement exercise in Wilson Creek Park on Saturday, June 12.
Charles H. Featherstone/Columbia Basin Herald
by
CHARLES H. FEATHERSTONE
Staff Writer
|
June 14, 2021 1:05 AM
WILSON CREEK — If there was a theme to Wilson Creek High School's 2021 graduation ceremony, it was persistence.
"We were not always the easiest class, or the best, but we're still here," said salutatorian Anissa Odorizzi during her short commencement address Saturday morning during the ceremony in Wilson Creek City Park.
In her commencement speech, valedictorian Grace Bise advised her fellow students to adapt, be persistent and not give up, closing with a short reminder on how to make it through tough times from the movie "Finding Dory."
"Just keep swimming," Bise said.
It was a sentiment Wilson Creek High School principal, and school district superintendent, Laura Christian, echoed.
"It's been a long year and half, and these kids have risen," Christian said after a long, deep sigh. "Some of them struggled a lot. Which is the common theme this year in all schools."
The great struggle was COVID-19, and dealing with the isolation that followed the school closures, Christian said. Even among her own grandchildren, Christian said she's seen some kids thrive in the pandemic, while others "just survived."
In fact, she noted some of these students waited until the last minute to get the needed work done to actually graduate.
"But, we have 12 seniors this year and they are all graduating," Christian added.
The 12 seniors — Bise, Odorizzi, Payton Burkhart, Marci Dowers, Jenny Fernandez, John Hagood, Abigail Hinen, Clint Hochstetter, Jeremiah Justice, Seth Price, Aaron Puente, Landon Ribail — are the largest class to graduate from the Wilson Creek High School in a long time.
"It's the biggest class since I've been here," Christian said. "The junior class is probably about the same size, and the eighth and ninth grade classes are big, too."
Bise said studying in such a small school — the entire Wilson Creek School District reported a total of 147 K-12 students enrolled for the 2020-21 school year — means classmates quickly become family members.
"This is about all of us," she said.
"It was tough, but we got through it," Hinen said, after the ceremony of her senior year. "It hit us kind of hard, and it was weird not seeing everybody all the time."
"It's just a big family to me," Hinen said of her classmates. "You do everything with your whole class. You literally grow up like you're siblings, you fight like you're siblings, you act like you're siblings."
"So, I have a feeling we'll all be in touch the rest of our lives. Because we're so close," she said.
Scott Mortimer, who has taught vocational agriculture at the Wilson Creek High School for the last 39 years, reminded students and family members of the many changes over the last several decades, noting that while flying cars and real jet packs are not possible, some people still prefer riding horses.
"I shudder to think about some of the changes these 12 will see," he said.
Among those changes — this year was Mortimer's last in Wilson Creek. He is set to start teaching agriculture in the Moses Lake School District this fall with an eye toward helping to found the program at the as-yet unnamed new high school under construction.
"The Moses Lake School District has much deeper pockets than we do, and after 40 years, I guess he wanted a different challenge," Christian said.
As for the future, most of these graduates are staying close and either working or going to school. Hinen said she plans to take a year off and train horses while she figures out what she wants to do, though she's thinking about getting a business degree at Big Bend Community College.
Landon Ribail is going to study at Northwest Lineman College in Meridian, Idaho. After he completes the three-month course, he's planning on coming back, helping out on his family's 600-head cattle ranch, and hopes to work for the Grant County Public Utility District as a lineman.
"I'm just very thankful for all the things that everyone has done for me," he said. "This moment means a lot."
More 2021 Wilson Creek High School graduation photos may be found here.
---