Moses Lake wrestler Hunter White signs with University of Saint Mary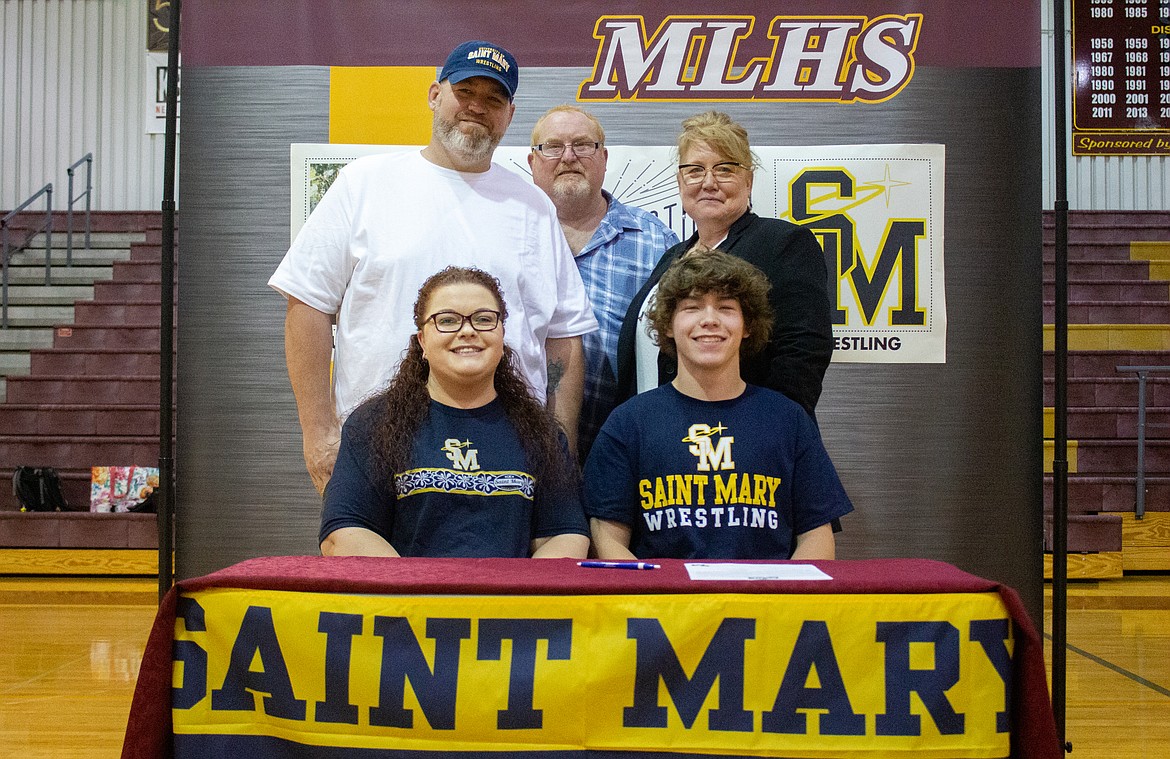 Moses Lake High School's Hunter White, front, is joined by parents, Allison and Jason White, and grandparents, Melisa and Rod White, as he signs with the University of Saint Mary to continue his wrestling career on Thursday afternoon at MLHS.
Casey McCarthy/Columbia Basin Herald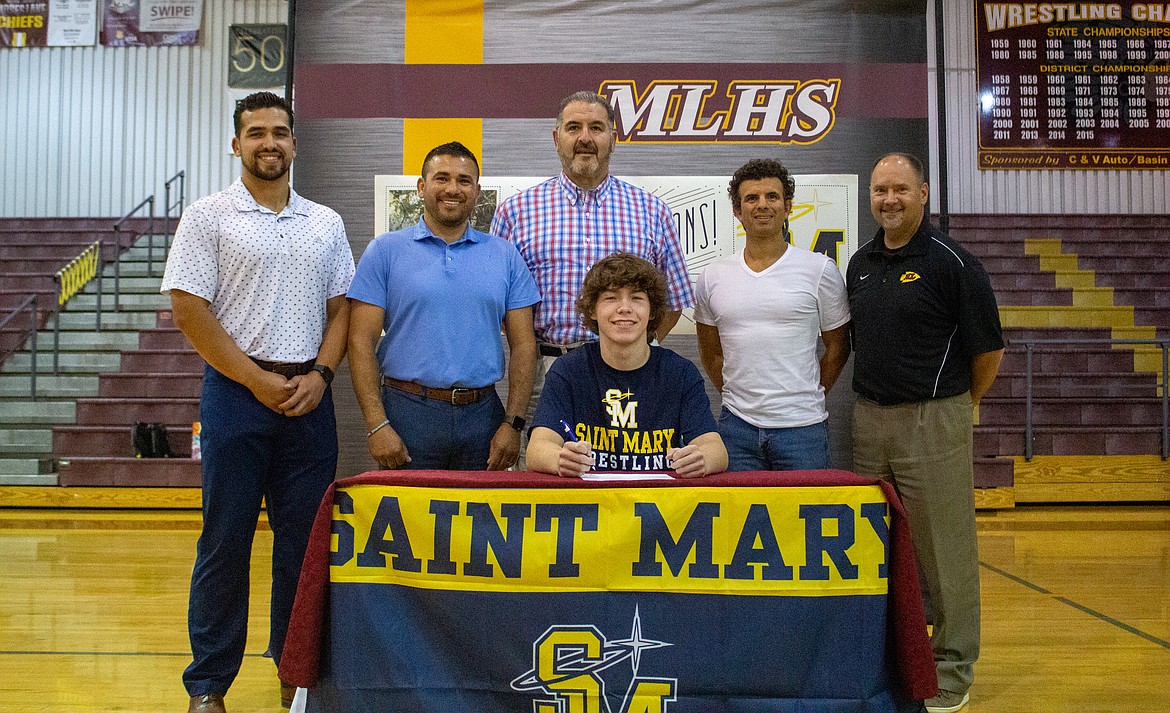 Left to right, Moses Lake wrestling coaches Jordan Lacelle, Ariel Garza, Jim Nielsen, Jaime Garza and Moses Lake Athletic Director Loren Sandhop join senior Hunter White as he signs with University of Saint Mary to continue his wrestling career on Thursday.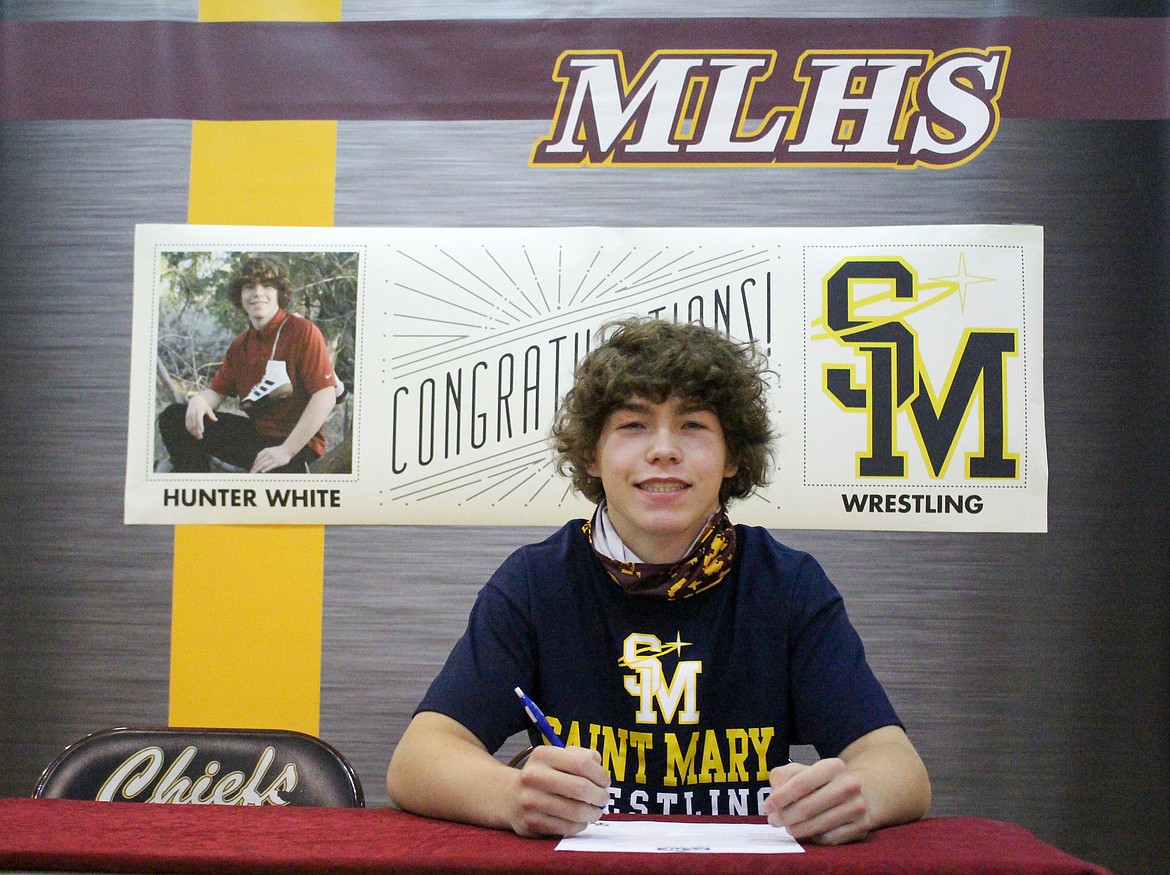 Moses Lake High School senior Hunter White signed with University of Saint Mary to continue his wrestling career on Thursday afternoon at MLHS.
Previous
Next
by
CASEY MCCARTHY
Staff Writer
|
June 11, 2021 1:00 AM
Moses Lake High School senior Hunter White signed with The University of Saint Mary in Leavenworth, Kansas, Thursday afternoon to continue his wrestling career.
White said he was a little anxious the night before signing and tried to keep it off his mind as best he could.
"But, it felt good, actually, and it felt like the right thing to do," White said. "It felt like a weight lifted off my shoulders, all the hard work I've put in paying off."
White said he first reached out to Saint Mary after seeing a post on social media from the coach last summer. After talking with Moses Lake assistant wrestling coach Jim Nielsen, who said he'd heard good things about the Saint Mary coach and program, White said it seemed like the best place to continue his athletic career.
Since he was 7 years old, White said, wrestling has been "a way of life" and helped keep him on track and show how hard he's willing to work.
White said the MLHS program's tradition speaks for itself.
"You've got to meet the goals and expectations, and it's setting me up for life to reach those goals," White said.
White said it's difficult not getting a shot at a state title, after having placed fourth as a sophomore and fifth as a junior.
White and many other Moses Lake wrestlers spent the summer wrestling in garages or traveling to Arizona, Nevada and Iowa for tournaments.
He said it's going to be a big change moving to Kansas for college, but still feels like it's the best decision for him. White is planning to pursue a doctorate in physical therapy and added that Saint Mary's program allows him 100% acceptance into its doctorate program if he keeps up high enough grades within his major.
White said that was a big factor in the decision to go there, possibly even giving him an extra season of wrestling.
"I definitely want to make varsity my first year even as a freshman, but I think a good goal will be to connect with people, make varsity, make the lineup," White said.
Moses Lake head coach Jaime Garza said it's always exciting seeing one of his wrestlers move on to the next level and represent the school and the community.
"Hunter has done an excellent job representing our school, and I look forward to him representing Moses Lake and our style of wrestling and have that opportunity to continue to learn from different coaches and different wrestlers," Garza said.
He added he tips his cap to White's parents for supporting him in reaching these heights as a wrestler and young man.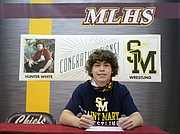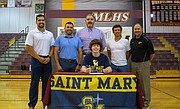 ---