Preserving opportunity: Outdoor recreation through the eyes of a game warden, Part 2
by
SAM FLETCHER
Staff Writer
|
June 10, 2021 1:00 AM
Editor's note: This story picks up from last week's installment. Sgt. Chris Busching, who covers all of Grant, Adams and Douglas counties, had checked on a fisherman with three felony warrants and a first-degree suspended driver's license. The man was not taken into custody due to COVID-19 restrictions limiting jail occupancy. Go here or pick up the June 3 edition for Part 1.
MOSES LAKE — Sgt. Chris Busching of the Washington Department of Fish & Wildlife police stops next at the boulders lined up before the Crab Creek Overlook. Across the way, in the middle of the sagebrush, is a car.
He examines the trail the car took to get out there and the demolished shrub-steppe along the way.
"People think, 'We're in eastern Washington. We can drive anywhere. There's so much sagebrush,'" he said. "Well, there's only so much of it, and it's wildlife habitat."
Busching gets out and introduces himself to the campers.
Turns out, the couple got a ticket for being out there yesterday. Their car is broken down; they need a jump.
To get them out, Busching must drive his rig through the wildlife area and damage it further. There was a trail already, the driver said, implying people have done it before.
They put the boulders there to discourage that, Busching explains.
With the car's busted alternator, Busching must jump and help push it several times to get back on the road, deepening the tracks further.
The next person will likely use that as an excuse for why they are out there, Busching said.
"That's how gates get locked and places get shut down," he said.
Such land issues – leaving permanent environmental ramifications – is a big thing Busching runs into, he said. A lot of people also light off fireworks or have fires around nothing but bone-dry sagebrush.
Dumped or stolen vehicles is another big problem out here, he said.
Busching is in his 10th year with the Department of Fish & Wildlife, he said. Initially from Boston, he got in a lot of trouble growing up and went to live with his grandparents in Brewster when he was a junior in high school.
After some ride-alongs with the Okanogan County Sheriff's office, he studied criminal justice in college.
Busching's a bit of an adrenaline junkie, he said. The job tends to fulfill that.
Plus, it's a stable career with a diverse schedule and allows officers to retire young, he said.
Toward the end of the gravel road, overlooking Potholes Reservoir now, another group of campers is set up with a car offroad around the boulders. Again, momentary thoughtlessness leaving permanent scars.
"A lot of people come out here to see wildlife and to see nature, and with all the cities being built, pushing animals, taking up land where it was once habitat, there's just less animals," Busching said. "I want to make sure that there's going to be animals out there for my kids and my grandkids."
The campers have the same excuses as those before. Didn't read the sign.
While it is obvious they weren't supposed to drive straight through sagebrush between two narrow boulders the way they did, they "go offroading all the time," one of them says.
Further, there were tracks there already – from others breaking the rules.
The campers moved their car and put the boulders back where they belong. Next patrol, different campers will have similar excuses, he said.
Busching will correct them too, and the cycle continues.
Sam Fletcher can be reached at sfletcher@columbiabasinherald.com.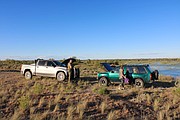 Recent Headlines
---