Moses Lake boys triumph over Ephrata in dual, 60-24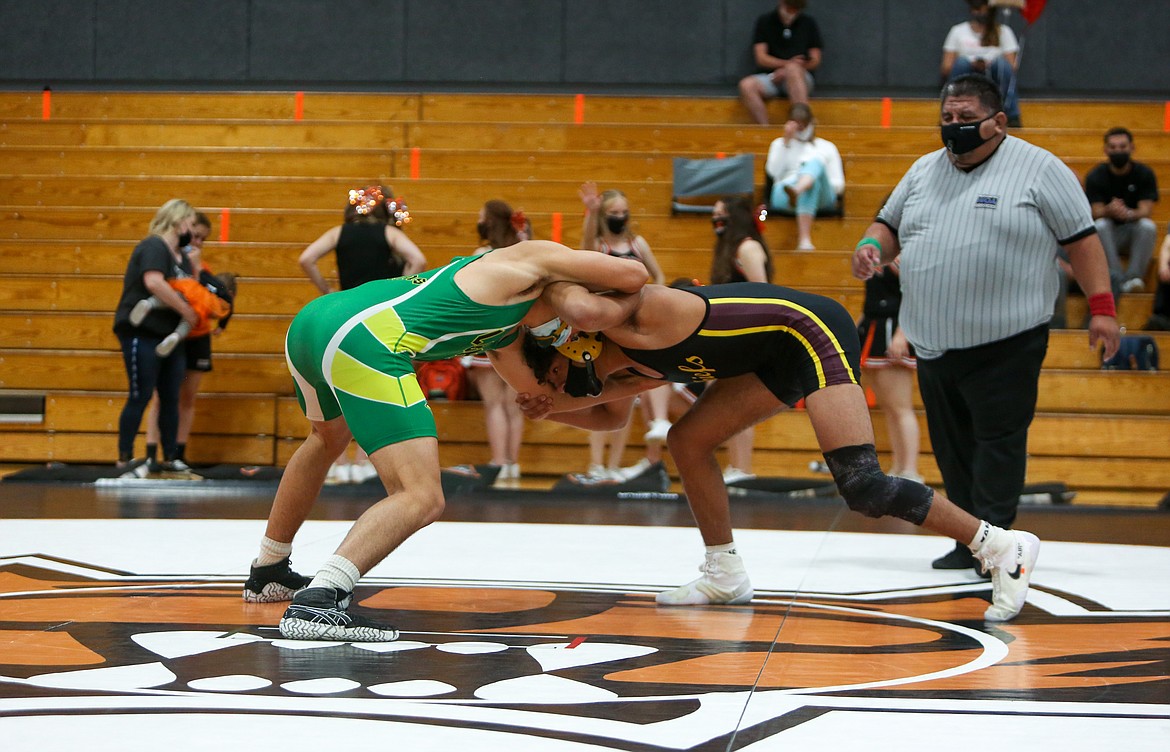 Moses Lake senior Maximus Zamora locks in with his opponent from Liberty Bell High School in an exhibition matchup Tuesday at Ephrata High School.
Casey McCarthy/Columbia Basin Herald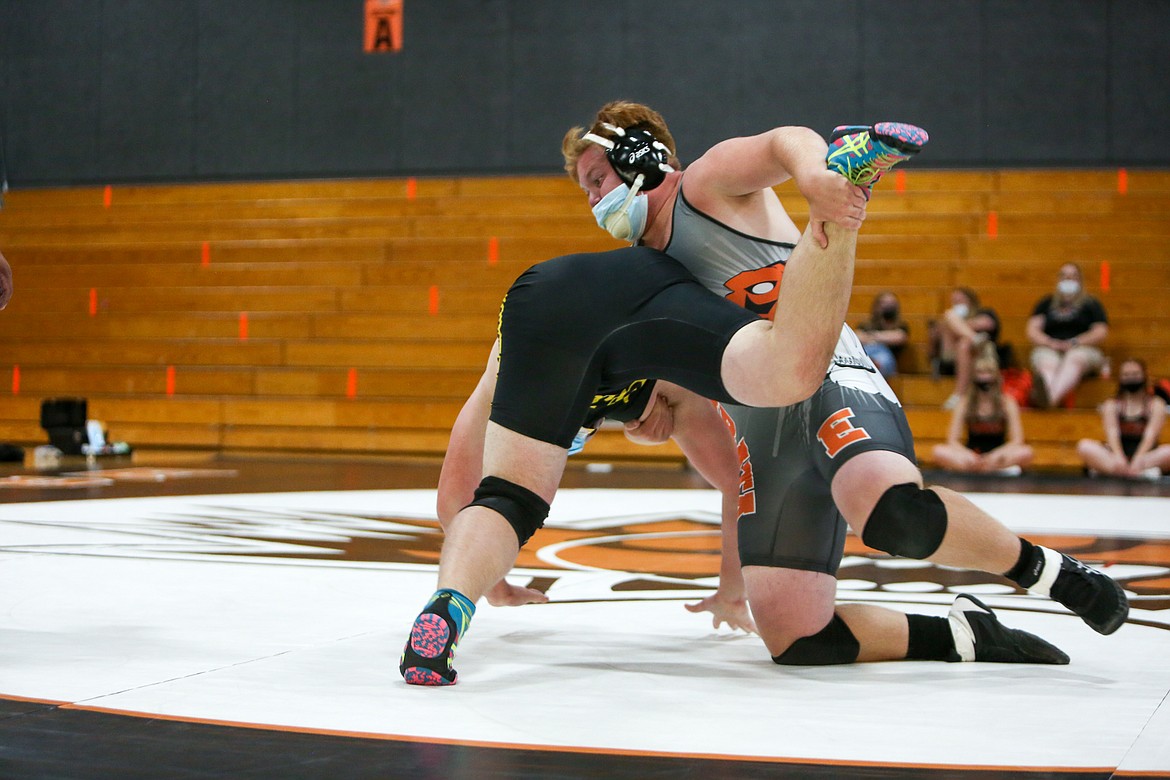 Ephrata High School senior Matthew Keyser struggles to flip Joey Freidig of Moses Lake to the mat Tuesday.
Previous
Next
by
CASEY MCCARTHY
Staff Writer
|
June 10, 2021 1:00 AM
EPHRATA — The Ephrata High School wrestling team hosted Moses Lake High School wrestlers and a few from other schools for a dual meet Tuesday evening.
Moses Lake won against the Ephrata Tigers, 60-24. Moses Lake senior Maximus Zamora, at 182 pounds, started the meet with a forfeit. At 220, Ephrata senior Matthew Keyser defeated Joey Freidig. Saul Villa, 285, took a comeback win over Lucas Tucker.
Zander Boyd, William Flynn and Walker Fulk picked up forfeit wins for the Tigers at 106, 113 and 120 respectively. At 126, Moses Lake senior Jonathan Tanguma took down Ephrata's Josue Sanchez with a fall in the first round. Dayton Regan of Moses Lake picked up a forfeit win at 132.
In a hard-fought bout, Moses Lake's Derek Grubb came out on top over Nelson Barragan at 138 pounds. Hunter White took down Ephrata senior Kelvin Sager at 145 in the first round. Moses Lake's Camron Regan defeated Hudson Sager at 152 pounds. Moses Lake's Jayden Adame faced off with an opponent from Liberty Bell High School at 160 pounds.
Moses Lake senior Cruz Vasquez wrapped up the event with a victory over Kaden Hallatt at 170 pounds. Both sides finished off the evening with some exhibition duals with high school girls wrestlers picking up some exhibitions as well.
Ephrata senior Kelvin Sager talked about his final season with the Tigers. Sager said it's been nice to have anything at all this year.
"It's just been, let's try to make this as normal as possible, get as many matches in, do what needs to be done, I guess," Sager said.
Having already graduated last Friday, Sager said not having school to worry about does help him focus on cutting weight and other preparation.
Last season, Sager had his older brother and senior leaders like Mac Laird ahead of him. This year, he said, he's taken on more of a leadership role to help some of the underclassmen figure out the ins and outs of the varsity team.
Ephrata head coach Patrick Mitchell said the majority of his lineup this season has been freshmen and sophomores with only a few juniors and seniors. Mitchell said the team has tried to use this season as a time for development, kind of "throwing the underclassmen to the wolves" a bit.
"Some of them are freshmen wrestling in the varsity lineup against former state placers," Mitchell said. "Going up against Moses Lake, they're who they are for a reason."
Mitchell said it was nice having a more typical dual setting on Tuesday evening in a season filled with a lot of mix-and-match events. He said in a normal season, practice and training would start to get more advanced around January as wrestlers prepared for district and regional meets.
Moses Lake senior Cruz Vasquez said the team was coming off a big high last year and riding a lot of momentum at the start of the season.
"We had a lot of summer wrestling we were doing off and on, we were wrestling in Max's garage, so coming into the season we were still on that high, still holding ourselves to that high caliber of wrestling," Vasquez said. "I think it's helped us, I think we're doing good as a team especially with the short amount of time we've had."
He said everyone knows, especially the seniors, the work ethic and drive it takes to succeed in the Moses Lake wrestling room. With no Mat Classic this year, he said the motivation comes from wanting to stay at the high level the program has come to expect.
Coming off a knee surgery and some "messed up" shoulders, Vasquez said he's just focused on improving his technique, getting in good drills and having fun with his teammates one last time.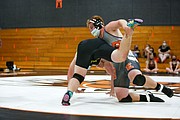 ---