'A year of new beginnings': Othello class of 2021 graduates in person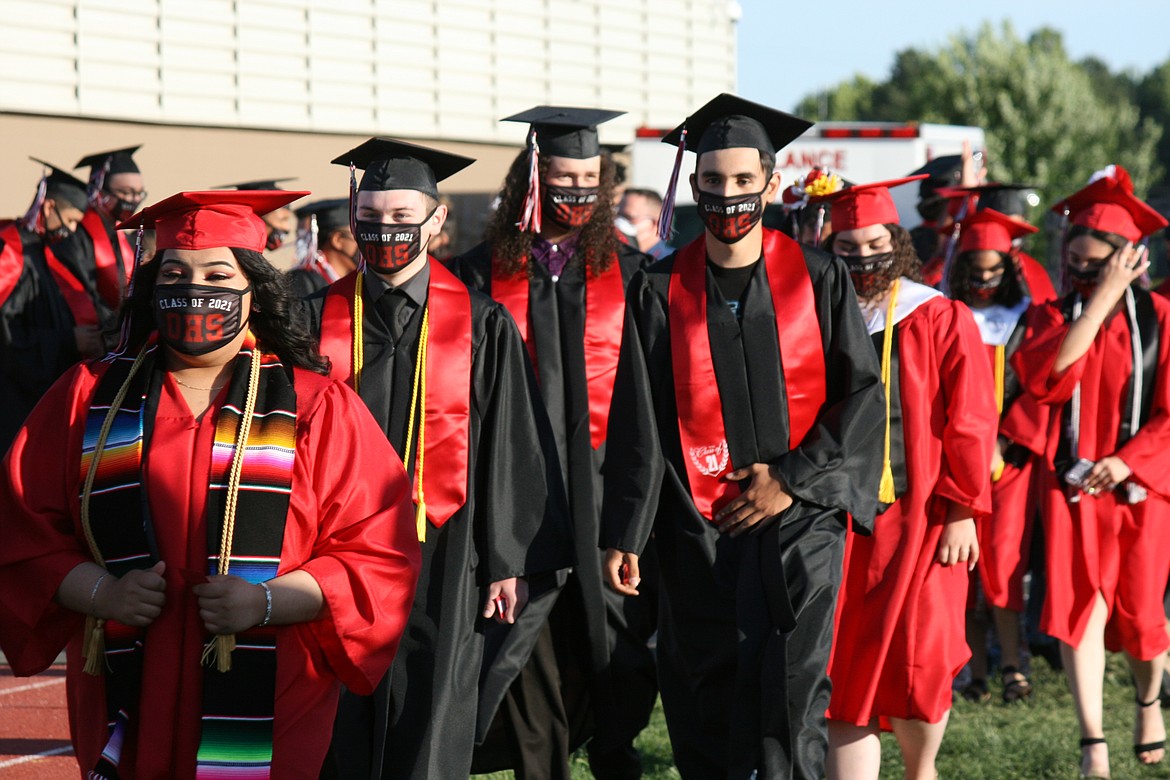 Othello High School seniors enter Huskie Stadium during graduation ceremonies Friday.
Cheryl Schweizer/Columbia Basin Herald
by
CHERYL SCHWEIZER
Staff Writer
|
June 9, 2021 1:10 AM
OTHELLO — The Othello High School class of 2021 finished in the traditional way, after a year that was anything but traditional, as class valedictorian Anna Chen pointed out.
Seniors graduated in an in-person ceremony at Huskie Stadium Friday.
Jack Gentry, president of the ASB council, summed it up in a song he wrote and performed during the ceremony.
"This song, I named it 'Corona Diploma,'" he said.
"Take your cap, look to the sky," Gentry sang. "Toss it up, it's the time of our lives. Just like that, in the blink of an eye, spread your wings with your corona diploma and fly."
Gentry's song also was about school routines and how the COVID-19 outbreak had disrupted them. Parents, teachers, family, other adults, friends, all rallied around in an effort to support students and give the class some of the experiences they might otherwise have missed. Gentry got a little emotional when paying tribute to them.
"Here's to them, our family, teachers and friends," he sang.
The class of 2021 spent the last three months of its junior year in remote classes, after schools statewide were closed in an effort to combat the pandemic. Othello High School stayed in remote classes until the start of the second semester in January. The pandemic, said salutatorian Julissa Cantu, had an impact on everything the seniors did and wanted to do.
Chen said the pandemic was a lesson that things don't always come easy, and the seniors know they will have to work through obstacles.
"Congratulations to the class of 2021. We finished strong," she said.
Cantu agreed the senior class had learned not to take things for granted. They had also learned about supporting each other in challenging times, she said.
"I'm so proud that we were able to defy all odds and graduate high school in a year of new beginnings," Cantu said. "Even though the virus has mandated we stay six feet apart, we all have gotten through these trying times together."
Principal Scott Swartz said the class of 2021 had earned about $60,000 in local scholarships, and when the awards from colleges and other organizations were added in, had earned more than $721,000 in scholarships for further education and training.
More photos of Othello High School's graduation can be found here.
---