Othello boys end season with dual win over Rogers, 66-18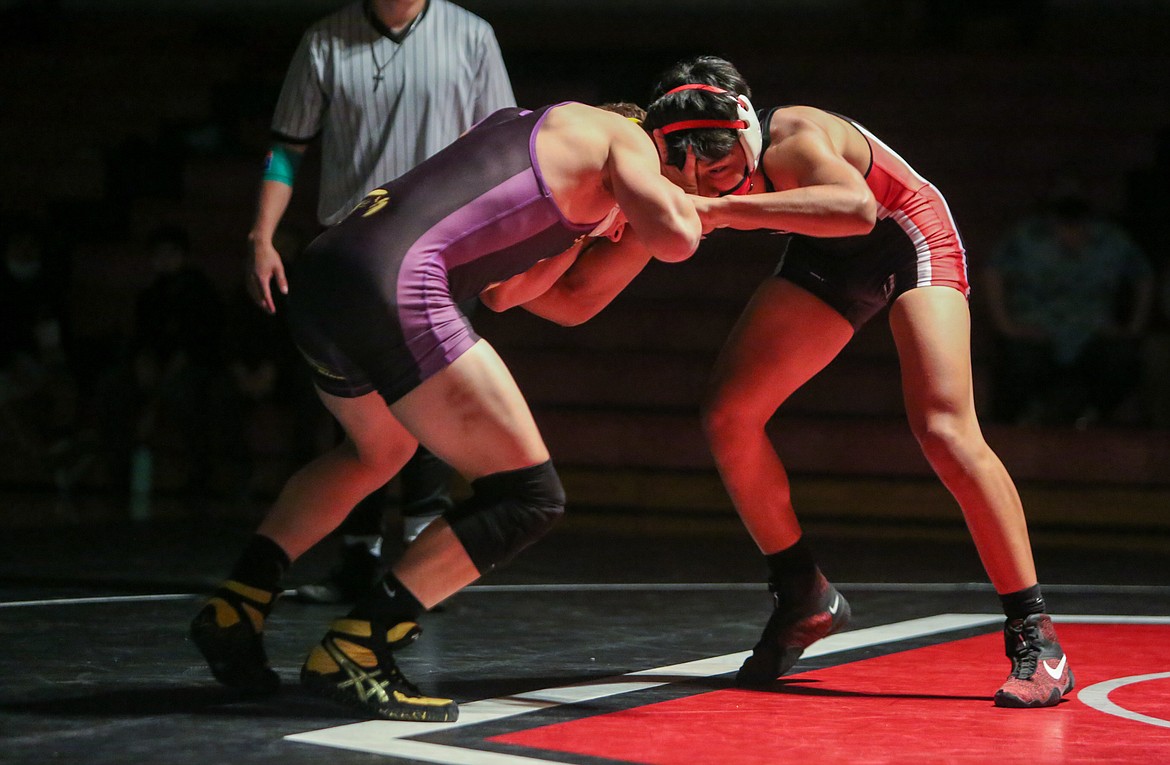 Senior Arturo Solorio grapples with his opponent on Senior Night Monday.
Casey McCarthy/Columbia Basin Herald
by
CASEY MCCARTHY
Staff Writer
|
June 9, 2021 1:00 AM
OTHELLO — Othello High School boys wrestling wrapped up its regular season on Monday night with a 66-18 dual victory over visiting Rogers High School.
The Othello Huskies wrestled under the spotlight as the program celebrated Senior Night. Victorino De La Cruz (106), Troy Mendez (113), Isaac Campos (120), Forrest Roylance (138), Zak Rocha (145), Jon Gomez (152), Arturo Solorio (160), Brandon Garza (195) and Josue Solorio (285) all won their bouts. Miguel Amezola, Anthony Abundiz and Troy Mendez took forfeit wins.
The Huskies will finish up their season with the Greater Spokane League Regional Tournament Wednesday at Mead High School's Union Stadium.
Monday marked the final time seniors Arturo Solorio, Jon Gomez, Amezola and Anthony Trujillo would wrestle for Othello. Solorio said it was cool having one last chance to compete.
"This season we've been doing double duals, so it was nice to have this one versus one thing in front of the home crowd with the lights down," Solorio said. "It feels better."
Without the Mat Classic waiting for him at the end of the season, Solorio said he's been focused on pushing younger wrestlers like his brother Josue Solorio.
Jon Gomez said it was cool wrapping up the regular season in front of the home crowd. Gomez said it may not have been a typical schedule, but he was just happy to get a chance to wrestle.
Gomez said wrestling is something he hopes everyone gives a shot.
"No matter what, they just keep pushing you to work hard and finding new levels you didn't even know you had," Gomez said. "I don't know, it's just fun to be around."
Miguel Amezola said even though it was a smaller crowd than normal home duals, it was still an electrifying atmosphere. He added the sport takes a lot of sacrifice.
"You're either fully in or you're not," Amezola said. "The wrestling program here is just amazing honestly. It's sad I'm going to be leaving, they are like my second family."
Othello head coach Rudy Ochoa II said Victorino De La Cruz and Zak Rocha both stood out with performances. He said it was enjoyable playing in the GSL this season and facing different teams, even if the bus rides took a toll at times.
"It was fun facing them; we were able to see some things and kind of show our guys some different styles and try to learn from some of the things they were doing," Ochoa said.
Ochoa said his seniors will leave big holes to fill next season. While there are only four, he said, their impact in the wrestling room has been huge. He said they're all good kids and is confident the seniors will find success in whatever they pursue.
Ochoa said he plans on taking things pretty light ahead of the regional tournament this week, giving his guys some rest while making sure the team's mindset is right.
Casey McCarthy can be reached at cmccarthy@columbiabasinherald.com.
---