'I love you guys': Royal High School class graduates, socially distanced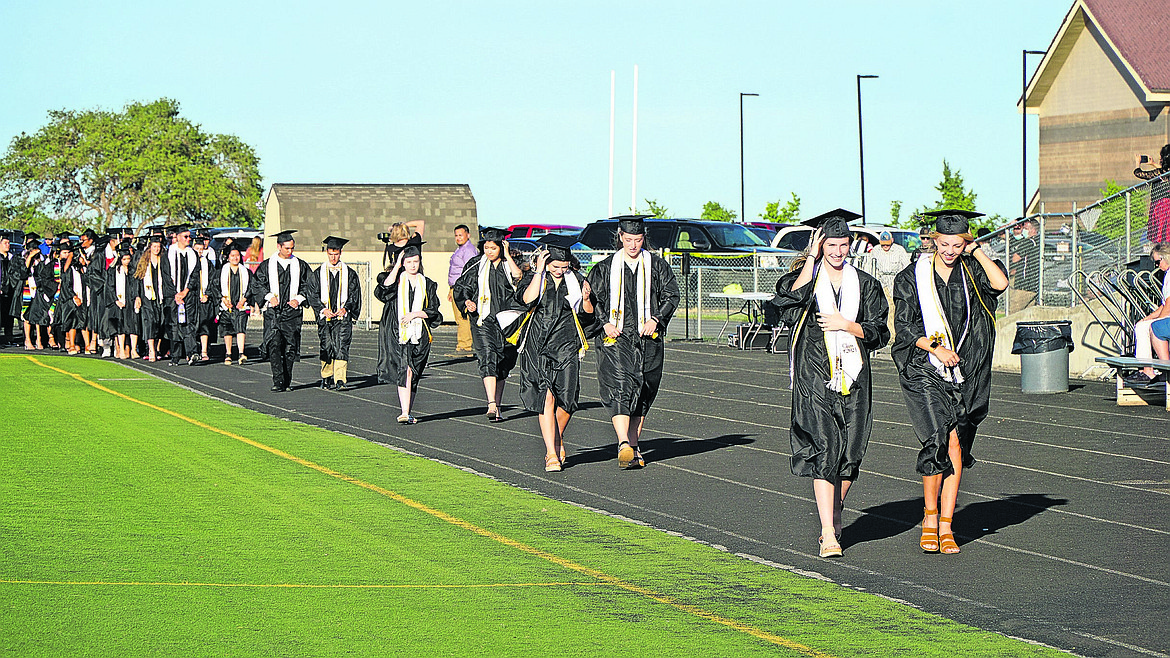 Royal High School seniors walk to their graduation Friday.
Rachal Pinkerton/For the Columbia Basin Herald
by
Rachal Pinkerton
|
June 9, 2021 1:05 AM
ROYAL CITY — One-hundred three members of the Royal High School class of 2021 graduated Friday before their family members during a socially-distant ceremony. And although the wind tried to blow away the graduates' joy, like it did their caps and tassels, it was defeated.
Tears and lots of love were present during various parts of the ceremony, and when the graduates were united with their families.
Royal High School teacher Jeremy Elliot, the student-selected speaker for the evening, not only gave the graduates some words of wisdom for the next stage of their lives, but also stressed how important it is to let those around you know you love them.
Five years ago, Elliot, who was teaching at the middle school and was moving up to the high school the next year, had his school year cut short when he suffered a heart attack. At the time, he was teaching biology to the class of 2021.
"I didn't get to say goodbye," Elliot said. "It is appropriate that I get to stand up here and say goodbye."
"It is never too soon to tell someone you love them," Elliot continued. "I love you guys. You're freaking amazing. I don't have my own kids. You guys have always been my kids."
And while Elliot challenged the graduates to push themselves, do hard things, be kind and to be skeptical and give themselves room to identify the truth, it was his love for the graduates and his opportunity to tell them goodbye that stood out the most.
"I have to say goodbye," Elliot said. "People always say that this isn't good. For some, that's true. Some of us will never meet again in this life. We always have the best of intentions. We plan on dropping by or sending a text. This is the last day I might see some of you. I love you. I'm proud of you. I'm so lucky to have you guys in my life."
Class speaker Dominic Martinez spoke about his time at Royal High School, saying he "couldn't have asked for a better class" and he "really enjoyed" his high school experience.
"We have amazing people here that we are blessed to call teachers," Martinez said.
He said while COVID had played with their last two years of school, he was glad he and his fellow graduates had been able to come together the last few months of this school year.
"Greatness is never out of our grasp, especially for this class," Martinez said. "Please continue to be there for each other like we have the last four years."
Royal High School Assistant Principal Scott Sandberg, another staff member who taught the class of 2021 in middle school, encouraged the graduates to cherish the friendships they made in high school.
"I graduated from high school 32 years ago," Sandberg said. "I still have friends that I cherish. Those friends will do anything for me."
Sandberg encouraged the graduates to do what they love. He said he didn't have a job, he had a passion.
"I love what I do every day," Sandberg said. "I get to come to school and be with you every day. You make what I do enjoyable. We love each and every one of you."
More photos of Royal High School's graduation can be found here.
Recent Headlines
---