Mobile clinics designed to bring COVID-19 vaccine to patients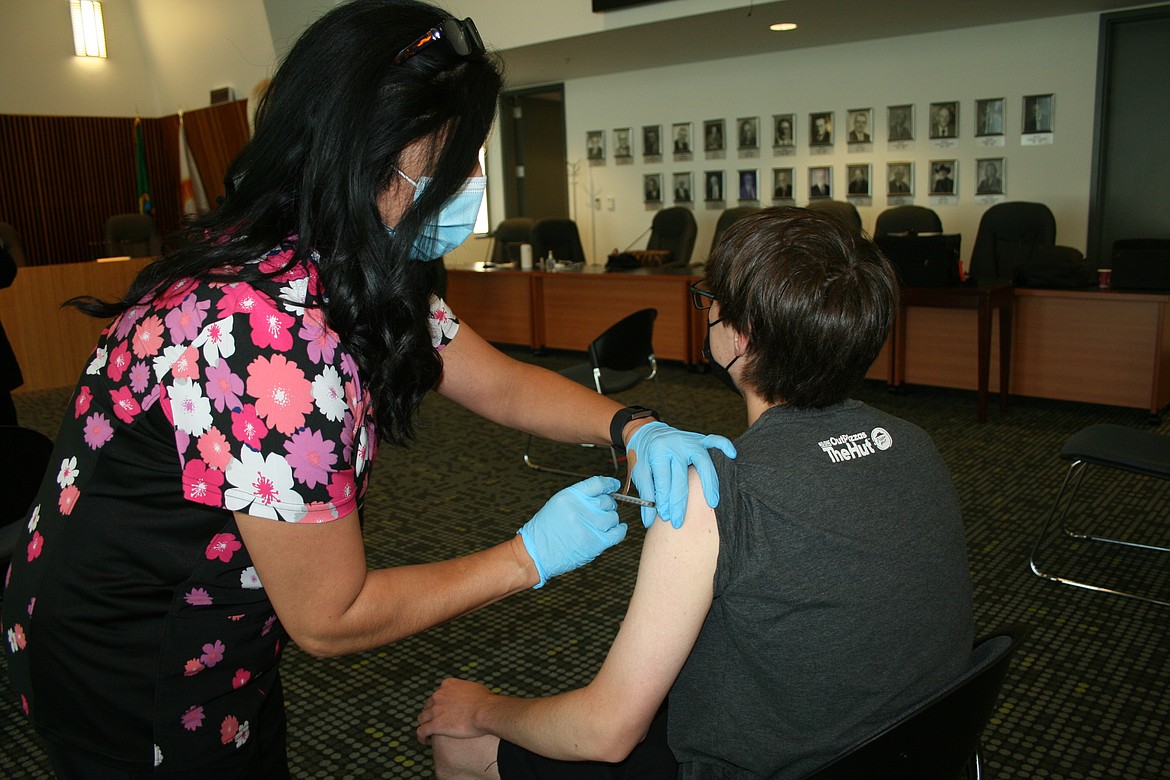 Trevor Fuller (right) gets a COVID-19 vaccination from Grant County Health District volunteer Deanna Martinez during a mobile vaccination clinic at the Moses Lake Civic Center Friday.
Cheryl Schweizer/Columbia Basin Herald
by
CHERYL SCHWEIZER
Staff Writer
|
June 8, 2021 1:00 AM
MOSES LAKE — Maybe work has been crazy busy, or maybe the clinic giving COVID-19 vaccinations is 45 minutes away. Or maybe the clinic hours don't align very well with the work schedule. The coronavirus vaccine is available in a lot of places, but people don't always have the opportunity to get there.
That's why the Grant County Vaccine Task Force started providing mobile clinics.
Statistically, as of 2019, the last year available, the county's population was 97,773, and as of June 2, 35,877 residents received at least one coronavirus vaccination shot, according to the Washington Department of Health.
Teams of medical professionals have gone to farms in Quincy and Royal, manufacturers in Moses Lake, and schools everywhere. Misty Aguilar, of the Grant County Health District, said mobile clinics are scheduled for Big Bend Community College and Warden this week and Quincy and Moses Lake next week.
The task force will work with Washington Air National Guard to offer vaccinations during the Moses Lake Air Show June 17 through 19, she said.
Task force members are working to set up more clinics at more locations, she said. The clinics offer both the two-shot Pfizer and the one-shot Johnson and Johnson vaccines.
Task force volunteers were vaccinating people at Moses Lake City Hall Friday morning, and Trevor Fuller was one of the recipients. He's been eligible to get the shot since mid-April, but there were circumstances.
"Work's been keeping me busy," he said.
In fact, he got his shot about an hour before he had to go to work.
The task force sponsored mass vaccination clinics around Grant County, including Moses Lake, Quincy and Grand Coulee. But task force members evaluated the situation and decided it would be more effective to make the vaccine available where people are, Aguilar said. That has meant going to a farm near Ephrata where the owners provided transportation for workers, and mobile clinic teams have visited farms near Royal City.
There also are plans for a clinic at a packing shed near Quincy. They set up at a manufacturing facility on Patton Boulevard, which hosted its own workers and some from neighboring facilities.
"Have vaccine; will travel,' Aguilar said.
---