'Someday, things would get better': Ephrata grads feel hopeful, 'brand new'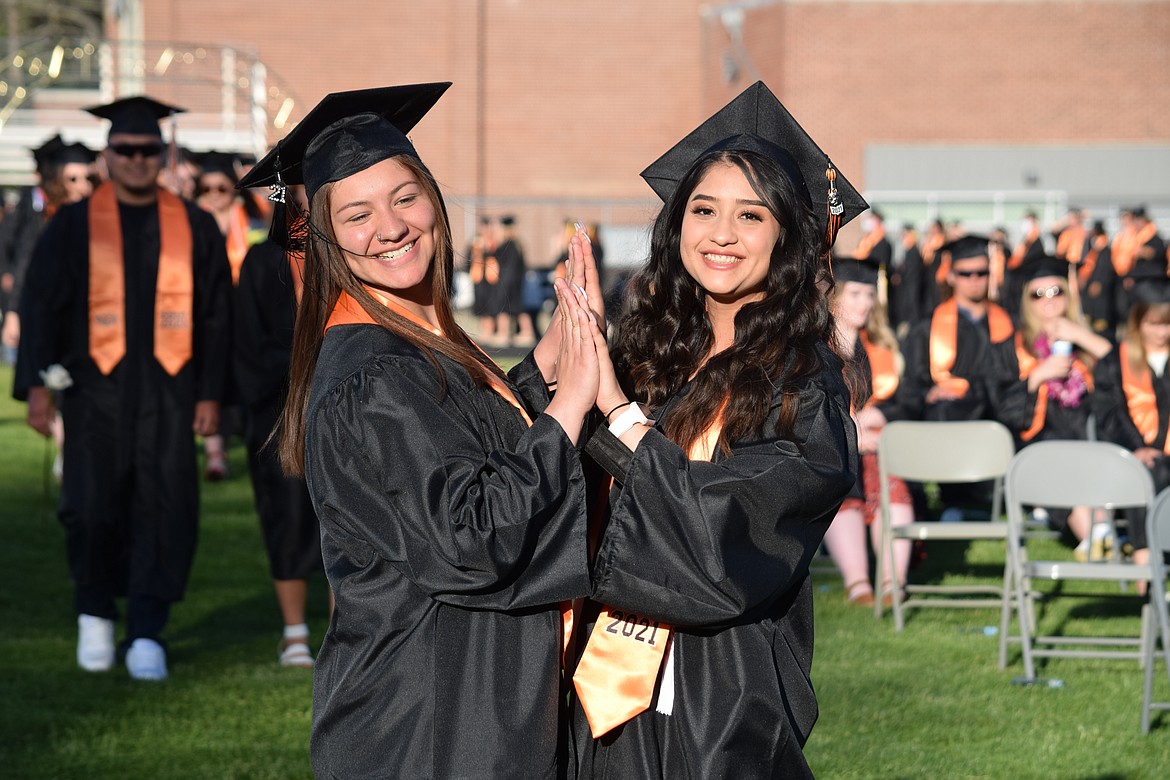 A pair of seniors during the procession at Ephrata High School's 2021 graduation ceremony on Friday.
Charles H. Featherstone/Columbia Basin Herald
by
CHARLES H. FEATHERSTONE
Staff Writer
|
June 7, 2021 1:00 AM
EPHRATA — Things do get better.
That was the message members of Ephrata High School's Class of 2021 told themselves at this year's graduation ceremony, held outdoors on Friday at Kiwanis Football Field.
"No matter what each individual had to deal with during the pandemic, one thing it did was bring us together," said Caden Sheneman, ASB president, during his commencement speech. "It told us never to take life for granted."
"We didn't know when things would be the same again," Sheneman said of the school year that began with remote learning and COVID-related lockdowns, "but we knew that someday, things would get better."
Unlike last year's drive-in graduation ceremony, the roughly 190 EHS graduates this year marched in as normal to the sounds of "Pomp and Circumstance," waved to parents sitting in the bleachers, listened to speeches, and tossed their hats into the air when it was all over.
"It feels brand new," said graduate Emma Coates after the ceremony. "I'm glad we got to walk and not like the seniors last year."
"I'm glad today happened," Coates added. "I'm proud of all of us."
At the beginning of the service, EHS Principal Aaron Cummings asked for a moment of silence to honor the four seniors — Riley Lee Kaler, David Brush, Tyler Mosley and Jesus Contreras — who died during the course of the school year.
Contreras drowned while swimming in an irrigation canal south of Ephrata on Thursday, the day before graduation.
"Jesus always had a smile," Cummings said. "He was friends with many of our students, he was carefree and he was cool."
Student speaker Jocelyn Eisen said all the difficulties the class of 2021 faced may have left the senior class knowing more and being better prepared to face the world than many might believe.
"What if we learned more than how to turn in assignments before 11:59 p.m. and how to wear masks properly," Eisen said. "What if we are the ones who create more empathy, creativity and expression through art and music?"
What if the class of 2021 learned how to properly enjoy life, Eisen wondered, and appreciate little things like walks and family time?
"What if we are the ones who will truly understand why we are grateful for teachers, health care workers, small business owners and all those who have taken care of us when we have hit an obstacle?" she asked.
"What if we haven't regressed, but are actually ahead?" Eisen said.
See more photos from Ephrata High School's graduation here.
(This story has been updated to reflect the correct spelling of Riley Lee Kaler.)
---