Soap Lake's 2021 grads toss caps in celebration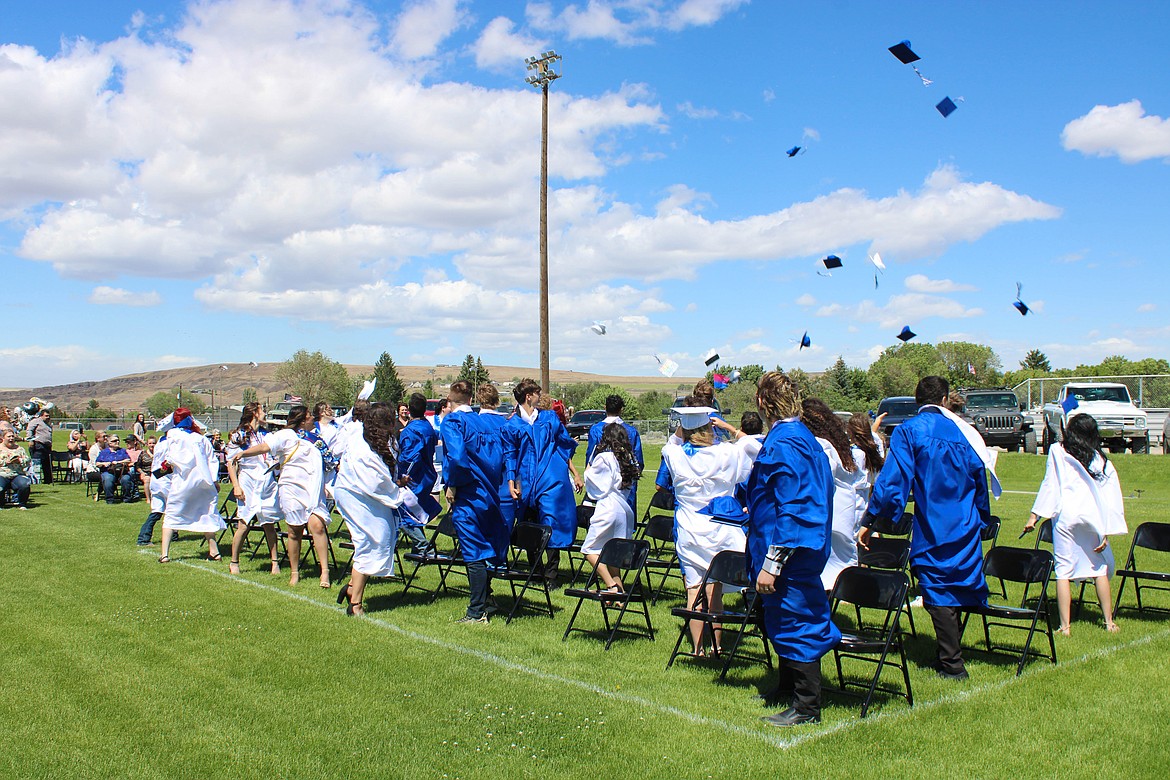 Soap Lake High School and Rise Academy graduates toss their caps after the commencement ceremony on Saturday.
Sam Fletcher/Columbia Basin Herald
by
SAM FLETCHER
Staff Writer
|
June 7, 2021 1:00 AM
When Soap Lake School District Superintendent Sunshine Pray turned the microphone on at Saturday's commencement ceremony, it hummed with the passing gust.
The 24 seniors of Soap Lake High School and nine seniors of Rise Academy held onto their caps by their cars, gowns pulled by the breeze, awaiting their cue to take their seats next to the podium.
"I guess we had our choice of 100 degrees or wind," Pray said.
This graduating class is special, she said, as it was the group that entered sixth grade when she joined the school district herself. She's watched them grow from the beginning.
First to the stand was class valedictorian Nelly Nakonechny, graduating with a 3.9 GPA and both a high school diploma and an associate's degree from Big Bend Community College.
"I remember when I used to dream of graduating, and now it is no longer a dream, but a reality," she said. "I mean, it only took about 12 years to get here, but that's not that long. I can't really believe that it's finally happening. I just want to say congratulations to my classmates. We did it."
Rise Academy student Kimberly Shelton took to the podium next. Despite her fear of public speaking, her classmates had elected her to give the speech.
"Senior year is stressful, and this was a senior year in a global pandemic," she said. "Not only did we push through, but we actually saw success."
Rise Academy's motto is to rise and fight for your dreams, said Rise Academy advisor Lisa Guzman. Each of the students, throughout the past year, embodied it fully.
"The past year has been a grueling experience of survival just to get to graduation," she said. "The struggle's real."
As someone who graduated from an alternative high school herself, Rise Academy is very "near and dear" to Pray's heart, she said.
"These have been trying times for everyone and I'm delighted to say that we are stronger than ever," she said.
Graduation is really just the start, Shelton said.
"Our graduation should serve as a launching point, projecting us to wherever our futures are meant to take us," she said, "Whether it be a career, a trade or continuing our education in college."
Nadezhda Zhuravleva of Soap Lake High School was another who graduated with not only a diploma, but an associate's degree from Big Bend Community College, and a 3.889 GPA. But she will be the first to tell you that that isn't everything.
"When I was first told I was the salutatorian, I didn't know what that even meant," she said.
Success will be defined by the individual, Guzman said. The students' futures are wide open. Nothing has or will ever be decided for them.
After the students lined up and received their diplomas and returned to their seats, the words finally came. They may shift their tassels from the right to the left.
Tassels turned, air horns blasting, cars honking, proud parents cheering.
But, according to the students, it wasn't over yet.
After an hour of clasping their caps against the harsh wind, they finally let them fly.
They did it. High school is over.
Next they took to their decorated cars for a parade around the track, then off — to wherever the future may take them.
"We are proud of them and look forward to seeing our eagles soar," Pray said.
See more photos from Soap Lake High School and Rise Academy's graduation here.
---