MaryLou Zornes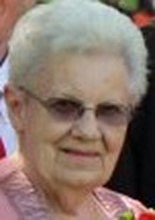 November 12, 1934 – May 25, 2021
Mary L. Zornes, 86, was a longtime Moses Lake resident who passed away May 25, 2021, at Cascade Valley Adult Family Home. She was born on Nov. 12, 1934, in a small farmhouse in Moira, New York, to her parents Harry and Katherine (Blade) McBride. She was the eldest of her siblings James "Jim" and Charles "Pat." When she was 4 years old, she and her family moved to Detroit, Michigan, due to her father's job working with the Ford Motor industry. She started elementary school there and in the early 1940s her father came out to Idaho and eventually to Moses Lake to run the 76 gas station on Broadway Avenue downtown. She loved music and played the drums at Moses Lake High School and enjoyed cruising the streets with her friends in a car that she worked on in her uncle and dad's shop.
On Dec. 30, 1952, Marylou married Lt. Richard (Dick) D. Zornes and traveled to places like Japan, Germany and various bases in the United States until his retirement. She always said that their travels were her education, as she did not finish high school. She had many interests and honed many skills like cake decorating, pencil drawing and painting, all the while becoming an astute artist and crafter. She also worked for the Red Cross and the USO Services and served with various wives' auxiliary clubs and organizations on their tours to Okinawa, Japan, Berlin, Germany, Heidelberg, Germany, Ft. Lewis, Washington, Indian Point, Maryland and Huntsville, Alabama supporting her husband and nation. She taught American English to Japanese students in Okinawa, Japan, in the late 50s. She and Dick, after 10 years of marriage, had two sons, Mitchell D. Zornes, born in 1961, and Jeffrey E. Zornes, born in 1963.
On June 5, 1971, they moved back to Moses Lake and they assisted Dick's father Mel with Chico's Pizza Parlor until they became the owners themselves and expanded the business footprint. Marylou was known as one of the "Three Grandmothers" that made the pizza crusts, meat, cheese and sauce and assured quality to the product that brought people back to the "Chico Habit." She was an integral part of the business' success. Mary assisted her husband in his running for several elections for Grant County Coroner and a term he served as Grant County Commissioner, and looked for ways to support causes in the community, such being a faithful supporter of the Grant County Humane Society and Chico's softball team. She enjoyed her animals. She was an avid cruciverbalist working crossword puzzles, had a great book collection with her love of reading and loved spending time with friends and family on fishing trips to the ocean and Blue Lake.
Her sons will remember their loving mother as five foot two, eyes of blue and a laugh that warmed the room. Mitch will go on to remember sharing candy bars in the mornings at Chico's and her support keeping the business going while he was sent to Iraq. Jeff will remember times she visited while he was stationed in the military and her sacrifice while working so he could attend ITT Technical School. She was proud of both of her sons of their service in the military of their country.
Marylou is preceded in death by her parents Harry and Kaye McBride, her brothers Jim and Pat and her spouse Richard D. Zornes, who passed Feb. 23, 2011.
She is survived by her sons Mitchell D. Zornes of Moses Lake, Washington, and Jeffrey E. Zornes (Sharon) of Stafford, Virginia; her grandchildren Jennifer K. (Ryan) Wahl, stationed in Eagle River, Alaska, and Thomas J. (Marissa) Zornes of Orlando, Florida; and four wonderful great-grandsons Tristan Thomas Zornes (2017), Weston Dennis Wahl (2017), Logan Glenn Zornes (2020) and Eland Gordon Wahl (2020). She also leaves behind her nieces and nephews Tony and Jenn McBride, Jackie and (Chris) Mullen of Sultan, Washington, and Kevin (Emily) McBride of Baton Rouge, Louisiana and grand- nieces.
The family would like to thank her neighbors and friends who came to visit her and special thanks to Sandridge Adult Family Home and Cascade Valley Adult Family home for their wonderful care and to Home Health Care and Hospice for their serving our precious mother over the last four years. Also, thanks to the staff of Samaritan Hospital.
No funeral is planned. In lieu of flowers, donations can be made in Marylou's honor to the Grant County Animal Shelter. 6725 Randolph Road NE, Moses Lake, WA 98837 (509-762-9616).
Goethe: "One ought at least to hear a little medley every day, read a fine poem, see a good picture and if possible, make a few sensible remarks."
---