Katherine Cerna Martinez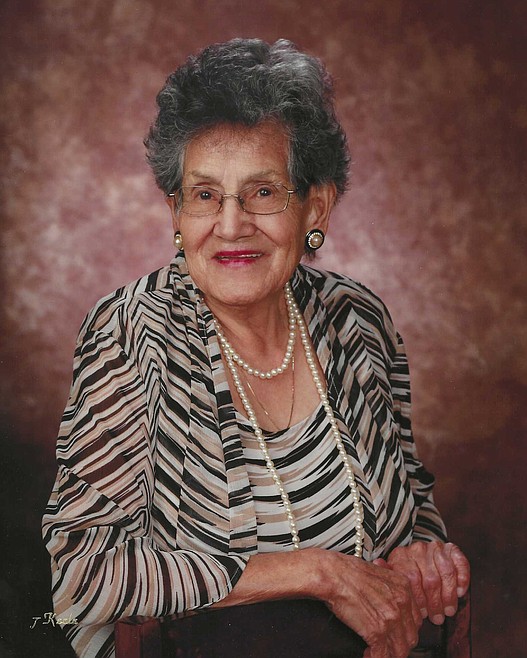 May 20, 1925 – May 30, 2021
Katherine Cerna Martinez, a devoted wife, mother, grandmother, great-grandmother, sister, aunt and friend, was welcomed into the arms of our Lord and Savior on May 30, 2021, at the age of 96.
Katherine was born May 20, 1925, in Lompoc, California, to Tomas and Felicitas Ortiz Cerna. She was raised in Wyoming in a family of 16 children. Her father Tomas and mother Felicitas were from Mexico and made a living farming. The family moved to various states during her childhood looking for work until they planted their roots in the Yakima Valley. Katherine then worked in her father's gas station/convenience store in Toppenish, where she would eventually meet the love of her life, Adolph Martinez.
In 1948 Katherine eloped with Adolph when she was 23 years old. She bore her first child, Tom, the day after her 24th birthday. Five more children were born to Adolph and Katherine: Teresa, Rick, Alex, Art and Roger.
The family moved from Toppenish to Moses Lake in 1960 when Adolph gained employment farming for John Pritchard. In addition to raising her six children and being a mother to numerous others, Katherine also worked in the potato industry. In 1969 she began working at Sunspice where she worked as Head Grader until her retirement.
Katherine treasured her children, grandchildren and great-grandchildren and could be often found in the kitchen making masa for tortillas and helping the grandchildren roll them out. She loved keeping her hands busy and could always be seen either cooking, cleaning, knitting or crocheting. She will forever be remembered for her beautiful crocheted handiwork, her delicious homemade fresh tortillas and her bowlful of tacos at her sons' and grandkids' ballgames.
After Adolph's passing, Katherine went to live with her son Alex and daughter-in-law Debbie where she was greatly loved and cared for right up to her passing. All her children and grandchildren would visit her often.
She is survived by her four loving sons Tom (Sharon Holmes), Alex (Debbie Doran Martinez), Art (Brenda Dodgen Martinez) and Roger (Eileen Englar Martinez) and numerous grandchildren and great-grandchildren.
She was preceded in death by her husband Adolph, her two children Rick Martinez and Teresa Senn, a great-granddaughter Blakely Quinn La Grave and a great-grandson, Landon Edward St. Marie.
A very special thank you to Katherine's excellent caregivers Lea Bolyard, Katie Flick, Sarah Williams, and her niece Gloria Rodriguez for loving and caring for Katherine as if she were their own mother/grandmother. The family greatly appreciated the amazing care they gave her.
Funeral services will be Friday, June 4, 2021, at Our Lady of Fatima Catholic Church, 200 N. Dale Road, Moses Lake, Washington. Rosary will be outside at 9 a.m., followed by Mass at 10 a.m. Burial will be at Pioneer Memorial Gardens, 14403 Road 2 NE, Moses Lake, Washington. A reception will follow at the Elks Lodge, 814 N. Stratford Road, Moses Lake, Washington.
Masks are required for unvaccinated guests inside the church.
Those unable to attend the service in person can view it live via Our Lady of Fatima Facebook page.
In lieu of flowers, please consider donating to the Hospice Foundation.
Please express your thoughts and memories at www.kayserschapel.com. Arrangements are under the care of Kayser's Chapel of Memories of Moses Lake, Washington.
---