Honoring the fallen: Beyond the Call of Duty commemorates law enforcement officers who gave their all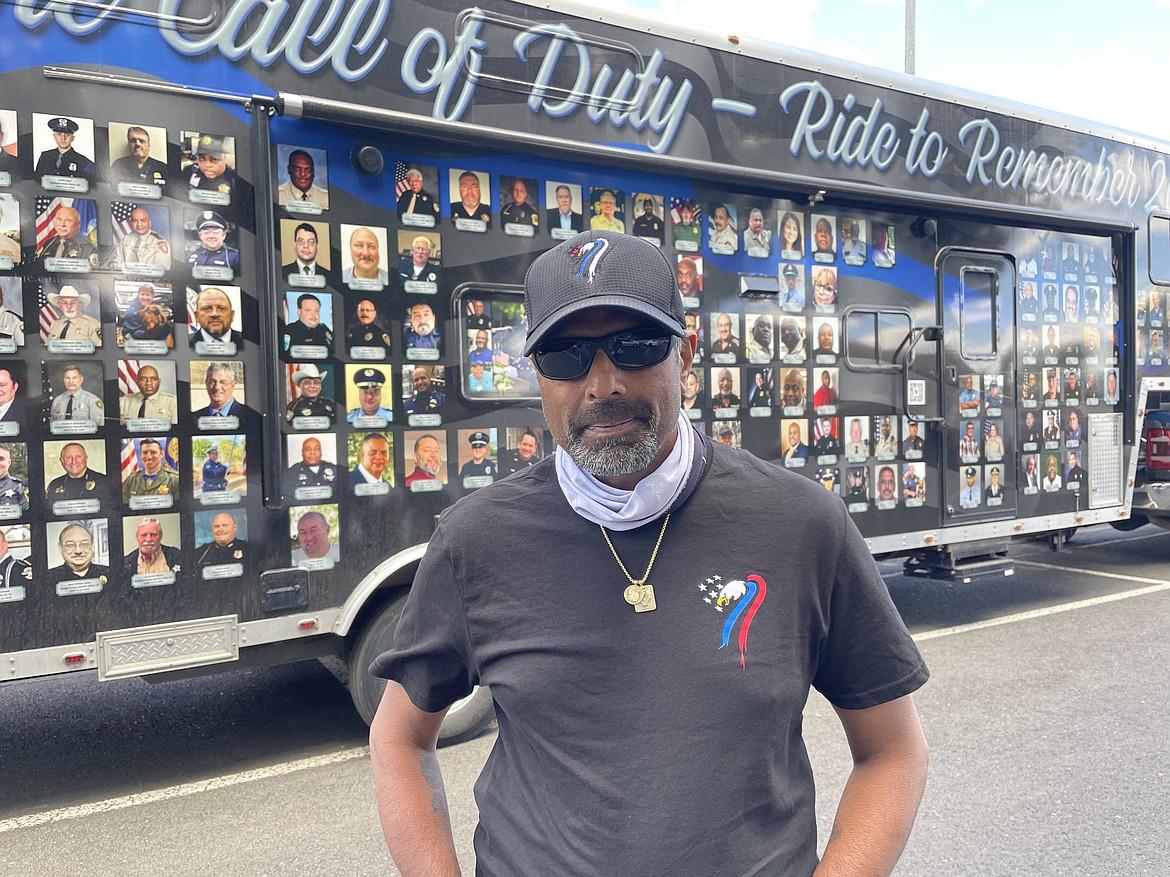 Jagrut Shah, head of the Beyond the Call of Duty Foundation, in front of the trailer honoring all of the 338 law enforcement officers in the U.S. who died in the line of duty in 2020.
Charles H. Featherstone/Columbia Basin Herald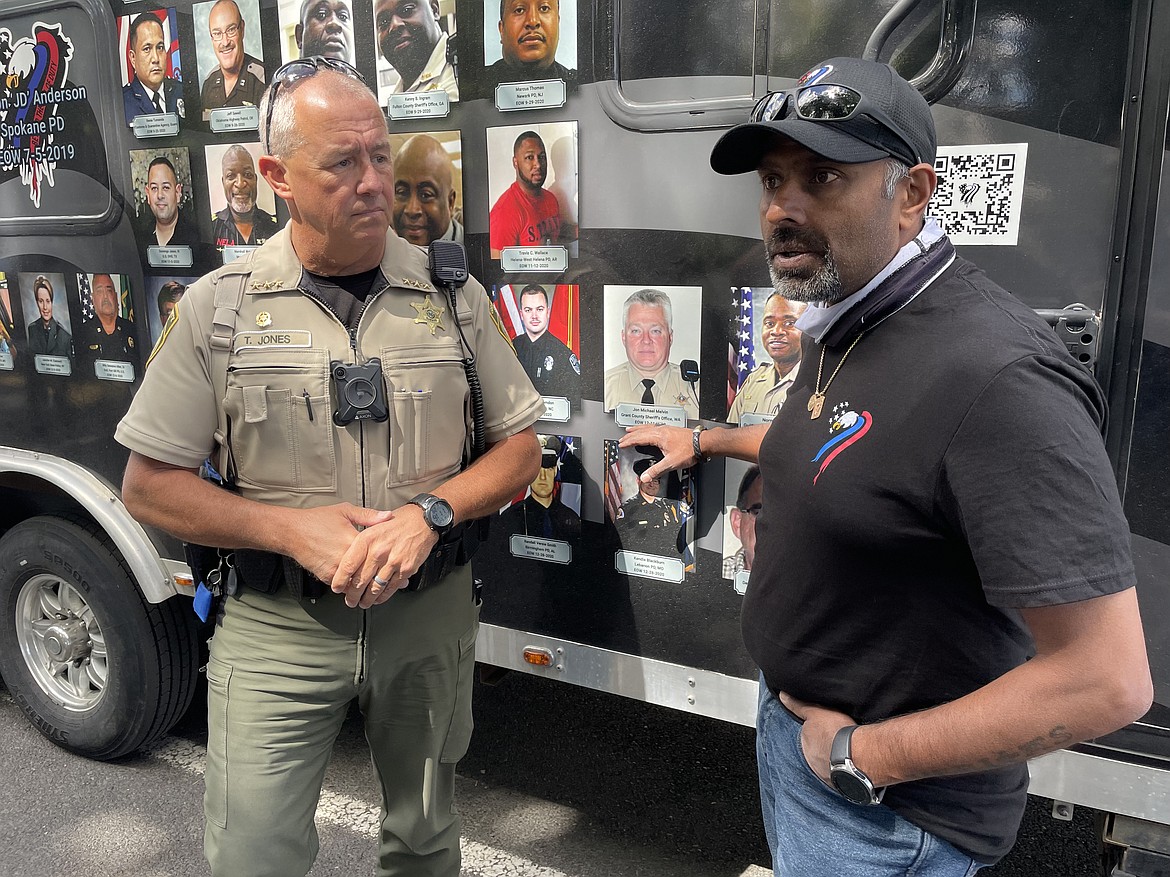 Jagrut Shah, head of the Beyond the Call of Duty Foundation, with Grant County Sheriff Tom Jones, in front of the photo of GCSO Deputy John Michael Melvin, who died of COVID-19 contracted while on the job in December 2020.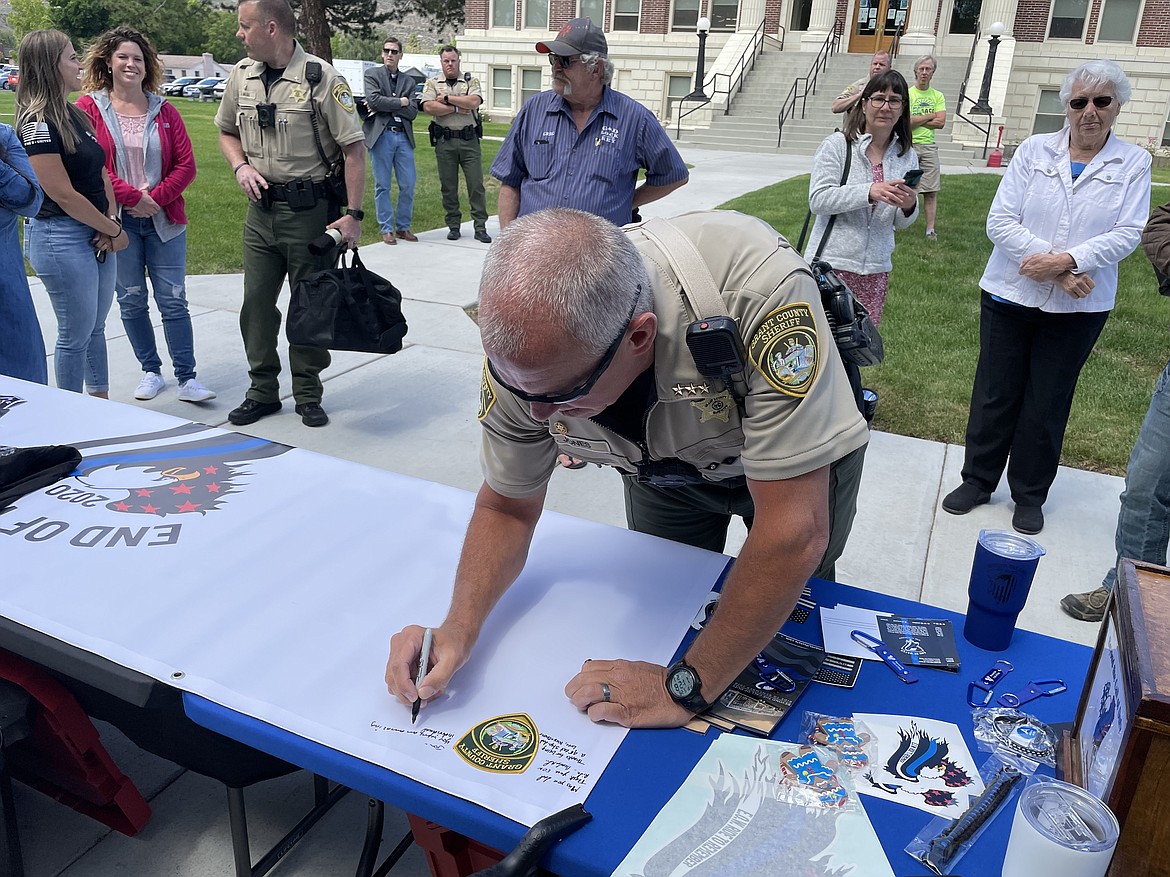 Grant County Sheriff Tom Jones signs a memorial banner on Friday as part of the End of Watch Ride to Remember.
Previous
Next
by
CHARLES H. FEATHERSTONE
Staff Writer
|
June 3, 2021 1:00 AM
EPHRATA — Jagrut Shah has three things he wants people to know about the 338 law enforcement officers who were killed in the line of duty across the United States in 2020.
"One is that everybody has a God-given name. The second is they all wore a uniform of one sort or the other. The third thing that you can't see is they all bleed red. That's the color of their blood," Shah said.
Shah, a risk manager in Spokane Valley, is also the head of Beyond the Call of Duty, a foundation he helped set up to honor fallen law enforcement officers across the country with the End of Watch Ride to Remember. The ride involves a large trailer with the pictures and the names of the dead, a support vehicle, and an escort of five specially-equipped police model Harley Davidson motorcycles.
"This is the main memorial," Shah said. "There's January to August on one side, and August to December on the other side."
The End of Watch Ride to Remember, which is now in its second year, set out Friday and will cross the entire United States, visiting 194 law enforcement agencies that lost officers in the line of duty during 2020, ending back in Spokane in mid-August, Shah said.
And the very first stop in this year's journey was Ephrata, to honor Grant County Sheriff's Office Deputy John Michael Melvin, who died on Dec. 11, 2020, after contracting COVID-19 while on the job.
"Each department has a loss, and I wanted the departments to know that they all have the same hurt feelings and loss," Shah said. "I wanted the survivors to know that we were going to remember their loved ones as well."
"I come from a family of law enforcement, my father is in law enforcement, and I was military police in the Navy for the last 10 years," said Lance Drapeau, one of the motorcyclists escorting the convoy across the country.
Drapeau said of the six riders, five will be with the convoy for the entire trip, while a new rider will join them every few weeks.
"It is a long tour, but worth every minute of it being able to help those survivors that need someone to talk to," he said.
Because that's what matters to both Shah and Drapeau — talking to the families of the fallen and their fellow officers and letting them know they are not alone in their sorrow and loss.
"We're able to bring light into a lot of these families' lives," Drapeau said. "A lot of the families we've met along the way have been able to find other support centers now, and meet other survivors."
In fact, Drapeau said he saw a lot of families connect with other survivors because of last year's End of Watch Ride to Remember.
"Already seen it multiple times with survivors we met last year; people were able to come out and talk about their stories and what happened to them, and now they're able to fight for those others who are being affected," he said.
"I think it's truly humbling that you have an organization like this," said Grant County Sheriff Tom Jones. "It's about honoring every single person on this trailer here, and I think they do a fantastic job."
After roughly 90 minutes in front of the Grant County Courthouse, the End of Watch riders packed up their gear and got ready to head off to their next stop in Yakima.
Because it's going to be a long ride.
"I'm the newest rider," said Jewels Zimburean of Bremerton. "It's my first tour and it's an honor to give back."
For more information on the End of Watch Ride to Remember and the Beyond the Call of Duty Foundation, visit https://endofwatchride.com.
Charles H. Featherstone can be reached at cfeatherstone@columbiabasinherald.com.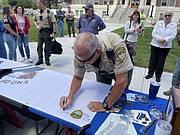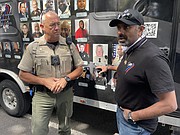 ---