Washburn shines as ML boys swim opens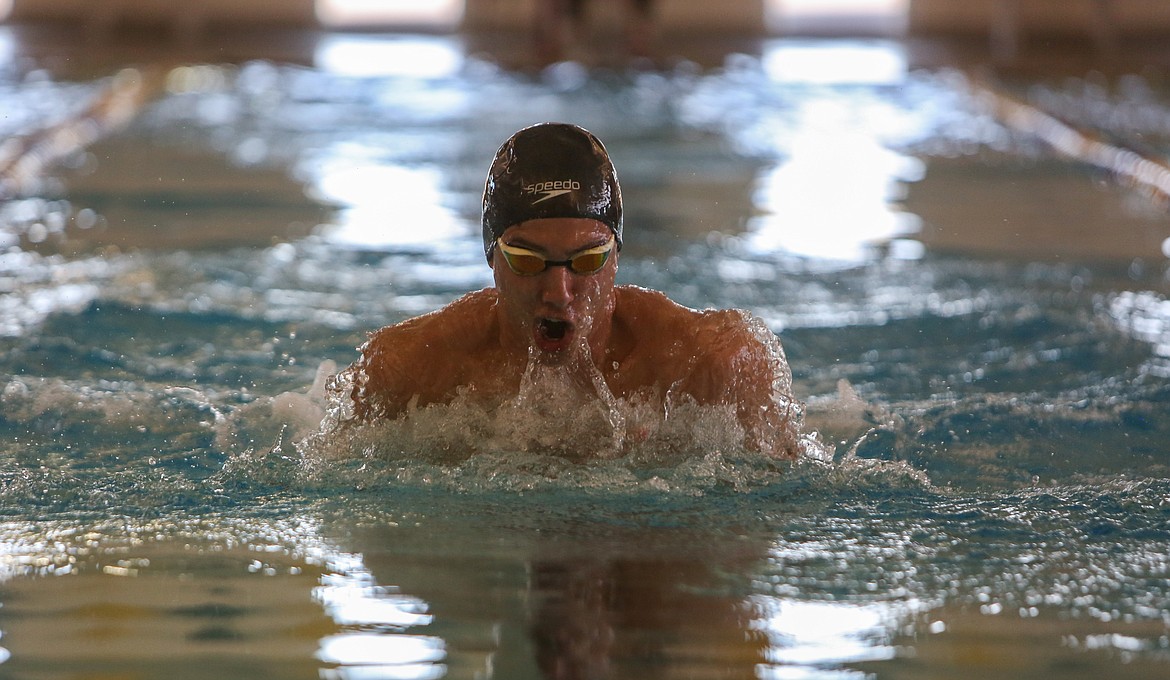 Moses Lake senior Zach Washburn makes his way across the pool in the 100 yard breaststroke event on Thursday afternoon on his way to claiming a new school record time in the event.
Casey McCarthy/Columbia Basin Herald
Moses Lake's Kade Pack swims back across the pool in the 200 yard individual medley event last Thursday afternoon in the home meet at Moses Lake High School.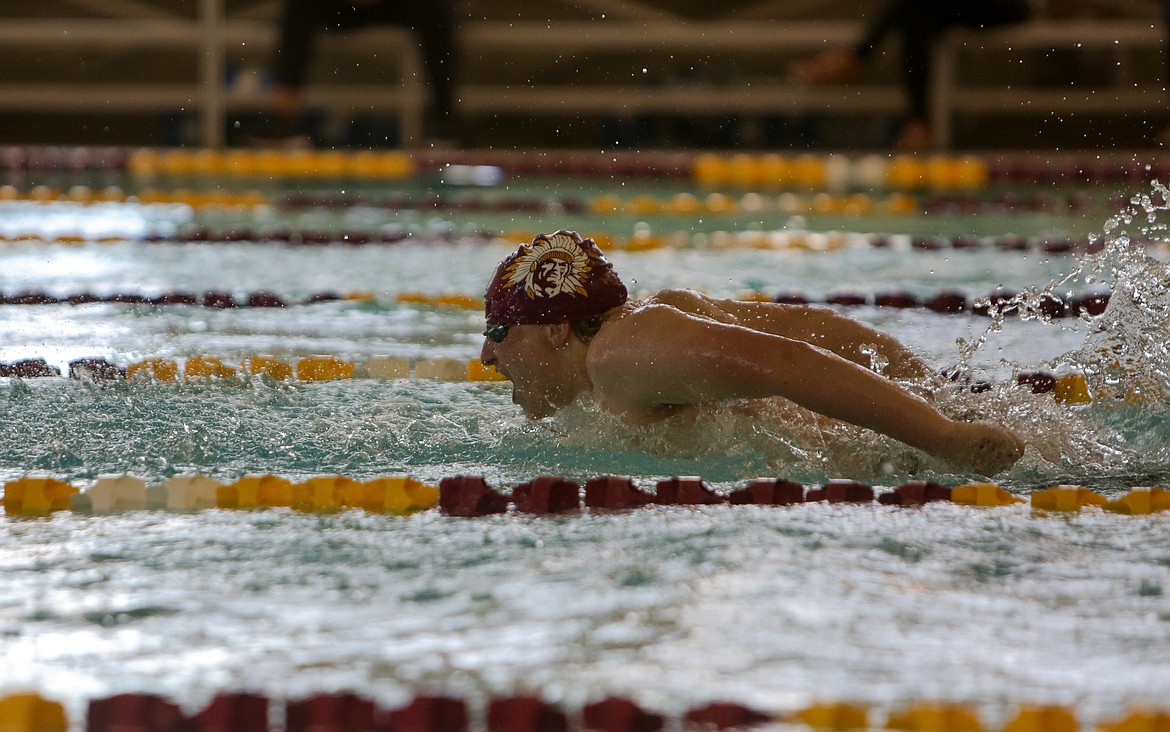 Cole Lindberg makes his way across the pool in the 100 yard butterfly event on Thursday afternoon at Moses Lake High School.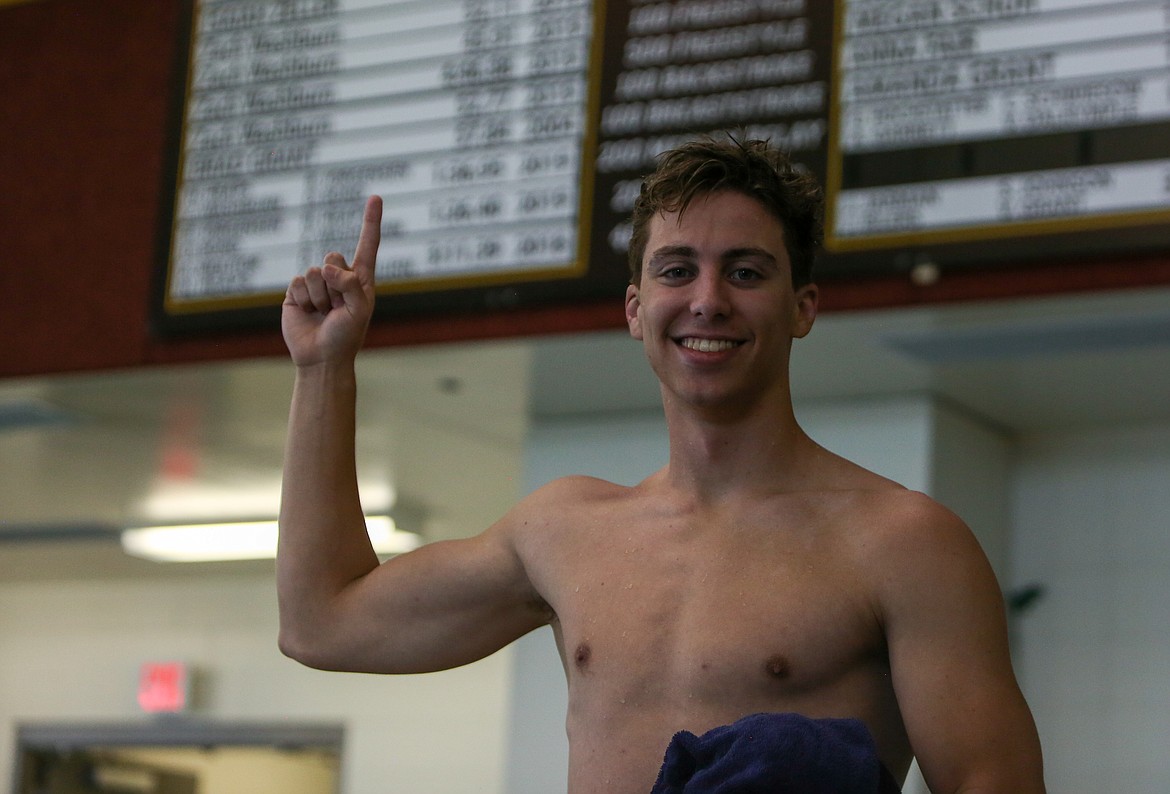 Moses Lake High School senior Zach Washburn holds up a "number one" in front of the school record board at the Tony St. Onge Pool of Dreams at MLHS on Thursday afternoon after claiming the final individual record time in the 100 yard breaststroke.
Previous
Next
by
CASEY MCCARTHY
Staff Writer
|
June 1, 2021 1:00 AM
Moses Lake High School senior Zachary Washburn added to an already record-setting high school career Thursday as the Chiefs boys swim and dive program opened the season with a win over visiting Eastmont High School.
Washburn's school-record time of 57.70 seconds in the 100-yard breaststroke event gives the senior the top time in every individual boys swimming event for MLHS. In addition, Washburn finished first in the 200-yard freestyle and was part of the first place finish for the 200 medley and 400-yard freestyle relays.
Teammates Issac Patten, Cole Lindberg and Ashton McKean joined Washburn on the 200 medley relay team, while Ryan Jorgensen, Lindberg and Patten joined the senior in the 400 freestyle. McKean, Jorgensen, Nicholas Moore and Kade Pack finished first in the 200 freestyle relay.
McKean took first in both the individual 50-yard and 100-yard freestyle races. Cole Lindberg finished first in both the 100-yard butterfly and 100-yard backstroke. Ryan Jorgensen placed second in the 50-yard freestyle, as well as in the diving competition.
Patten finished second overall in the 100 backstroke and 100 freestyle, while Pack placed second, and also took third overall in the 200-yard individual medley.
Washburn, a senior, said nabbing the one event time that has eluded him is a great feeling.
"Getting any of them up there is a huge accomplishment for me and just to be able to see my name on all of them now, it's awesome," Washburn said.
In his first high school season without former head coach Tony St. Onge, Washburn said he still thinks about his longtime coach almost every day.
"He's been pushing me since I was about 9 years old. He's always been there, always been a mentor," Washburn said. "He took an interest in me when I was pretty young and stuck with me."
Moses Lake swim coach Lindy Williams said Washburn and the team have stepped up to honor their former coach.
"They're doing a good job of stepping up and taking care of each other," Williams said. "I would be lying if I said it's not hard. I'm intentionally focusing on the team and not the loss this year and I think Tony would say that's the way to do it."
Williams added she felt honored: honored to be part of St. Onge's coaching career and honored to be a part of Zach Washburn's swimming legacy. She said she can't take a lot of credit for the latter, but hopes the Moses Lake senior continues to show the same energy and spirit he's had so far.
"Zach Washburn's swimming career is far from done," Williams said.
The Chiefs swim team will travel to face Wenatchee High School Tuesday at 4 p.m.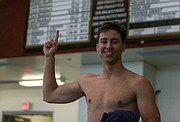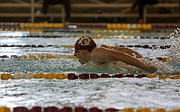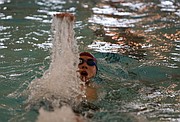 ---