Homeward bound: Networks help Adams County Pet Rescue find new homes for animals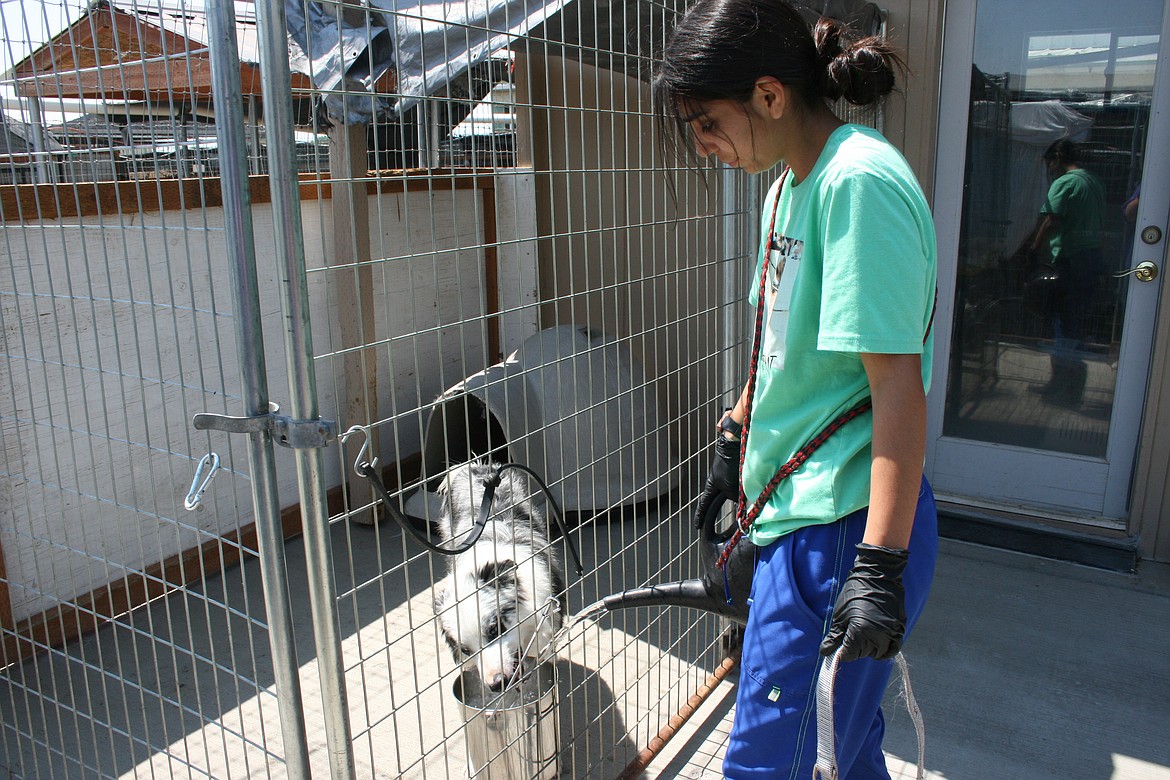 Dog walker Karinna Rojas fills the water bucket of a dog at the Adams County Pet Rescue facility near Othello.
Cheryl Schweizer/Columbia Basin Herald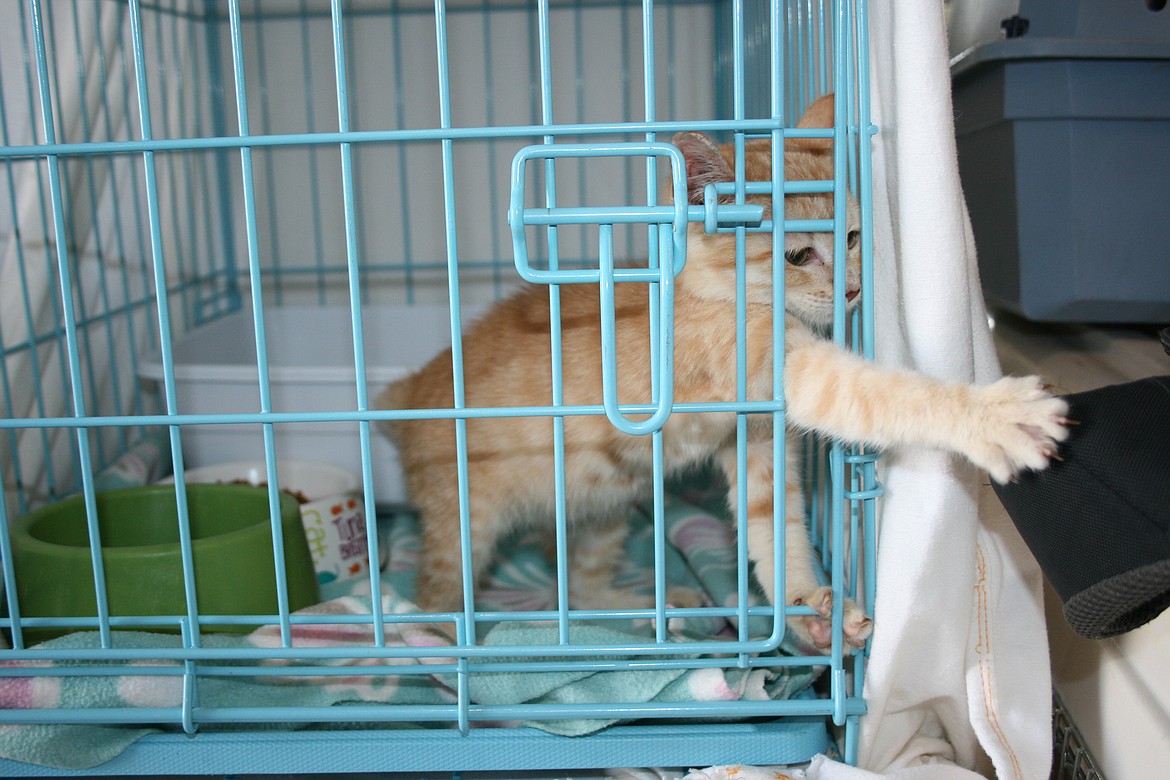 A curious kitten tries to get his paws on an unfamiliar object near his temporary abode at the Adams County Pet Rescue facility.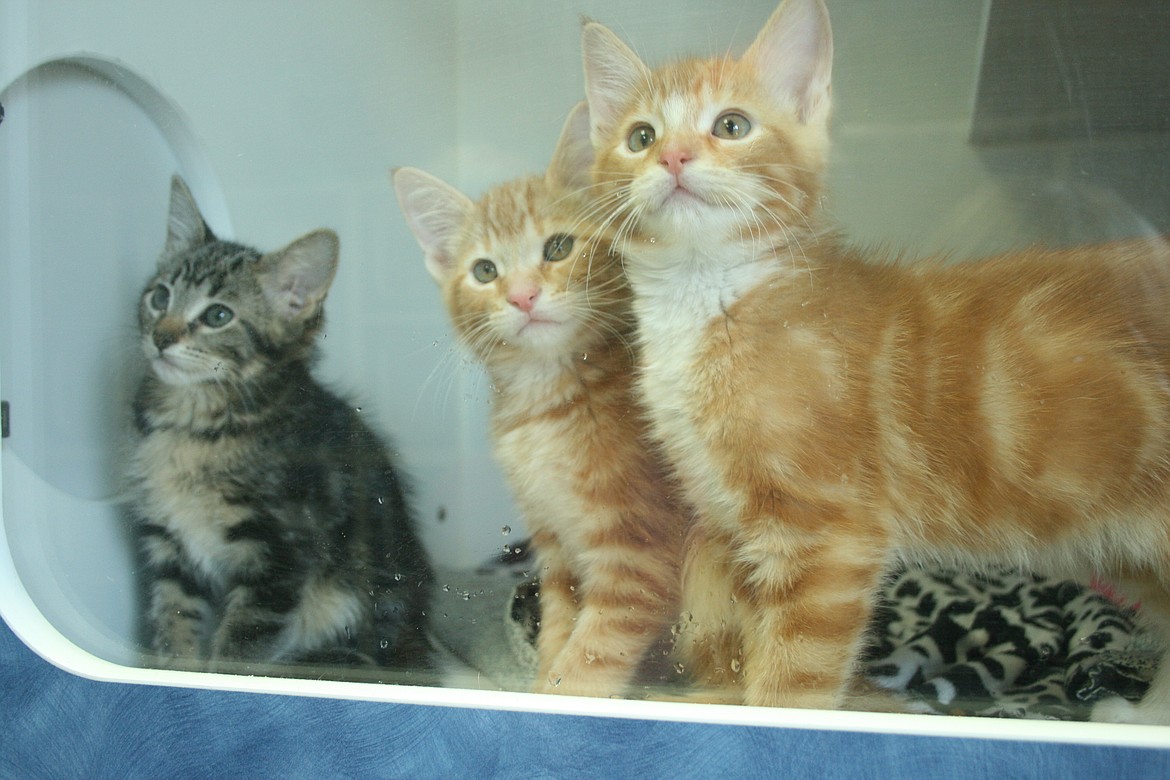 Kittens gaze at an employee at the Adams County Pet Rescue facility.
Previous
Next
by
CHERYL SCHWEIZER
Staff Writer
|
July 28, 2021 1:05 AM
OTHELLO — Adams County Pet Rescue employee Giselle Hernandez has a warning for people when they go out to the kennels.
"It gets pretty loud," Hernandez said.
Why yes, yes it does. The dogs in the ACPR kennels, 1961 W. Bench Road in Othello, are happy to meet someone new — well, actually they're just as happy to see the staff. Staff and visitors alike are greeted with a chorus of interested barks.
It's even louder since the kennels are full. Really full, in fact, and that doesn't even count all the cats. Crates housing curious and playful cats are stacked up near the front door.
Pet rescue director Kyya Grant said the number of animals at the shelter seems to be higher than normal, although numbers fluctuate as animals are adopted and new ones arrive, especially pregnant animals.
"We had a little dog, she weighed 25 pounds, she had 12 puppies," Grant said. "You end up with litters, pregnant moms coming in."
"Kitten season this year hit us really hard," said shelter employee Anita Plancarte.
"We do really well when we have about 40 dogs. That's comfortable," Grant said. "Cats, 35 (in residence) is comfortable."
But if two or three of the cats or dogs are pregnant, all of a sudden the shelter can have a population explosion.
"I think it surprises everybody, because we're such a small county, how many animals we have," Grant said.
"We haven't had as many found puppies out in the middle of nowhere this year, have we?" Grant asked.
"No, not this year," Plancarte said. "Last year was the year."
"Last year was (puppies left in) orchards," Hernandez said.
"Orchards, onion fields, potato fields," Plancarte said. "This year, just a couple."
Many animals get lost. Grant said the shelter always sees some dogs and cats who ran away from home around July 4, frightened by the fireworks. Animals that haven't been spayed or neutered will run away from home, too.
"Out carousing," Grant said.
Grant said she didn't know how many animals at ACPR were dumped. Some are more likely to have been dumped, like the six puppies that turned up in a field about a half-mile from the shelter. (Shelter workers caught them all.) But many animals are just found wandering.
Some dogs are escape artists and familiar figures at ACPR.
"We have a book of repeat offenders," Grant said.
Some animals are surrendered by their owners. Sometimes the owners can't take care of the pets anymore, but more often it's people that can't take their animals with them.
"It's people that have to move and go into apartments, usually," Grant said.
"Especially right now, where a lot of rentals aren't accepting dogs or cats, and that makes it harder," Plancarte said.
Giving up a pet, or even an animal that's found along the roadside, can be stressful, and not everybody handles it well.
Grant and the staff talked about the shetler and its clients against a background of chirping birds and meowing kittens. The shelter also takes birds, and wild animals when necessary. Recently eight barn owl fledglings were discovered as a haystack was being dismantled, and they ended up at ACPR.
To cope with the influx ACPR, like other shelters, gets help from volunteers far and wide, as well as working with other organizations to house the animals coming through its doors.
Some of the dogs and cats are housed at the Coyote Ridge Correctional Facility in Connel. The baby barn owls were sent to Blue Mountain Wildlife in Pendleton, Oregon, which has accepted other wild birds from ACPR.
The network of people who volunteer to take care of kittens stretches throughout the state. A volunteer drives over from Duvall to transport kittens to temporary homes in Lynnwood, with the group Whiskers in Need. The volunteer network includes Hernandez and her mom, who are caring for eight kittens currently.
"Right now in our care we have my four, her three and a bottle baby," Hernandez said. "Very time consuming, but it's still worth it."
The Othello-area volunteer network also includes people who take the orphaned kittens that are not yet weaned.
The shelter works with PetSmart outlets in the Puget Sound area, which sponsor periodic adoption events.
"All of our cats are spayed, microchipped and everything, and they go to the adoption floors at the three PetSmart stores we work with, and are adopted out," Grant said. "I would say probably 95% (of ACPR cats) are adopted on the west side. It's pretty nice."
The shelter is open to the public Tuesday, Wednesday, Friday, Saturday and Sunday, and closed for cleaning Monday and Thursday. Visit https://adamscountypetrescue.com/ for more information.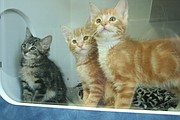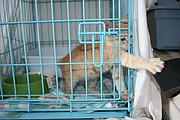 ---