Policy debate: MLSD inches closer to equity policy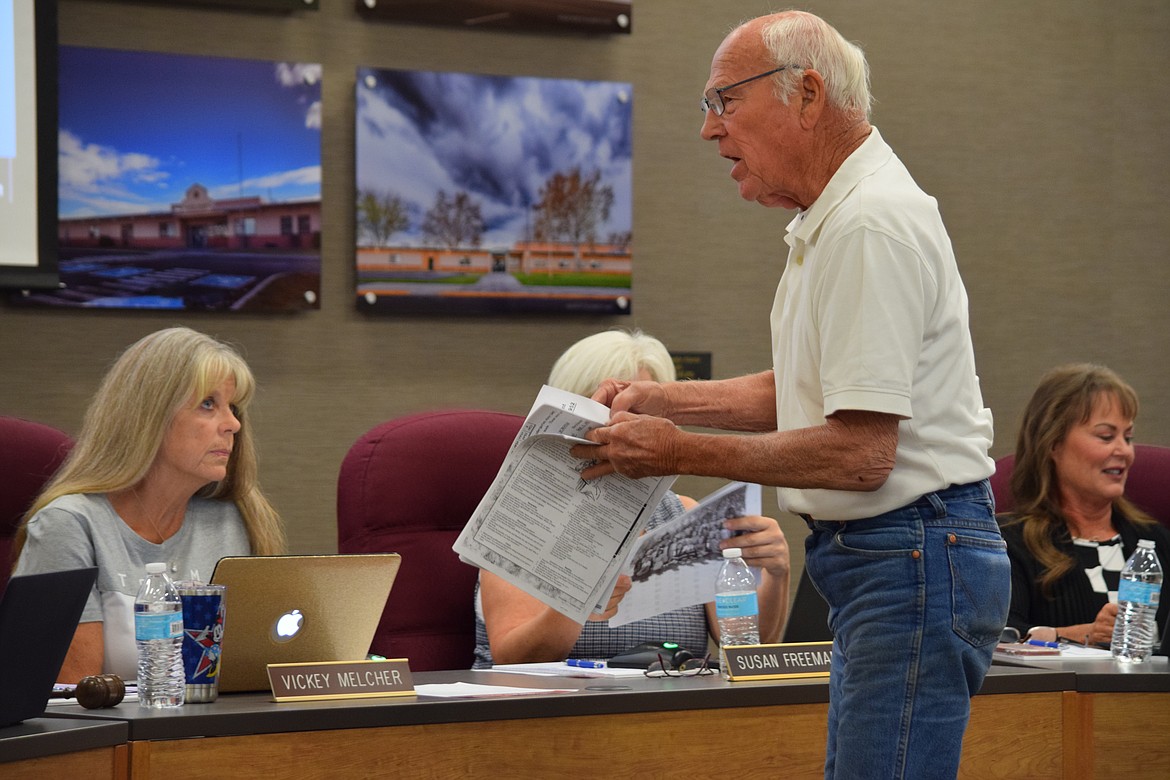 Former Washington State Legislator Harold Hochstatter, right, argues with Moses Lake School Board President Vickey Melcher over where he should speak during a public comment period at the board's regular meeting on Thursday.
Charles H. Featherstone/Columbia Basin Herald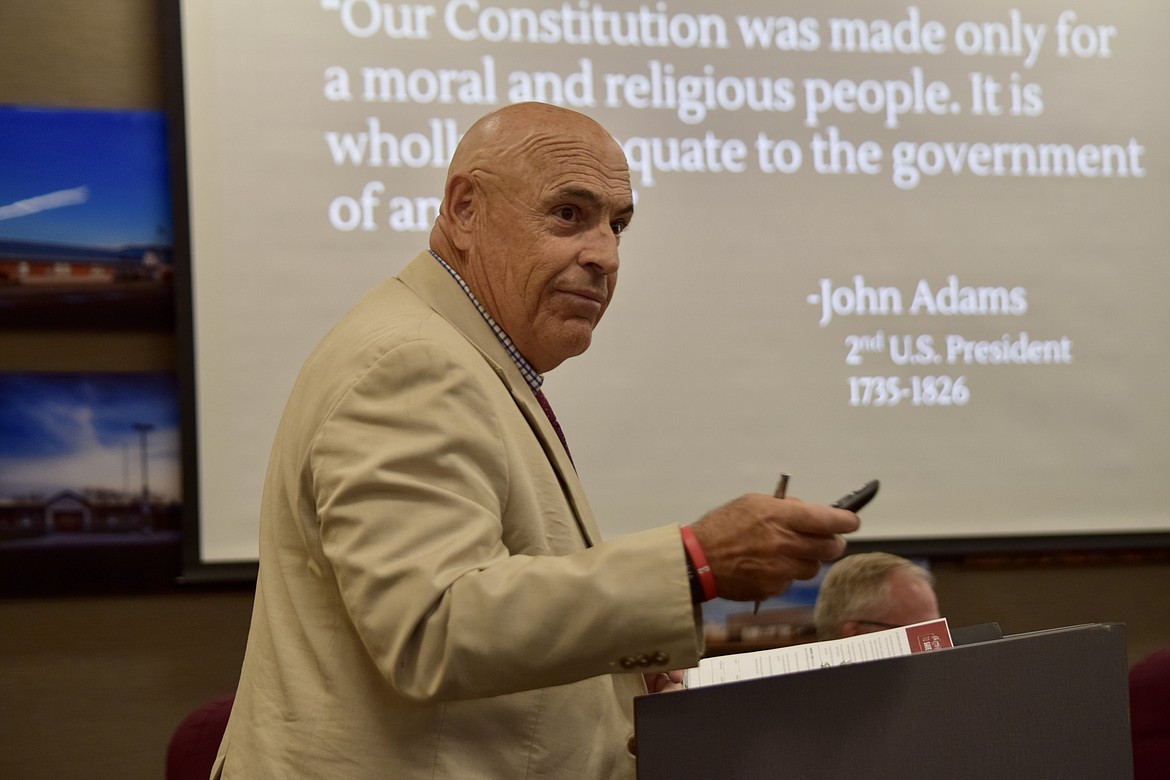 Grant County Prosecuting Attorney Garth Dano speaks to the Moses Lake School Board at the board's Thursday meeting about his concerns regarding the teaching of critical race theory in the district.
Previous
Next
by
CHARLES H. FEATHERSTONE
Staff Writer
|
July 26, 2021 1:07 AM
MOSES LAKE — Members of the Moses Lake School Board inched closer to completing a final district statement and policy on equity at a sometimes fraught meeting Thursday.
But several board members were still concerned the proposed policy, which along with an accompanying procedure was on the Thursday meeting agenda, was too long and needed to be modified.
"The policy has good points, but I think it can be expressed more effectively," said board member Elliott Goodrich. "The policy is better than the procedure, which is not well written and not very clear."
Up for discussion was a draft policy, revised from a proposed equity statement put before the board at its previous meeting, that commits the MLSD to building "a sound educational foundation for each student, enabling them to become responsible citizens."
To do that, the district aims to give students the ability "to choose a pathway for their future" and provide students with "equality of opportunity" and "real choices in pursuing academic, career, and personal success beyond high school."
The policy states the MLSD is not a political organization and does not teach students "how to think," and students will not be taught people "due to race, background, or social class, are inherently good or bad, guilty or innocent, more or less capable than others."
Finally, while the proposed policy acknowledges all students "do not start at an equitable launching point," the policy promises to give every individual the support and education needed to be "ready for their life, career, college, military, or technical training."
The associated procedure gives a list of bullet points intended to show how the MLSD will accomplish these goals, including "fostering a growth mindset" for staff and students, "maintaining high expectations," creating a "safe, supportive, and respectful" learning environment, and "embracing learning and growth" for faculty, staff and students.
"This gives the staff what we expect of them," said board president Vickey Melcher, who also said she believed the district's current bias training already covers much of this.
Goodrich said while he wanted the policy tightened up, and thinks the board should stop writing statements until they have some clarity on what exactly they need to do, he was most concerned about the MLSD's response in the event the Office of the Superintendent of Public Instruction orders teacher training that will violate the district's policy.
"Are we willing to sue the state to prevent that from happening?" Goodrich asked.
The board's consensus appeared to be "yes," the MLSD would be willing to sue the state if Olympia demanded it train teachers in something that violated district policy.
"So, we're in agreement that we will come up with a policy and what we will do if that asks us to do something," Goodrich said, somewhere between a statement and a question.
However, some district residents still wanted a stronger position from the MLSD about both critical race theory and expanded sex ed.
"I ask for a resolution not to teach CRT (critical race theory) in any form," said Jon Smith, who has addressed the board at several prior meetings on this subject. "There's already a failure to teach the foundation, so how can there be time to teach an ideological theory based on Marxist doctrine?"
"It is our money the board spends," Smith said, adding maybe the district needs a citizen oversight committee in addition to the school board.
Matt Paluch, who is running for the board seat being vacated by Goodrich this fall, said nothing in the current law mandates the teaching of critical race theory in public schools and the district's current sex ed curriculum meets the new state standards, so that won't change, either.
"If you want to play partisan political games, do it with the legislature," Paluch said, trading the occasional verbal snipe with audience members. "And keep this garbage out of our schools."
Former member of the Washington State House of Representatives Harold Hochstatter exchanged harsh words with Melcher as he decided to address the board from the front rather than speak at the podium.
"Is my voice loud enough?" Hochstatter asked both board members and the audience.
"The people livestreaming can't hear," Melcher said, sternly insisting Hochstatter deliver his comments from the podium or return to his seat in the audience.
"I live so far in the sticks that I have to have my racism shipped in from the city," Hochstatter said, after assuming his place at the podium.
He implored board members to let federalism work and assert some local control in the face of mandates from Olympia.
"Stop taking stuff from overhead," he said.
The board also voted 3-1 to run the proposed school levy again in November should voters fail to approve the measure during the Aug. 3 primary. Only Goodrich, a supporter of the proposed roughly three-year, $7 million levy, voted against it, saying he believes the government should listen to voters rather than rerunning a measure to get the desired results.
"Once they say no to a tax, we should not hit them up again," he said.
However, Goodrich also reminded voters there are consequences should they reject the local levy. In addition to the $7 million in local taxes, an additional $7 million in state matching funds would also be forfeited if voters rejected the measure, and some fairly steep cuts would need to be made to district programs.
"If they vote on something and they reject it, we need to deal with the consequences," he said.
Charles H. Featherstone can be reached at cfeatherstone@columbiabasinherald.com.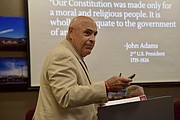 Recent Headlines
---