ML shop rallies after COVID-19 setback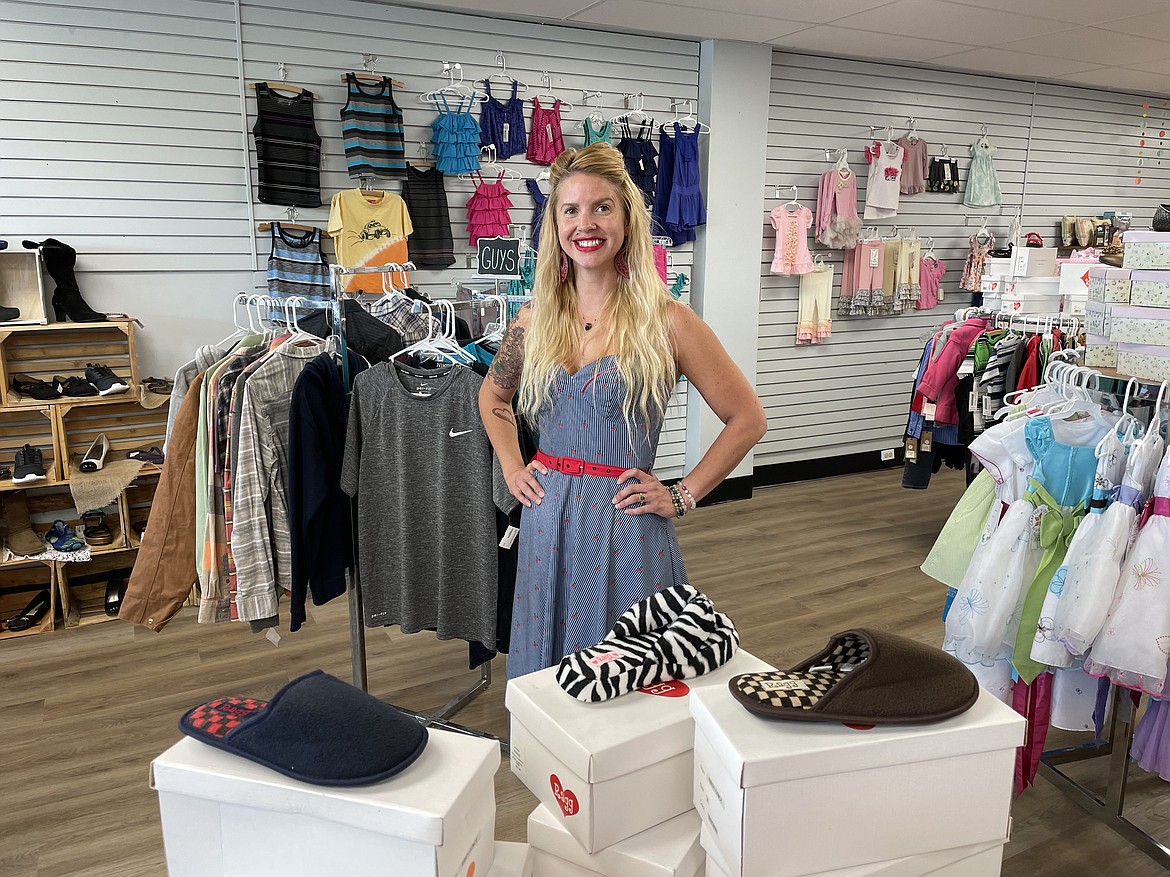 Acashia Crowell, owner of used clothes and toy store Tyke's 2 Kid's, stands in her remodeled downtown Moses Lake store.
Charles H. Featherstone/Columbia Basin Herald
by
CHARLES H. FEATHERSTONE
Staff Writer
|
July 26, 2021 1:05 AM
MOSES LAKE — Acashia Crowell was all set to close her downtown business, children's clothing and toy store Tyke's 2 Kid's last month.
She had the signs up. She was ready to pack it all in, to pull the plug.
"But then we decided to give it one more shot," Crowell said. "I just wasn't ready to say goodbye to it."
So, rather than close, Crowell said she doubled down — with some help. She put in a fitting room, replaced the ceiling and the lighting, ripped up the floor and put in a new one, and repainted the place. Light blue. It's airier, brighter, more welcoming.
Crowell wanted to take one more try at what she called "the perfect job," buying and selling used children's clothes.
"I have six kids and I get to take them to work," she said. "I love what I do, I love the customers, and it's not very often that you fall in love with what you do, right?"
Tyke's 2 Kid's almost fell victim to COVID-19. Crowell said the business — which she acquired several years ago from the original owners and moved to its current location at 110 W. Third Ave. from the corner of Third Avenue and South Division Street when Windermere Real Estate bought that building — was doing well until the pandemic hit last year.
"And then we totally tanked," she said. "I have six kids and I have to feed them, and this is my heart."
"I tried to make it work as long as I could. We were going to close, but we decided to give it one more shot," she added. "And here we are, trying."
Gary Chandler, vice president of government affairs for the Association of Washington Business and owner of the UPS Store in the Grant County Mall on South Pioneer Way, said he is always impressed by how persistent small business owners are.
"That's the thing I love about small businesses. It's hard to squish us," Chandler said.
Chandler said COVID-19 was hard on small businesses across the country — especially restaurants — with a number closing down in the weeks and months following the imposition of pandemic-related restrictions on business operations.
According to data published monthly by the U.S. Census Bureau on business applications, new business starts cratered in the months after the outbreak of COVID-19, falling to 234,000 nationwide in April 2020 from a high of nearly 313,000 in December 2019.
However, new business applications in the U.S. reached an all-time high in July 2020 of nearly 552,000, and have remained well above the previous high ever since. In June 2021, new business applications across the U.S. topped 448,000, well below the May figure of 497,000, but still much higher than before the pandemic.
"It makes me feel good," Chandler said. "People still have a desire to open and own businesses."
Chandler cautioned, however, while much of the country has reopened, resistance to vaccinations in the face of the delta variant of the SARS-CoV-2 virus could eventually prompt new restrictions.
And that would not be good for small business people like Crowell already struggling to recover from the pandemic.
"I hope the delta variant does not get a foothold. I don't want to see another rollback," Chandler said. "We need to keep businesses open and not stymie our businesses."
In her newly remodeled store, Crowell stands amid the tiny dresses, little shoes and miniature T-shirts, nervous about the future.
Crowell is nervous, but hopeful. The grand-reopening in mid-July went well with a good turnout, and business has been good ever since.
"Now I feel like it's completely up to the community. It's kind of out of my hands," she said. "Maybe it will pay off. I hope so."
"I hope so," she added.
---