Local brewery celebrates 2-year anniversary with Learn 2 Brew
MOSES LAKE — July marks two years since Squirrel Fight Artisan Brewing's grand opening at 530 W. Valley Road, Suite N, in Moses Lake, and it celebrated Saturday the way it knows best — by making beer.
Members of the MUGZ (Moses Lake Union of Great Zymurgists) homebrewing club and independent brewers alike set up tents and laboratories in front of the Squirrel Fight taproom for the first Learn 2 Brew event, where each brewer starts a batch of beer in the communal space.
In a few weeks, when the brew resembles beer a little more, Squirrel Fight co-owners Ruben Vela and Troy Watson will judge the entries. The winner ends up on the Squirrel Fight taplist.
The event wasn't just for hardcore brewers, though. Along with The Corndog Company setting up shop, starting at 1 p.m. a five-act lineup — 3 Chords & The Truth, Michelle Payne, James G., Dogger and Cheto — played until sundown.
It's an all-inclusive event for people who are interested in brewing and wanting to talk to brewers about their process or simply want to hang out, said Sandi Watson, Troy Watson's wife.
At Learn 2 Brew, the students are also the teachers, she said. Everyone has a unique setup, a mishmash of purchases or custom-made assemblies for their beer. It's just hanging out, drinking beer and learning from each other.
For brewer Chris Lamb, the community is the best part of the entire process of brewing, he said.
"As a community, we get to get out and spend time with each other, you know? That's one of my favorite things is talking about it with others and spending time with other people," he said.
Critiquing beer and seeking advice is a vital part of the brewing process, said brewer Garrett Curtis.
That's a big reason why Lamb started brewing in the first place, he said: the community, culture and friendships behind the beer.
On Saturday, Lamb started a hoppy wheat beer, he said, mainly because those are the ingredients he had.
Curtis found brewing via the Discovery show Alaskan Frontier, he said. There was an episode where they were homebrewing, and it got his wheels turning.
He called Saturday's creation an "Aloha DIPAlicious": a double IPA with Azacca hops smelling of fresh citrus, pines and tropical fruit.
"It's going to be a real tropical, fruity, strong IPA beer," he said. "The yeast I'm using gives off a lot of real fruity esters, so it should be pretty tropical."
Seventeen pounds of grain went into his 6-gallon batch, he said, for a very strong, thick beer.
Meanwhile, brewer Nathan Bathurst was working on an Extra Special Bitter (ESB), an English-style pale ale.
"It's probably the first beer I fell in love with, really," he said. "Nowadays it's all IPAs, and I love IPAs. I drink them all day, but ESB is a nice beer."
Bathurst's uncle inspired him to brew, he said.
"One day he brought a bottle of hefeweizen to Thanksgiving, and I was just like, 'You made this? Oh my god.'"
The control, for Bathurst, is the best part of the brewing process, he said. He started using pre-made malt, where all he had to do was add water and hops and boil it.
Now, he brews all-grain, he said, from scratch. That way, he has full control over every aspect of his brew.
"You mess up, you figure out what you did wrong, you do it better the next time," he said. "The whole process is just very fun."
In the end, drinking the beer is just one fun part of the journey, Lamb said.
"It's having the capacity to talk about what you're tasting and being mindful of the ingredients you put into it to get a finished product," he said.
With recurring comedy and trivia nights, Squirrel Fight's summer events are in full swing, Watson said.
"Moses Lake needs a lot more of this kind of stuff," said Moses Lake resident James Gonzales, "gatherings, live music, and good company."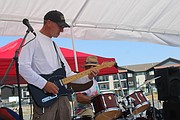 ---