Digging in: Officials break ground for new Moses Lake Food Bank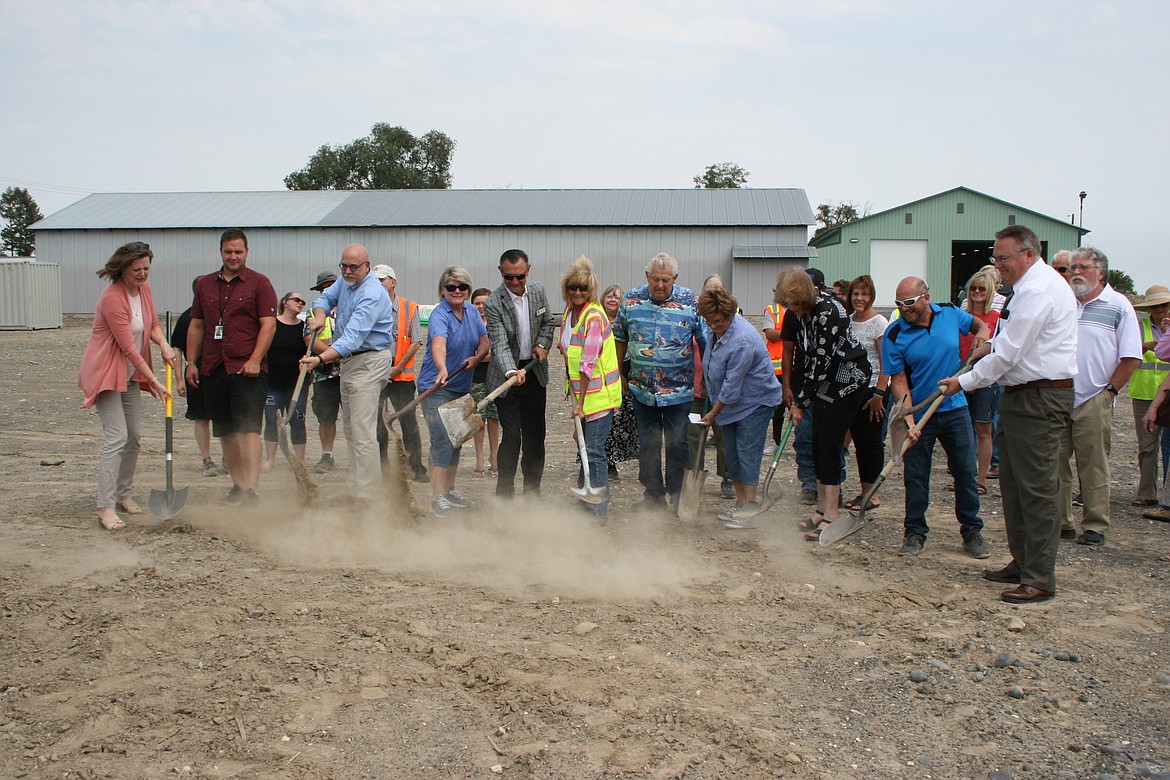 (From left) Moses Lake City Manager Allison Williams, Grant County Commissioner Rob Jones, Bill Fromke of ZBA Architecture, Moses Lake Food Bank volunteer Lisa Whitney, Moses Lake Mayor David Curnel, food bank manager Peny Archer, Mick Hansen, food bank board member Chris Hansen, state Sen. Judy Warnick, R-Moses Lake, Scott Schurmann of Total Site Services and project engineer Del Green turn over the first shovel of dirt at the groundbreaking ceremony for the new food bank Monday.
Cheryl Schweizer/Columbia Basin Herald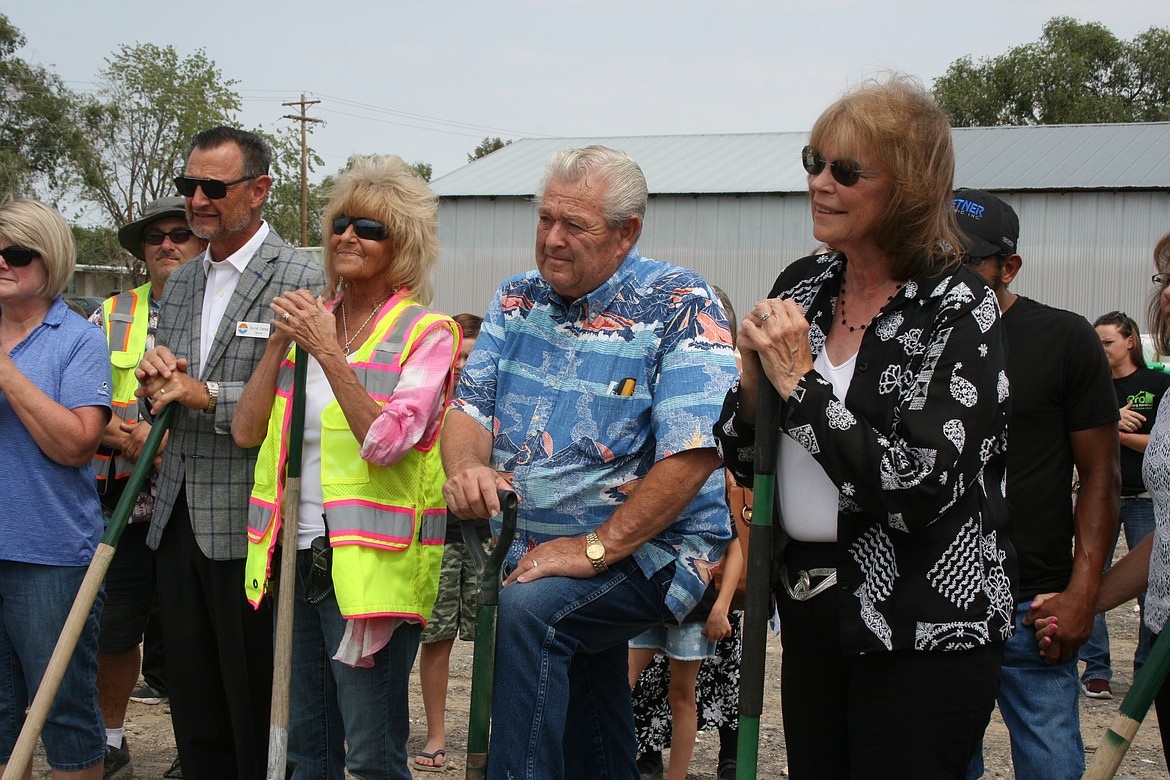 From the left: Moses Lake Mayor David Curnel, Moses Lake Food Bank Director Peny Archer, Mick Hansen and Sen. Judy Warnick, R-Moses Lake, listen to a speech during groundbreaking ceremonies for the new food bank Monday.
Previous
Next
by
CHERYL SCHWEIZER
Staff Writer
|
July 20, 2021 1:07 AM
MOSES LAKE — Dirt flew and there were smiles all around at the groundbreaking ceremony for the new Moses Lake Food Bank Monday afternoon.
Peny Archer, director of Community Services of Moses Lake, which operates the food bank, compared it to a whole list of milestones in life, such as buying that first house.
"My cheeks are actually starting to hurt from smiling today," Archer said.
Food bank operators and the organization's board of directors have been raising money for the project for seven years.
The land for the new location, at the intersection of Grape Drive and state Route 17, was donated by Chris and Mick Hansen in 2014. The land was put in a trust by Chris Hansen's father, Marc Marchand, who directed that it be used for a charitable purpose.
Marchand owned a construction company in Moses Lake, and was well-known throughout the Columbia Basin. The handles of the shovels used in the groundbreaking ceremony Monday were painted in the green Marchand used on his construction equipment.
"This is going to be so great," Chris Hansen said.
Contractor Scott Schurman said construction is scheduled to start next week, pending approval of all permits. Construction should take about a year.
The total project cost was estimated at about $2.9 million, but extra expenses pushed the cost to about $3.9 million, Chris Hansen said.
Besides fundraising, the project received a big boost from state Sen. Judy Warnick, R-Moses Lake, Chris Hansen said. The project received two allocations from the state capital budget as a result of Warnick's work, $2 million in 2019 and $1.9 million in 2021.
Warnick said the project became very important to her. Agriculture is the backbone of the local economy and people going hungry here was just wrong, she said.
Warnick said Archer's hard work was instrumental to reaching the goal.
"She just wouldn't give up," Warnick said.
The building, about 10,000 square feet, will house the food bank's regional distribution center, as well as its local distribution area. Food is delivered to the Moses Lake Food Bank and then redistributed to 34 food banks in central Washington, Archer said.
Hansen also credited Lisa Whitney for her help in writing grant applications for the project. Whitney said donations are still being accepted at the food bank website, www.mlfood.org.
"This is a great day," Chris Hansen said.
Cheryl Schweizer can be reached via email at cschweizer@columbiabasinherald.com.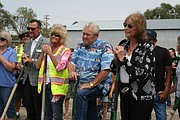 Recent Headlines
---