Classics on display: Show 'n Shine returns to Kiwanis park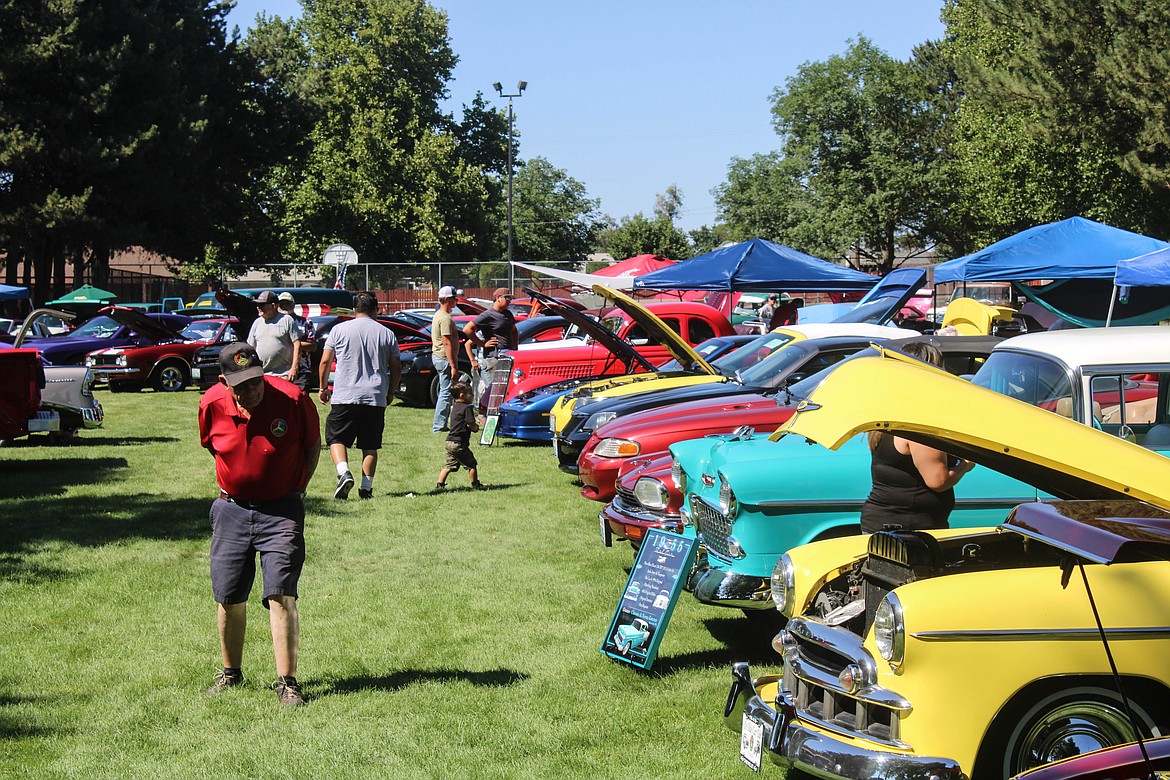 More than 120 cars entered the Othello Spud Run 25th Annual Show 'n Shine in Othello, spanning more than a century of builds.
Sam Fletcher/Columbia Basin Herald
by
SAM FLETCHER
Staff Writer
|
July 20, 2021 1:00 AM
OTHELLO — With the Othello Spud Run 25th Annual Show 'n Shine pushed back a year, it was a quiet hiatus for car enthusiasts. But according to All City Classics Car Club President RJ Lembcke, it was all the more time to build up cars and prepare for this year's show.
That's the most valuable part of any car show, he said, seeing the work put into each car and what got them to where they are today.
More than 120 cars entered, from the early '20s to fresh off the assembly line. Along with raffle prizes, more than 50 trophies were given out. Two, of course, were for the slow drag and poker run champions, but a whole line of superlatives gained recognition.
Those who didn't race could meander through lines of cars on the grass of Kiwanis Park, looking at engines on display, while listening to '50s pop music.
"Finally we're getting people back out," Lembcke said. "All weekend people were saying, 'I'm glad we're doing this again;' and it's such a wonderful car show here anyway in the park, nice and cool, beautiful day."
Lembcke owns an early Ford Model T, he said. While he appreciates all the new cars, the classics are really what he looks forward to seeing.
As prizes were being announced, there could have been many mental drum rolls anticipating the grand trophy for Best in Show.
"It better be the Bel Air," someone said.
Sure enough, the grand prize went to Josh Knopp of Moses Lake and his 1956 "candy brandy wine" Chevrolet Bel Air.
Fewer than 8,000 Bel Airs were built in 1956. According to the Chevrolet Consumer Guide, that year the car received a face lift with a new grille, two-tone bodyside treatments and front and rear wheel openings. The Bel Air is considered by many collectors an icon of the 1950s, especially its third-generation design.
Knopp came to his first Spud Run 20 years ago just to see the cars, he said. This was the first time he ever entered the show.
He started building hot rods as a hobby, he said, before launching Knoppsters Speed Factory to build dirt bikes and Powersports engines.
Now, he's back to his dream of buying, building and selling hot rods, he said.
"I love seeing it all, to be honest with you," he said. "It doesn't matter if it's a classic, or a street bike, or a Harley, or old school, I love it all. It's all muscle. I prefer classic stuff than pure muscle, because it's cool stuff. Horsepower always gets a man going."
The best part of the car show is the people, he said. The community, comaraderie and advice is the biggest draw.
Shutting the road down for the slow drags is a blast, Lembcke said. Drivers have the whole street to themselves without distraction.
"Coming in early in the morning and watching… the hoods up, seeing all the pieces and all the chrome," he said. "I'm a chrome addict, anyway."
But for Lembcke, the best part is the people, too. He never does anything to a car for the first time without talking to a club member first, he said.
It (the show) was a great return to the community, he said.
"Othello Spud Run is really a wonderful, wonderful show," he said. "To get the chance to come out and do that again is just incredible."
Sam Fletcher can be reached via email at sfletcher@columbiabasinherald.com.
---