Trust and mandate concerns drive school board races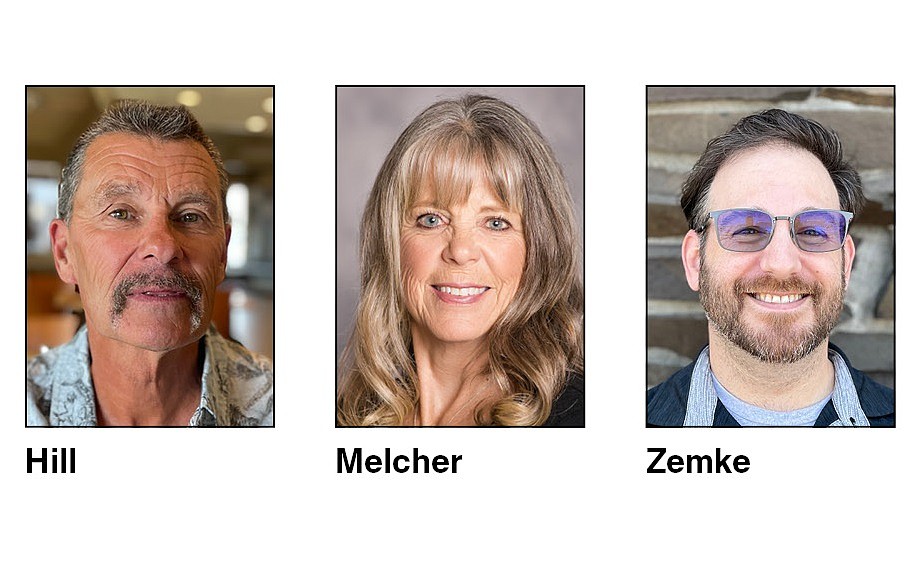 Paul Hill, left, Vickey Melcher, center, and Noah Zemke are running for a seat on the Moses Lake School Board.
Courtesy photos
by
CHARLES H. FEATHERSTONE
Staff Writer
|
July 16, 2021 1:03 AM
MOSES LAKE — Concerns over the teaching of race, gender and sex in public schools, as well as a lack of trust in the Moses Lake School District fostered by a perceived lack of communication are the things motivating most of this year's candidates running for seats on the Moses Lake School Board.
Two seats are up for contention in the Aug. 3 primary, and again in November's general election. Vying for Director District 2 are incumbent board member (and current board president) Vickey Melcher, who was first elected in 2017, and challengers Paul Hill and Noah Zemke.
Facing off for the Director District 4 seat being vacated by Elliott Goodrich, who was first elected in 2017 and then later announced he would not seek re-election, are Moses Lake Police Chief Kevin Fuhr, Rachel Roylance Gallacci, business owner and former Moses Lake City Council Member James Liebrecht, and Matt Paluch.
The two with the most votes in each race will go on to face each other in the November general election.
Director District 2
Paul Hill, 67, is a former Burien resident who retired to Moses Lake several years ago. He said he decided to run for the school board because after helping his granddaughter with her studies during the COVID-19 lockdown, he realized she could not read as well as he believed a middle school student should.
"That's not uncommon; our kids' scholastics are very poor," Hill said. "We've got a high-paid superintendent and our schools rank consistently at the very bottom of the state. And that's just not fair to our kids."
"They're our future leaders, they're going to be running our county and our city and our state, and they need an education," he added.
Hill said he believes the greatest concern facing the MLSD are mandates from Olympia on what the district should teach — especially comprehensive sex ed, transgender policies the exclude parents and critical race theory. He believes the school board needs more conservative voices that can tell the superintendent to fix problems and take a public stand against mandates from the legislature — even if it means violating the law.
"I'll go to jail if that's what it takes. I will stand firm on my position and I'm not going to allow it," Hill said of both comprehensive sex ed and critical race theory. "We're allowed to pick our curriculum, we're allowed to pick how we're going to implement these. And we have to have a school board that is willing to stand up and take a stand."
Vickey Melcher was first elected to the school board in 2017 and has served as the president of the board since August 2020. She grew up in Odessa, worked as a teacher in the MLSD, and currently keeps the book for her family's business and serves on the Big Bend Community College Foundation board of directors. She would not provide her age.
"I was raised in the definition of 'small town USA,'" she wrote in an email response to the Columbia Basin Herald. "The morals and values I learned in that small town are still a large part of me as well as my relationship with God."
Melcher said she is seeking re-election to the school board to continue the work she's overseen for the last nearly four years — the construction of the new high school, providing opportunities for families during the pandemic, and helping to organize school districts across eastern Washington and give them a voice in Olympia.
"These are just a few of the reasons I want to be a MLSD board member – to continue this great work," she wrote.
Melcher said she also wants to focus on improving student mental health and district-wide graduation rates. As a current board member, she said she has been lobbying the state legislature to change the school funding formula to give districts the ability to hire more counselors.
She also believes the MLSD needs to help students succeed in ways that make sense to them, because not all students need to go to college, but all students need to be prepared to make their way in the world — something she said the new high school will help with.
"To help prepare our students for the ever-changing workforce we need to give them a 'buffet' of learning options and teach them the 'essential' skills of communication, collaboration, creative and analytical thinking," she wrote. "That is not 'dumbing down' the education of our students, it is 'lifting up' the desire and relevance for the student to achieve his or her fullest potential."
Noah Zemke, 39, has worked as a database manager at Joyson Safety Systems for the last 14 years. A graduate of Ephrata High School, he has two children in the MLSD and attributes his career success to a high school instructor who encouraged him to build computers for the EHS keyboarding class.
Zemke said he decided to run for the school board because believes the board's meetings have been too dominated by one or two people and more voices are needed on the board, especially people who know how to analyze and deal with data.
"I'm very data driven," Zemke said. "I understand the numbers and I know how to line them up."
Zemke said if elected, he would come to school board meetings prepared with both raw and computed data on things as varied as the district budget and graduation rates and will be more than happy to share and explain that data to help the board make decisions.
This is especially true of how the district's money is spent, including on the new high school, Zemke said.
"Breakdown should always be available," he said. "People in the community need to know that their money is going to the right place and actually does something."
In fact, Zemke said the MLSD needs to do a much better job of explaining both how its money is spent, what district policies are, and what students are being taught to taxpayers and district residents. Because Zemke said many of the people he's talked to say they aren't happy with the level of communication from school officials.
"If the people are not coming to you, you need to be going to the people," he said, echoing a sentiment Zemke said was made by former board member Bryce McPartland. "There needs to be more community outreach."
Editor's note: The candidates for Director District 4 will appear in the Columbia Basin Herald next week.
Recent Headlines
---