MLSD names new board member, talks about equity and inclusion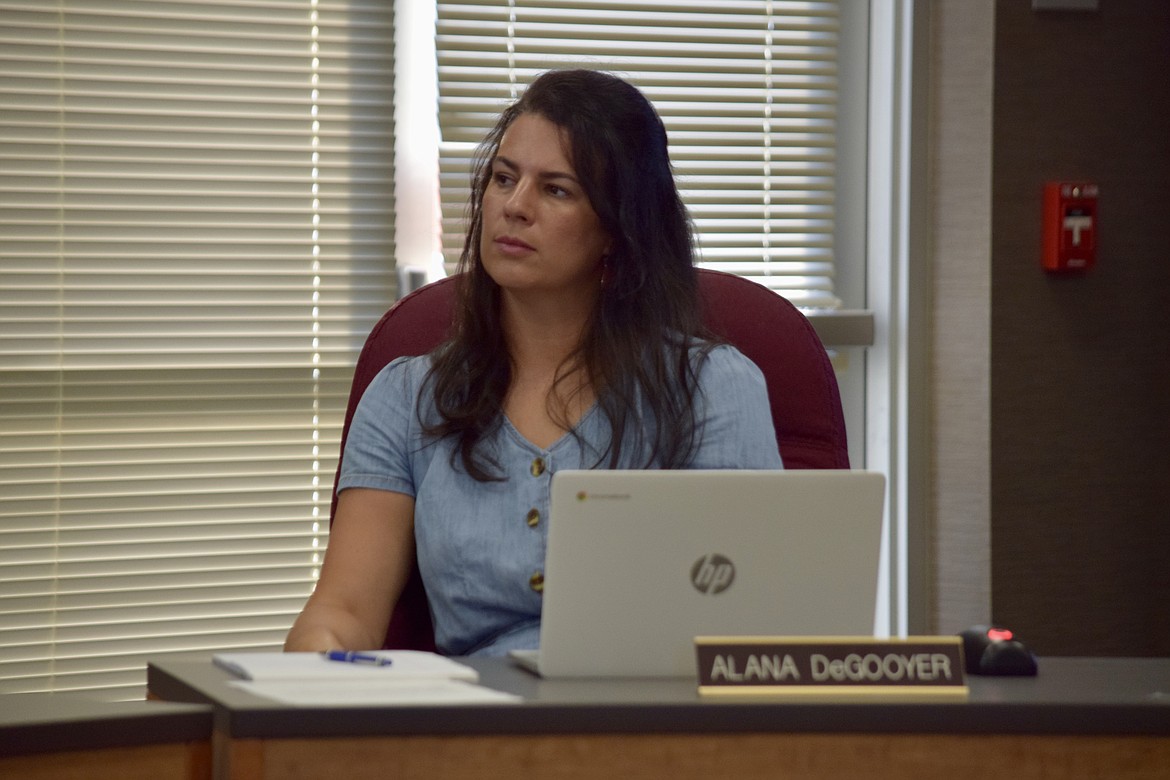 Moses Lake School District School Board member Alana DeGooyer succeeds Bryce McPartland following his resignation last month. DeGooyer will finish out McPartland's four-year term, which expires in 2023.
Charles H. Featherstone/Columbia Basin Herald
MOSES LAKE — Two nights of back-to-back meetings last week saw the Moses Lake School District School Board appoint a new member and engage in a sometimes heated discussion on "equity and inclusion."
At a regular meeting on Thursday, board members voted unanimously to appoint Alana DeGooyer to fill the seat vacated by former member Bryce McPartland, who was forced to resign after moving out of the district he represented.
"We appreciate your volunteer heart and spirit for this community and its children," MLSD Superintendent Josh Meek told DeGooyer at the end of the Thursday meeting.
Board members met during a special meeting on Wednesday to interview candidates vying for the empty seat, which also included Kimberlee Poole, Christine Getz, and former two-term school board member Randy Bruce.
DeGooyer was sworn in at the beginning of the Thursday meeting and will serve the remainder of McPartland's four-year term, which expires in November 2023.
However, Thursday night's meeting was dominated by discussion and concern from the public about new state laws regarding sex education and teacher training on "equity, diversity, inclusion, antiracism and cultural competency," and the district's proposed 650-word "Equity Statement" in response.
The statement noted treating "everyone with respect and integrity while embracing differences" is a core MLSD value, and that the MLSD is "not a political or partisan organization" that pushes an ideology.
However, the statement also said young people "do not start at an equitable launching point" and the district is committed to providing each student with "the support and assistance needed" to be "ready for their life, career, college, military or technical training."
The statement also said while the United States is a diverse country and no ethnicity or race is inherently "guilty or innocent," Americans have also "failed to live up to the ideals of the nation's founding" and it is important to provide "equality of opportunity through an excellent education" to all students.
Board member Elliott Goodrich said while he was glad the proposed statement acknowledged the different ways students can succeed in life, he said he believed it was much too long.
"We will not discriminate against anyone for any reason and all children have the opportunity for success if they choose to avail themselves of it. We could do it in two sentences and be more effective," Goodrich said to audience applause.
Goodrich said it's far more important to engage students as individuals with futures rather than pasts, and the focus on equity and inclusion as it stands now creates and fosters division among students and families.
"We don't believe in division. We want everyone to be successful and we will provide that," he said. "We're here to help kids be successful tomorrow, not to worry about what happened to their grandparents."
Meek said Goodrich's short statement is not effective and open to far too much interpretation. The superintendent also noted there are some significant differences in where district students start that has an effect on what they can achieve.
"A statement is useless if not actionable regarding what happens in schools," Meek said.
Board members agreed to tighten up the wording and shorten the proposed statement before considering it again.
"I think it's a good starting point, but we need to work on it and make it better," DeGrooyer said. "Maybe not two sentences, but not 40 either."
While one email comment said the MLSD is not going far enough to address past problems, all public comment at the meeting itself ran strongly opposed to the proposed Equity Statement.
"We don't have the problem of systemic racism in this community," a very animated former state legislator Harold Hochstatter told school board members Thursday. "Show me some."
"There's one race, and it is the human race. Anyone here belong to that?" Hochstatter added to applause from the public in attendance.
The MLSD already has policies that ban discrimination and harassment of students, staff or faculty for any reason, said John Smith, who attended both the Wednesday and Thursday meetings. So the MLSD doesn't need another one for a specific group of people, he said.
"We expect and demand equal rights, not special rights," Smith said.
In a separate matter, board members also considered the district's policy toward transgender and gender non-conforming students. Under state law, the MLSD was supposed to have a policy in place in early 2020, but board members continue to seek guidance and information about what that policy needs to contain.
Goodrich, who is concerned the policy allows district staff to talk to students about their gender identity without informing parents, said the choice boils down to doing what the state says or suing the state to block implementation of the policy.
"We can be proactive and seek injunctive relief," he said. "There is no viable path forward, but to get in a fight with the state legally."
Goodrich said he's willing to start that fight, but also noted that he will not be around to see that fight through because he is not seeking re-election this fall, and so will accept whatever solution the board decides.
Goodrich also noted without a policy, the district is open to a potential lawsuit if accused by a student of being harassed or discriminated against.
Meek said the district will continue to examine other options, including looking at what other districts have done.
Charles H. Featherstone can be reached at cfeatherstone@columbiabasinherald.com.
---