Moses Lake 9U baseball team wins Cal Ripken State Tournament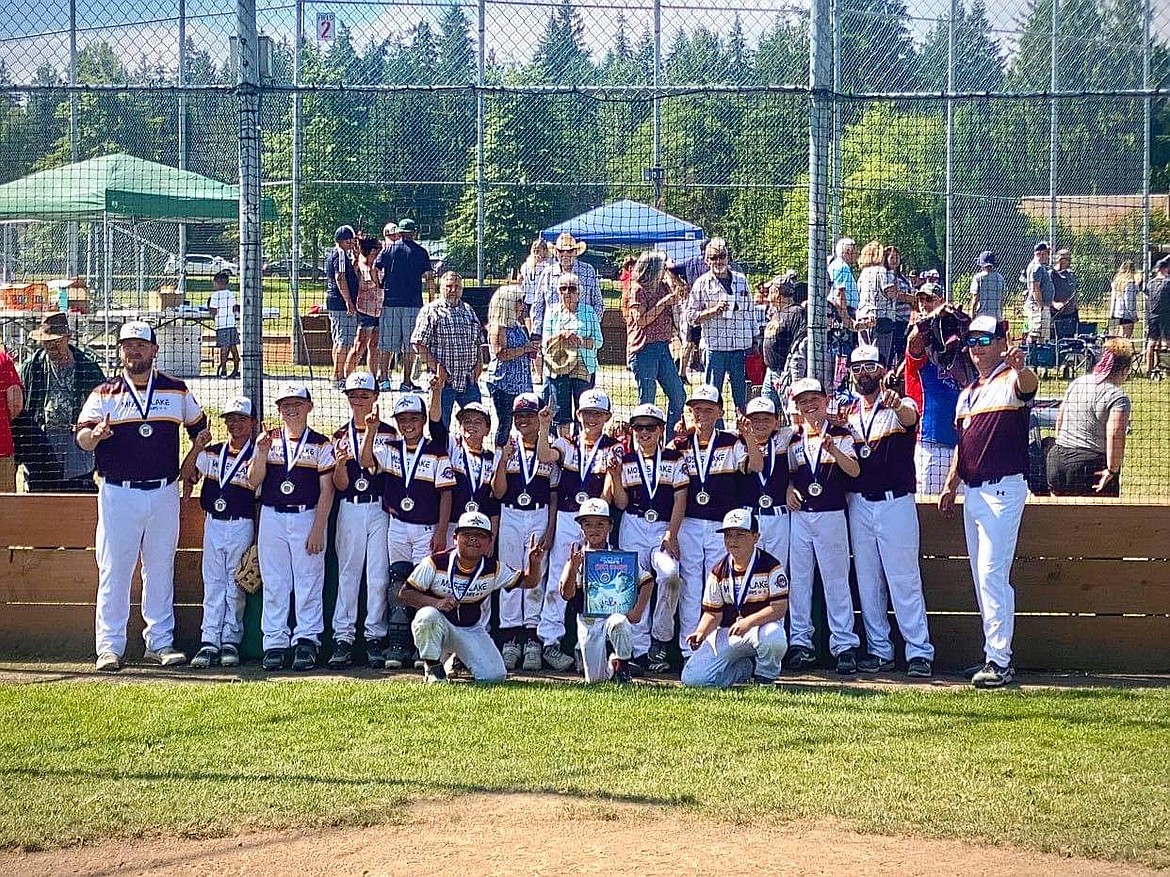 Players and coaches from the Moses Lake 9U team gather together with medals and trophies in Mount Vernon last weekend after winning the Cal Ripken State Tournament.
Courtesy Photo/Rob Bragg
by
CASEY MCCARTHY
Staff Writer
|
July 9, 2021 1:00 AM
MOUNT VERNON — The Moses Lake Youth Baseball Association 9U Allstar team traveled to Mount Vernon last weekend for the Cal Ripken State Tournament, walking away with the championship and advancing to regionals.
The 9U baseball team faced Mount Vernon in the opening game, losing 11-5. Waylon Kron gave the team a 14-13 walk-off win over Port Angeles in the next game, followed by a 23-15 victory over Lynden.
In the semi-finals, Moses Lake brought down Port Angeles again with a walk-off from Luke Sawyer to advance to the championship rematch with Mount Vernon, which they won 8-2.
Moses Lake finished with 49 hits in the tournament while surrendering just nine over the five games. Graham Passey pitched 13 strikeouts and allowed two runs in the final game. Carson Valdez played a key role picking off multiple runners on base throughout the tournament.
"He'd throw out his grandma if she'd tried to steal," Steve Keller said.
Keller is the head coach for the team with his oldest son, Jaxon Keller, a member.
"These boys are special, all I can say," Keller said. "They understand the roller coaster of the game and we have adopted a phrase from Jameson Lange and the Vikings, 'for the boys,' which we foster in practice and feed off in games."
Keller said the energy and commitment from his young players have been outstanding all season. He said he and his assistant coaches, Tim Kron and Jeffrey Sawyer, have been grateful to share this experience.
The squad participated in the Pete Doumit Memorial tournament in Moses Lake, the Golden Gloves tournament in Yakima and a few others ahead of the state tournament. Going into state, Keller said, the team knew if they played hard and played for each other, good things could happen.
Next, the 9U team gets set to head to Meridian, Idaho, for the Pacific Northwest Regional Cal Ripken Tournament with the opening ceremony set for July 21 and semifinals and the championship on July 24.
The Moses Lake team is currently working on some fundraising opportunities to help pay for players' and coaches' travel to the tournament. Anyone interested in helping out can reach out to the Moses Lake Youth Baseball Association at https://www.mlyba.org for more information.
Recent Headlines
---