April Lyons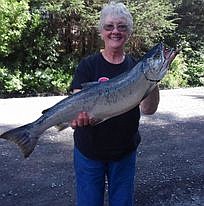 March 28, 1941 – March 23, 2021
April May Lyons (Howes, Showers) passed away March 23, 2021, after a battling the effects of long struggle with cancer. She was born March 28, 1941 in Newport News, Virginia.
April's father was in the U.S. Air Force, and they lived in Europe and Turkey, as well as several different states before settling in Moses Lake in 1952. April attended high school in Moses Lake.
April loved to play cards with family and friends. Her favorite pastimes were fishing and hunting. She also adored her cat CC and loved spending time with her.
She is survived by her sons Ronald and Kenneth Howes and her grandsons Bradley, Luke and Jack Howes. She was preceded in death by her mother Mildred, father Robert W. Showers, brother Robert Showers and sister Jan Webley.
A celebration of life service is planned for July 17 at the American Legion in Ephrata, Washington from 5 to 8 p.m.
---