Heat wave is good for jet skiing, but hard on animals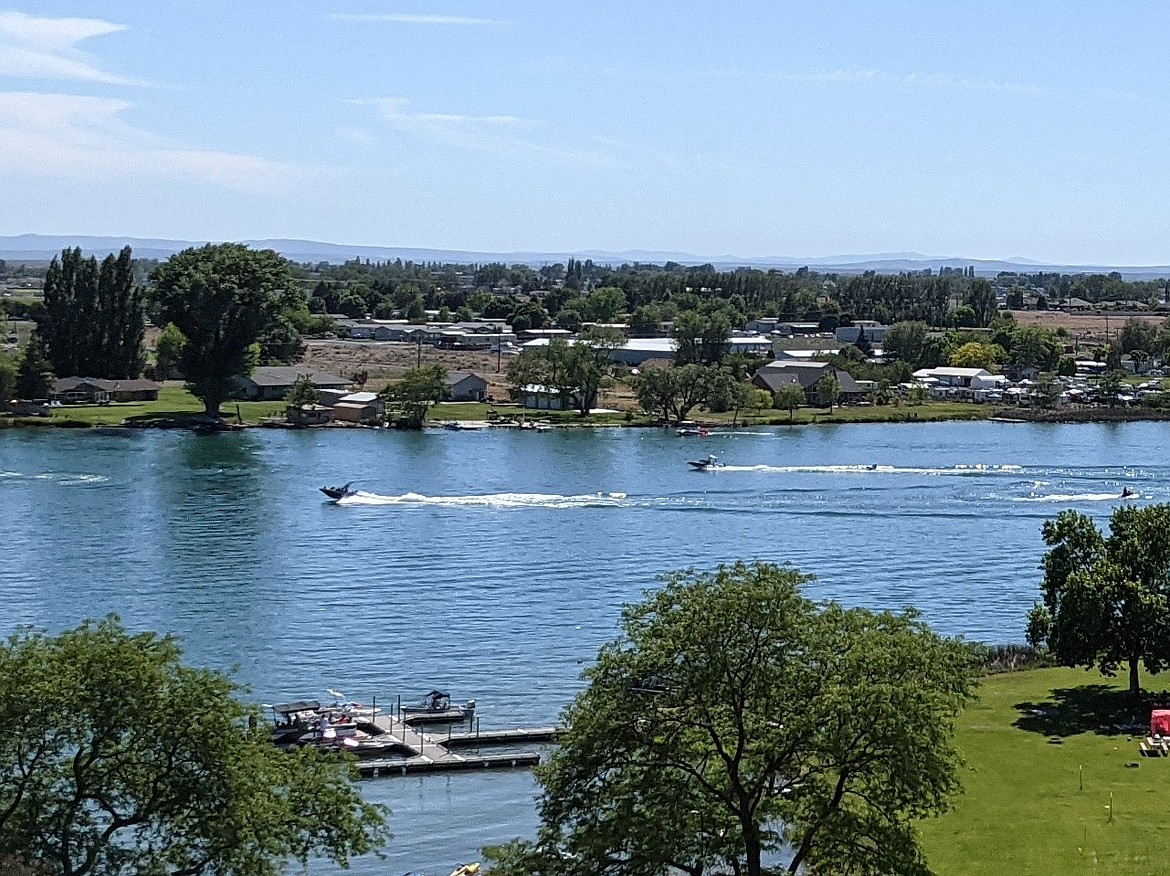 As temperatures rise, typically more people go out on Moses Lake for recreation than to the sand dunes.
Emily Thornton/Columbia Basin Herald
by
SAM FLETCHER
Staff Writer
|
July 1, 2021 1:00 AM
Recreating in the Basin changes completely based on weather, said Pro-Touch Jet Ski and Boat Rental owner Carlos Diaz.
In the spring, pontoon boats are most popular. It's cooler, and people like to cruise. When it gets hotter, the jet skis rise to the top. It's time to get wet.
ATV rentals typically go up April to June, he said, then they taper off into the fall.
"When it's 100 degrees, people don't want to be out there in the sand dunes," he said.
Well, what about when it's 115 degrees?
Spokane's National Weather Service (NWS) office has put out daily excessive heat warnings this week, with temperatures breaking all-time records.
On weather.gov, NWS recommends bringing pets indoors and providing shade and plenty of water, avoiding consumption of alcohol and caffeine, drinking plenty of water, even if one doesn't feel thirsty, taking frequent rest breaks in shade or in air conditioning and checking in on elderly or ill family members.
The intense heat is hard on everything, including pets and wildlife. Many organizations have recommended leaving water out for stray pets and even wild animals who have a harder time accessing water.
The Department of Fish & Wildlife's Habitat at Home program provides guidelines for making a yard comfortable for surrounding animals, with tips on what food and shelter to provide.
While leaving out heaps of food may not be the best idea, according to the National Wildlife Federation (NWF), convenient water supplies can make a big difference in the survival of birds, insects and small mammals during bouts of extreme heat.
A lot of neighborhood animals are not very wide-ranging, according to the NWF, and sudden heat waves can put them at risk if they are not used to seeking out bodies of water.
The key to these convenient water sources is to keep them shallow. Putting rocks at the bottom of bowls and bird baths will ensure small animals and insects can get out.
Keeping gardens watered is another great way to ensure the health of bees and butterflies.
To register a yard as an official WDFW Habitat at Home, visit wdfw.gov. Otherwise, keep cool and stay hydrated.
Sam Fletcher can be reached via email at sfletcher@columbiabasinherald.com.
Recent Headlines
---