Rev. Klockers: God's love can move a person from bragging about self to caring for others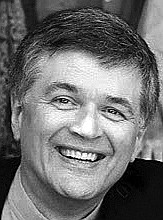 by
Rev. WALTER KLOCKERS
|
January 27, 2021 1:00 AM
Matthew 6:5 from the New Revised Standard Version of the Bible says: "And whenever you pray, do not be like the hypocrites; for they love to stand and pray in the synagogues and at the street corners, so that they may be seen by others. Truly I tell you, they have received their reward."
Here's a hypothetical situation. Let's pretend that I'm a single 23-year-old again. I have taken a nice girl on a date that I met at the college I attended. We go to have dinner at a local restaurant. As we are seated, I look through the menu, decide what to order and let the waiter know. She does as well. At that point, I lead the conversation:
"Well, let me tell you about myself. Yes, I'm 6 feet, 6 inches tall. My dad is the number two millwright in the Port Townsend paper mill. He can basically fix or build anything. When he was younger, he was a local baseball legend who nearly made the cut on a semi-professional team out of Tacoma. I've been told that I am a distant relative of the McGuire Sisters singers. I've also been told that I have a good singing voice. Yes, I could use a little more muscle, but I am quite physically fit. I jump rope Monday through Friday. On Monday, Wednesday, and Friday, I do 1,000 and Tuesday and Thursday I do 2,000. I was recently involved in a fundraiser for the Heart Association. It was a jump rope marathon and I did over 10,000."
By then the chef in the kitchen had finished preparing the meal and the waiter brought it to our table. I say a prayer of thanksgiving for dinner and then declare, "Let's eat. Don't worry, after the main course and before dessert, I will tell you about the great things I did while serving our country in the United States Coast Guard."
The next day, I see this girl again in class at the college. I ask her for a second date. It is a mystery to me why she said no. I mean, I still had a lot to say about myself. I guess that's her loss, eh?
All of the above factoids are true, except that I would never deliver them in such a narcissistic self-serving manner.
In chapter 6 of Matthew's gospel, Jesus talks about "hypocrites." They are people who want to be seen as pious and put on displays that might garner attention and praise. This was all for show. It was all an act. It did not represent what was truly in their hearts or how they behaved when others were not around.
I feel excessive bragging and boasting can be viewed in a similar light. It also is done in order to gain attention and praise; however, this may not be an act.
It may reveal a psychological need that has somehow become a priority – a seemingly unquenchable thirst to be the center of attention.
Blessed are those who have fallen into this trap and yet are able to identify why this is so and take corrective measures.
Why the need for self-glorification? Perhaps it is because they feel they were somehow not given enough attention as a child? Maybe they were not loved in a way that might have helped them gain more self-confidence as they grew older?
Are you such a person? If so, one way that may help in dealing with this is to know God loves you and accepts you as you are. You don't need to try to impress. You are loved in spite of every flaw and things you feel you may lack.
Such is a good beginning in dealing with braggadocio and can help one to take a step in a different direction. This is where a person intentionally makes the effort to begin to listen, compliment and encourage another. Hopefully, this behavior becomes satisfying and a new reality. Initially, this won't be easy and will take constant work to achieve positive results.
This form of God's love can be life-changing and may benefit all, instead of only me, myself and I.
Walter is pastor of Immanuel Lutheran Church in Moses Lake and has served as parish pastor for more than 30 years.
---