Free Family Saturday goes curbside after two decades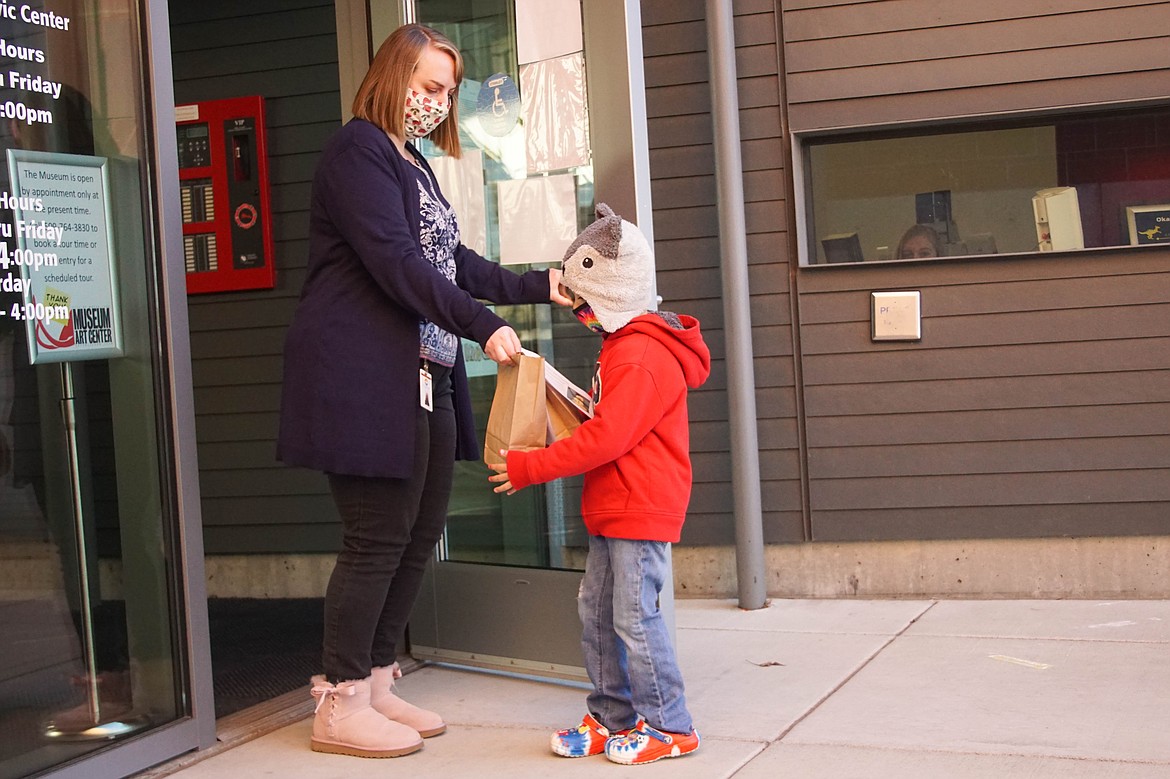 Customer service attendant Angela Hunt hands Moses Lake resident Liam Segura Jones an arts and crafts bag for Free Family Saturday.
Sam Fletcher
by
SAM FLETCHER
Staff Writer
|
January 27, 2021 1:00 AM
Families knocked on the glass door Saturday of the Moses Lake Museum & Art Center to collect a paper sack of arts and crafts.
Inside the building at 401 S. Balsam St., kids found cotton balls, construction paper, pipe cleaners and googly eyes to make little snowmen.
The museum has provided Free Family Saturdays every month for more than 20 years, said Angela Hunt, customer service attendant. But that tradition was broken in December because it closed the doors due to COVID-19.
However, this month, the museum reopened by appointment only and decided to keep Free Family Saturdays going, Hunt said. Not by in-person arts and crafts gatherings, but by curbside pick-up.
They plan on keeping it this way until it's safe to go back to in-person, she said.
"We've got a long history," she said. "It's just a nice way to reach out to our community, especially our younger folks, give them the opportunity to create and use their imagination and have families come in and do something fun that's really accessible."
Despite these obstacles, she said the museum is dedicated to keeping Free Family Saturdays alive and giving kids free opportunities to make art.
"Now more than ever, kids are at home and parents are going crazy and they need something for their kid to do," she said.
Despite the restrictions, families can visit the museum, do a craft, be creative, Hunt said.
February's craft day will be a take-home Valentine's Day card, Hunt said. For more information, visit www.cityofml.com/487/Free-Family-Saturday.
Sam Fletcher can be reached via email at sfletcher@columbiabasinherald.com.
Recent Headlines
---