A small, simple way of giving back: Sandwiches for the unsheltered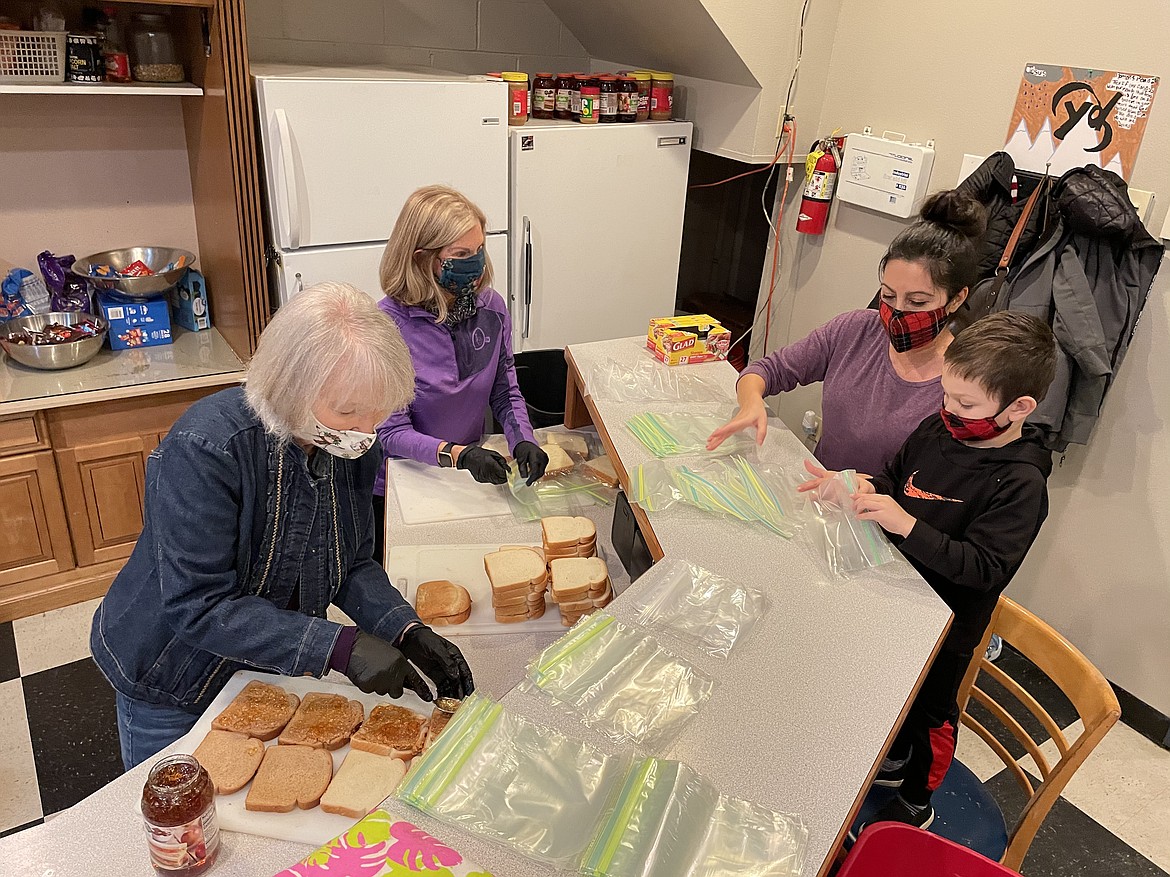 Volunteers (left to right) Carol Bridges, Becky Meyer, and Rachel and Corbin Buchanan help make sandwiches for the homeless Tuesday night at Youth Dynamics in downtown Moses Lake. It's something Care Sacks, formed by Moses Lake graphic designer Michelle Boetger, has done every Tuesday since early 2017.
Charles H. Featherstone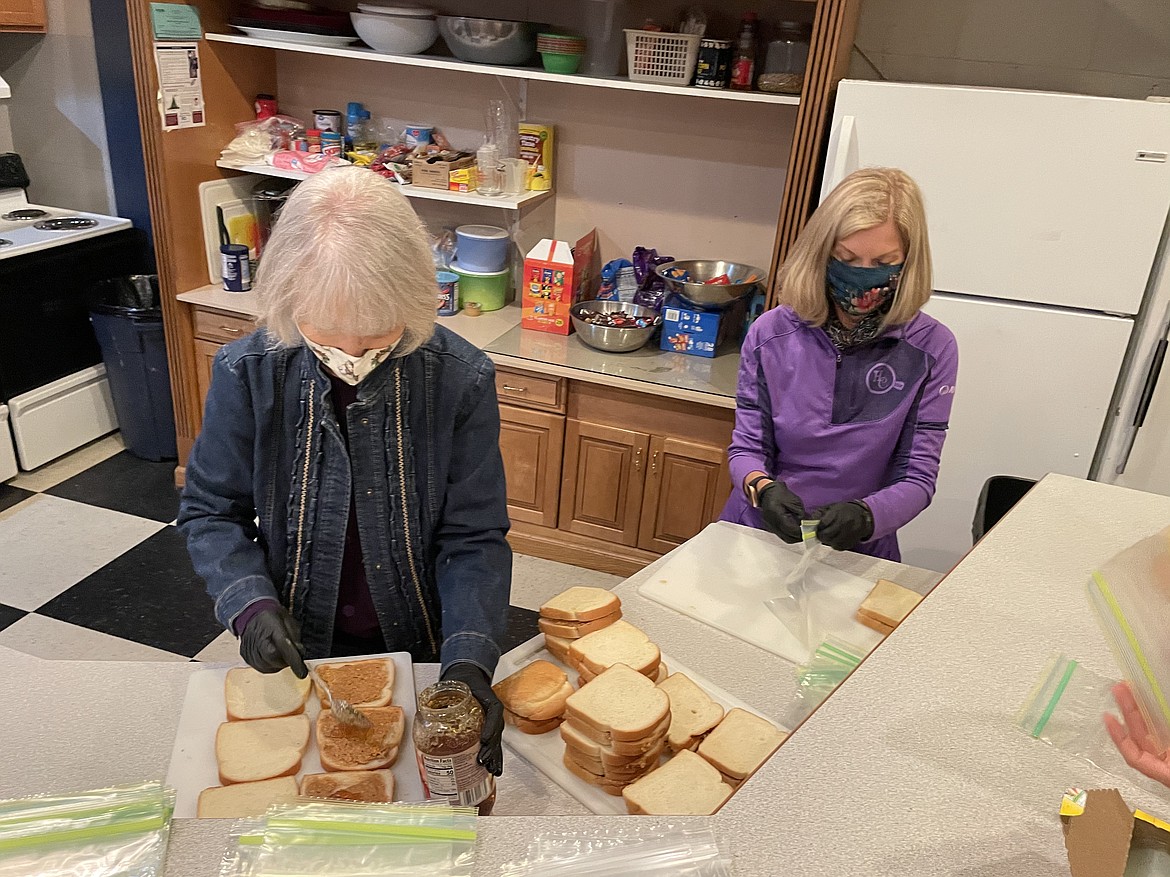 Volunteers Carol Bridges and Becky Meyer help makes sandwiches for the homeless Tuesday night at Youth Dynamics in downtown Moses Lake. It's something Care Sacks, formed by Moses Lake graphic designer Michelle Boetger, has done every Tuesday since early 2017.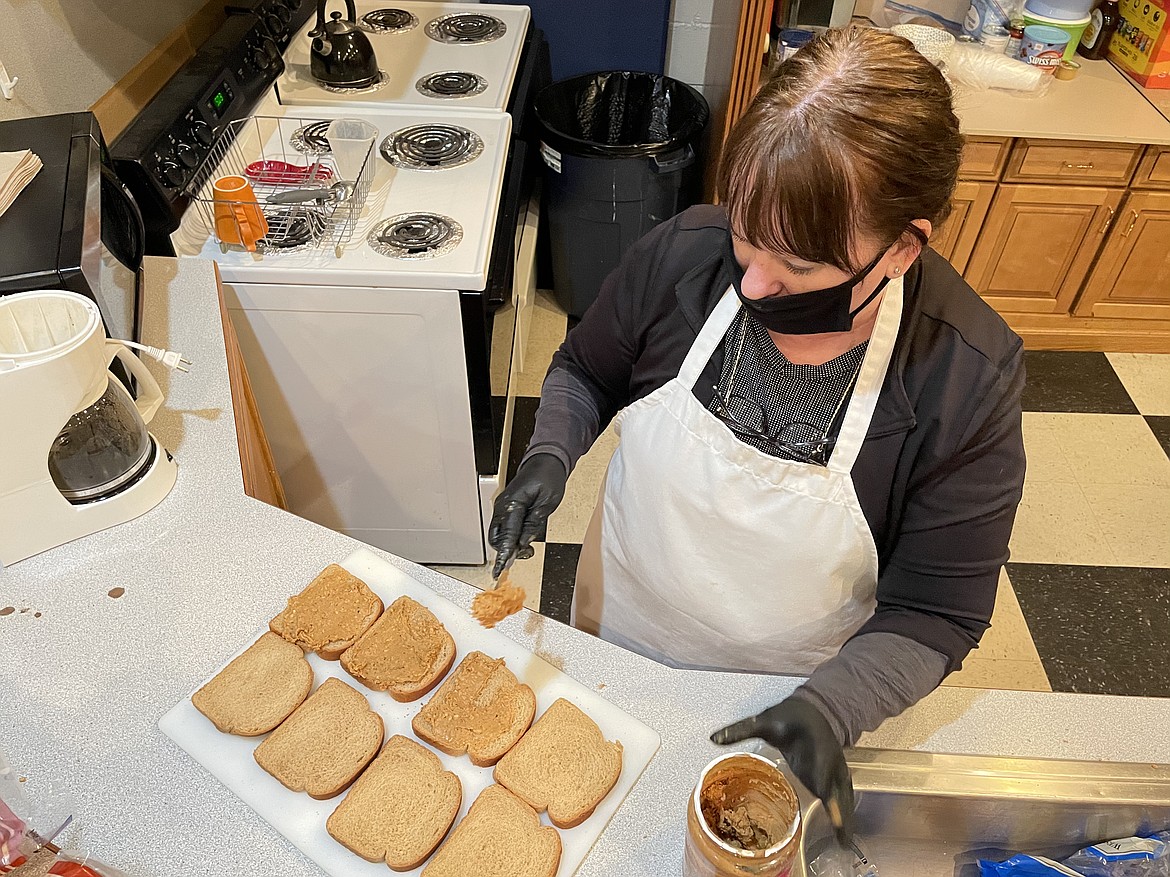 Michelle Boetger spreads peanut butter on slices of bread as she helps make 120 sandwiches for the homeless, something she has done every week since early 2017.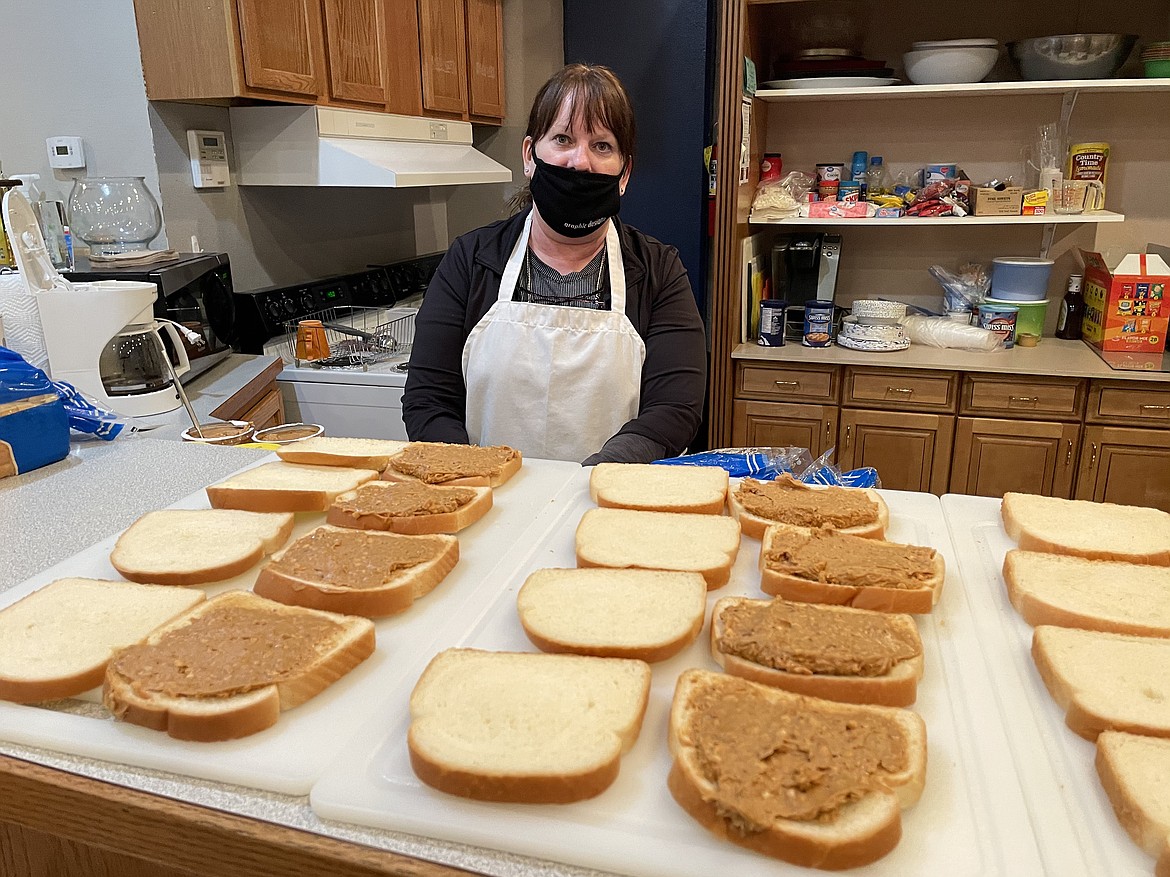 Michelle Boetger as she prepares to make more sandwiches at Youth Dynamics in downtown Moses Lake on Tuesday.
Previous
Next
by
CHARLES H. FEATHERSTONE
Staff Writer
|
January 26, 2021 1:00 AM
MOSES LAKE — Michelle Boetger thinks she and her fellow Care Sack volunteers have made over 10,000 sandwiches in the past five years.
"We've made a lot of lunches," she said, as she spread peanut butter on slices of bread.
It's a recent Tuesday night at Youth Dynamics in downtown Moses Lake, and Boetger is doing what she's done nearly every Tuesday night, beginning at around 5 p.m., since early 2017. A handful of volunteers are putting together 120 sack lunches — peanut butter and apple jelly sandwiches, small bags of chips, a cup of apple sauce and a granola bar — for unsheltered people in the area.
Up until the pandemic, Boetger said Care Sack was making around 60 lunches every night for Serve Moses Lake. Boetger said her group began making the sandwiches for the Moses Lake Food Bank to hand out and was recently approached by HopeSource, which runs the homeless sleeping center, to make sandwiches for it as well.
"We've got the supplies to do it, and it was no problem for us to do that," she said.
Boetger, whose husband Jeremy was busy filling sacks, said she does this because she wants to give back and do something, even a small thing like prepare a sack lunch, to help care for someone.
"I think that's why everybody is here," she said. "It doesn't take much time, and we feel like it does make a difference, even if it's a small one," she said.
Boetger said much of the food comes from Grocery Outlet in Moses Lake, with private donations making up the rest.
"We've got a lot of supporters," she said. "A lot of these supplies from Grocery Outlet, they had a food drive in July, and that kind of kept us going."
Carol Bridges, who was busy spreading apple jelly and Boetger's peanut butter, agreed about the giving part.
"Well, I've never really been hungry, but I can't imagine being in a place where I couldn't find food," she said. "Food makes a big difference in a person's life. So, that's why I'm here."
"Especially the homeless," added fellow volunteer Becky Meyer, who was putting sandwiches in plastic bags.
"For whatever reason they're homeless," Bridges added. "Even drug addicts gotta eat."
Boetger said she's always looking for helpers to make sandwiches and put sack lunches together.
"We're always looking for volunteers, could always use a couple more hands," she said. "It only takes us about 30 minutes, sometimes less, once we get going."
"It takes a lot of people to make sack lunches," she added.
For more information contact Boetger at (509) 770-1002 or check out Care Sacks website at www.michaelleboetger.com/giving-back/serve-moses-lake-care-sack-program.
Charles H. Featherstone can be reached at cfeatherstone@columbiabasinherald.com.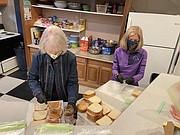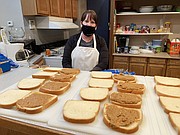 Recent Headlines
---