Patrick Azevedo continuing to work on his game in first year at University of Wyoming
by
CASEY MCCARTHY
Staff Writer
|
January 21, 2021 1:00 AM
Former Othello golfer Patrick Azevedo continues his game as he heads into his second semester ahead of the upcoming season at the University of Wyoming.
Azevedo said he just got back to campus and is testing and quarantining, which the athletics program requires as athletes return. He said the focus is staying as healthy as possible to ensure the program go through the season this spring.
"We're just trying to be as strict as possible in our little bubble, not really going outside very much, not doing very much, just staying focused on being and staying healthy the whole season," he said.
Azevedo said he still isn't sure if he'll compete this season or redshirt with a strong group of upperclassmen golfers ahead of him. He said his focus is being ready for competition when the moment arrives.
A perpetual title contender throughout his career with the Huskies in Othello, Azevedo lost his final shot at a state title as a senior last spring. He said he had the chance to play a few competitive amateur tournaments over the holiday break, which was nice.
"I got into about four or five tournaments over the break so that was good," Azevedo said. "I was glad to finally get out there and compete. We're just looking forward to a good, strong schedule this coming spring."
Azevedo said he matched against some strong competition from other schools across the nation, giving him an idea of what he'll face once his Wyoming career leaves the tee.
He said he had some strong rounds, rattling off about 14 birdies over three rounds and minimizing mistakes.
He said he shot a 4-under-par round of 68 one day in addition to finishing in the top 25 for one of the amateur events. While not a college competition, he said it was good to know he can compete at this level.
The team and staff at the University of Wyoming have been everything he could have hoped for so far, Azevedo said.
"The team that we have up here in Wyoming, in my opinion, it's one of the greatest coaching staffs and trainers that we have in the country, the group surrounding our team and the team," Azevedo said. "I love our team. It's a great group of guys, all competitive, just feels like family out here."
Azevedo said he focused on the coach when choosing his program out of high school and said he hit it off immediately with Wyoming head coach Joe Jensen. He said Jensen is someone who is always there for his players, or anyone who needs anything.
"He's not going to make you work if you don't want to," Azevedo said. "You have to push yourself if you want to get somewhere and I like that. It's what I've been doing my whole life. I've never really had friends that played golf, so it's always just kind of been me doing my own thing."
Azevedo said the family atmosphere around the program reminds him of his hometown of Othello. He said it's nice being in a smaller community without many distractions, giving him the opportunity to focus on golf and school.
COVID-19 has been an educational experience, he said, for all the players on the team. He said, like everyone, he's ready to get back to normal, but feels like the experience has helped him grow.
"It's just been a learning experience, we've learned to thrive in a new environment and I think it's helped each and every one of us grow, not just as a player, but as a person," Azevedo said.
This season, Azevedo said he wants to have fun because that's what golf is for him.
"Obviously, I want to play good and win tournaments for our team," Azevedo said. "I just want to have fun and enjoy the season."
The Cowboys are less than a month away from kicking off their season this spring.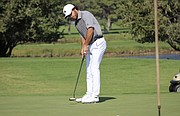 ---