Wahluke soccer coach still has concerns with new season plans in place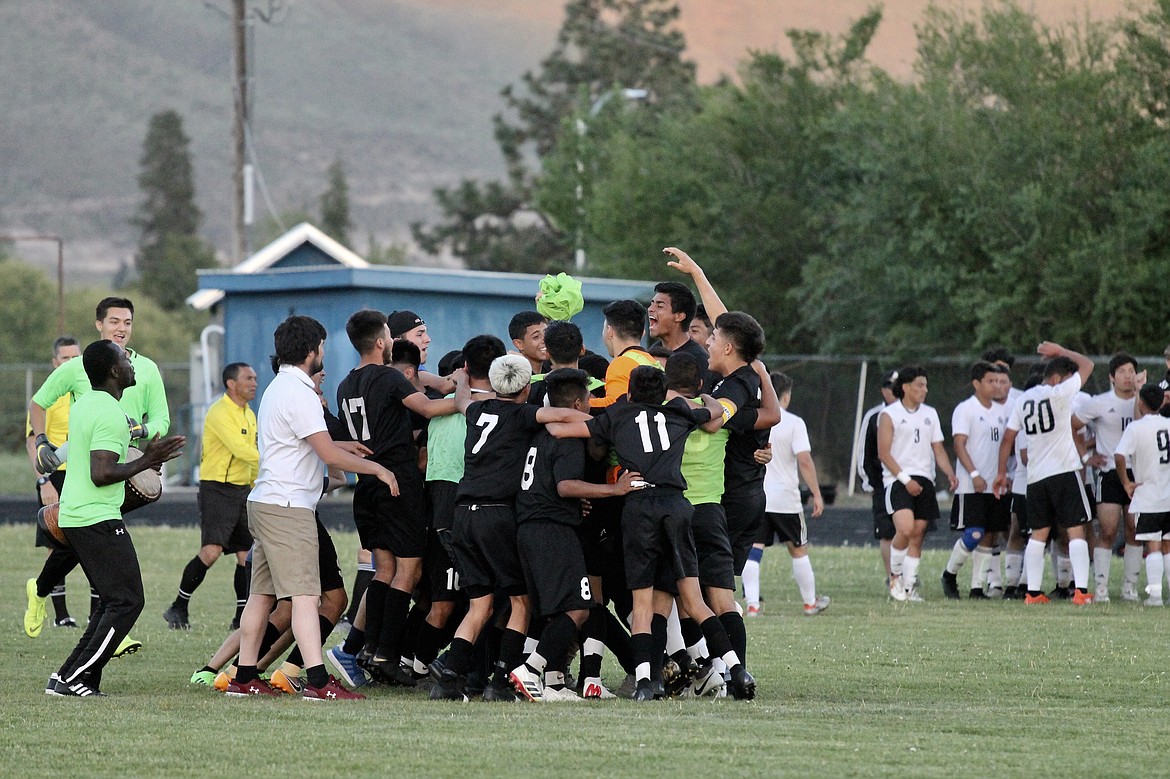 Casey McCarthy/Columbia Basin Herald Wahluke boys soccer celebrates after claiming the SCAC Championship against Royal in 2019.
by
CASEY MCCARTHY
Staff Writer
|
January 20, 2021 1:00 AM
MATTAWA — Wahluke School District head boys soccer coach Arthur de Victoria was among state- and countrywide coaches who watched their players' seasons taken out from under them last spring, as COVID-19 put a halt to competitions.
With a strong team returning, the Warriors had their eyes set on building from a state playoff berth the previous season before things were shut down. Wahluke is set to compete this season in the newly announced North Central Washington Region, as athletic directors hope to avoid dealing with separate sets of data and numbers with teams traveling to different regions of the state.
But the Wahluke head coach said he's not much more confident than he was before the recent announcement. He said it seems like the WIAA is trying to protect all three seasons, but giving priority to other sports, such as football, that wouldn't typically happen at this time of year. De Victoria said he wants every kid in every sport to have a shot at their season this year, but especially for the kids who already lost one last spring.
"I don't want to see those kids sacrifice again," de Victoria said. "Two years of sacrifice for our kids. If they were sophomores last year and they're juniors this year and they don't get their sport, that's two years of college coaches not seeing them."
Many of his players are "spring athletes" who don't compete in a lot of other sports throughout the year, he said.
Working with his players before the season has been tough too, he said. De Victoria said it is difficult to do much more than conditioning work in soccer with players grouped into pods.
"It's really hard to work on strategic things with five kids," de Victoria said. "We figured some stuff out and we were able to work on some very specific drills, but again, five kids is tough."
With six kids, he said he could do 3-on-3 drills, but 10 would be ideal.
The Wahluke coach said he would like to see more details regarding how they'll make the seasons work safely this year.
De Victoria said he isn't sure how soccer players wearing masks will work once the weather warms up, but hopes that is something people are planning.
While he said he thinks it will be beneficial to not travel to other regions of the state, such as Yakima or Walla Walla, the new league outlined will still involve traveling across counties. He said it is going to be tough to squeeze an entire season into the six-week period currently planned.
The Wahluke head coach said he's excited for the opportunity to face off against some competition from higher classifications in the new NCW Region. But, he said he is concerned if a matchup between the Warriors, a 1A school, and a 4A program, such as Wenatchee, would really benefit either program.
"We play Wenatchee, win or lose, Wenatchee is in a bad spot," de Victoria said. "If they don't blow us out of the water, people are gonna say Wenatchee's terrible, not Wahluke is good."
As he currently recovers from COVID-19, de Victoria said his main focus this season is making sure his players stay healthy. He said he was super-cautious about contracting the virus and still caught it. The Wahluke coach said he doesn't want to see any kid put in a position where their health is at risk.
"I want to have a season, but still some of the kids can get sick and it be a bad thing for them," de Victoria said. "I wouldn't like that to happen to any of them. The other thing I'm concerned about is not all of our kids have the best healthcare. They just don't."
Casey McCarthy can be reached via email at cmccarthy@columbiabasinherald.com.
---