Warden girls basketball players hope to pick up where they left off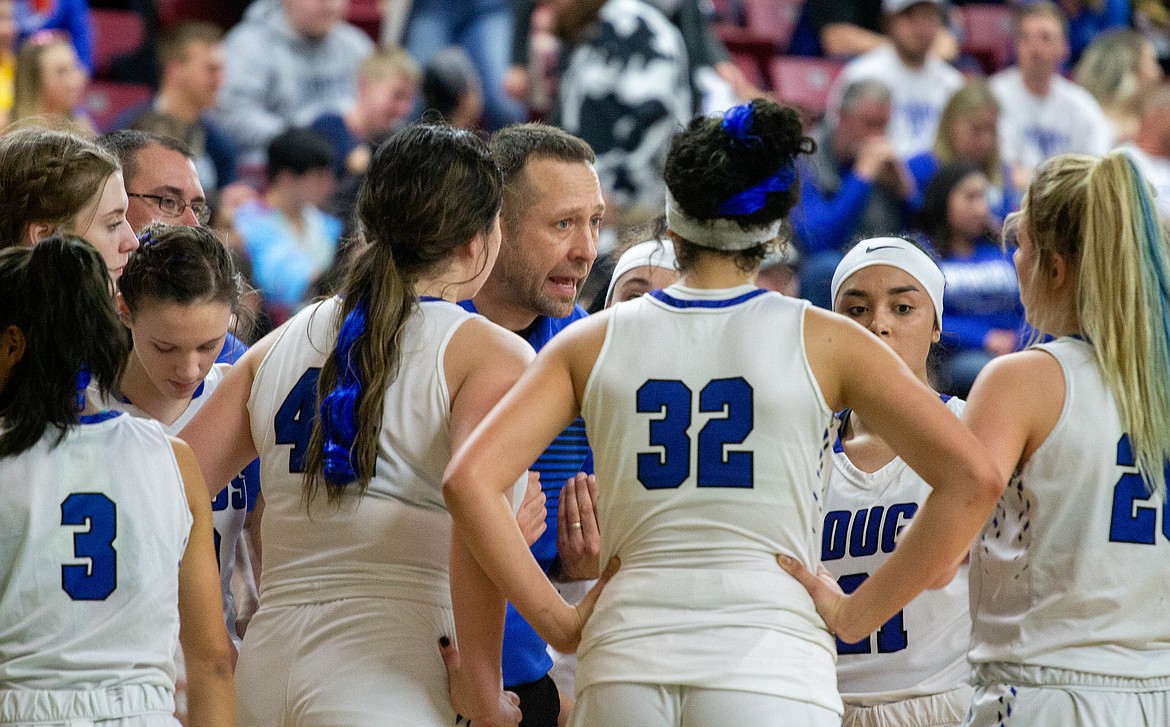 Warden head coach Josh Madsen talks with his team during their matchup at the 1A Hardwood Classic last February.
Casey McCarthy/Columbia Basin Herald
by
CASEY MCCARTHY
Staff Writer
|
January 18, 2021 1:00 AM
WARDEN — College and pro basketball are firmly in the midst of their seasons after getting late starts this year, but high school basketball players in Washington are still waiting to get going in 2021.
After recent changes by the Washington Interscholastic Activities Association, many local teams are will kick off the basketball season late spring when Season 3 starts for the new North Central Washington Region.
Warden girls basketball is among those teams coming off a strong season where they finished 24-3. Warden Head Coach Josh Madsen said he tries not to concern himself too much with things that are out of his control.
"It's easier to not even think about where we would be in our season," Madsen said. "We've been looking forward to this chunk of seasons for a long time, and I've got a couple of senior girls, and some younger girls as well, that are missing out on some really cool memories."
Madsen said he's more hopeful after the restructuring of some things. He said he really believes the WIAA is doing their best to give kids a chance to play this year. Unfortunately, he said he also recognizes that indoor sports like wrestling and basketball have the hardest paths to overcome.
"Any chance we get, it's not what we were hoping for, it's not what we were planning on," Madsen said. "But any chance we get to compete, we're gonna take it and be thankful for it."
Madsen said coaches have tried to keep players in the mindset there will be a season until they are told otherwise. As tough as things might look at times, he said they want to stay positive and mentally ready should the moment present itself.
Many fall and spring coaches are taking advantage of the extended coaching period and warmer weather as they get some socially distanced practice work in outdoors. Madsen said it's difficult for his players not being in the gym.
"A lot of these kids have grown up in the gym and they've grown up going to workouts and playing so it's really a shock to the system and it's really sad," Madsen said. "But it's really tough there's just no way around it."
The Warden head coach said he welcomes the opportunity to match up against some larger schools in the new North Central Washington Region. Madsen said they'd embrace the challenge and a lot of his players are used to playing against different levels of talent.
But at this point, he said they'll take whatever they can get to make the most of it.
"We knew this was gonna be a potentially really cool season for us," Madsen said. "We hope we can the opportunity to go out there and show it."
Madsen said losing lone senior Brecka Erdmann from last year's squad is something they'll need to address when the season comes. He said Erdmann could impact the game better than maybe anyone he's ever coached.
Her leadership on and off the court will be missed, he said. But, Madsen said he's excited about the talent they've got coming back from last season and the new talent coming in.
"Excited about where we are and our future, but we need some girls to step up and mature and take on more of that leadership, the vocal side and setting the tone for practice and setting the tone for games and how the program will function," Madsen said.
---