Flatbread restaurant brings Brazilian-influenced Mediterranean food to Moses Lake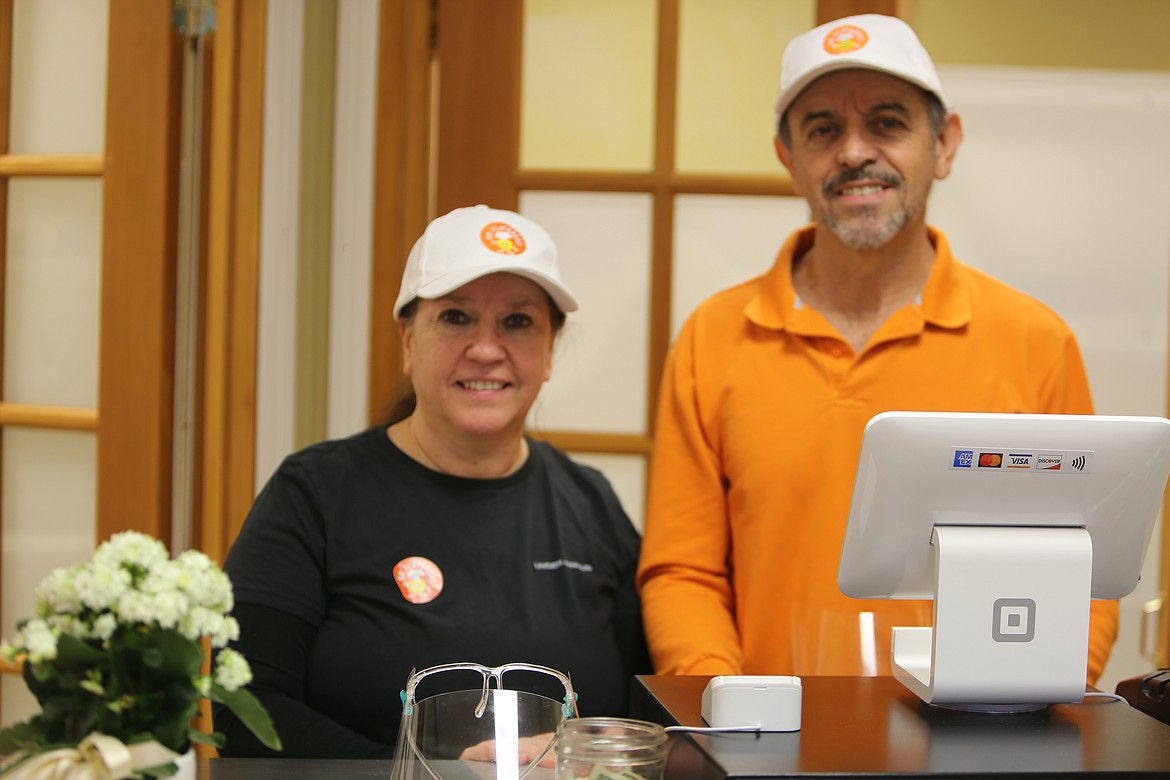 Mary and Elli Santis stand behind the register of their restaurant, Mr. Flatbread, which opened two weeks ago in Moses Lake.
Emry Dinman/Columbia Basin Herald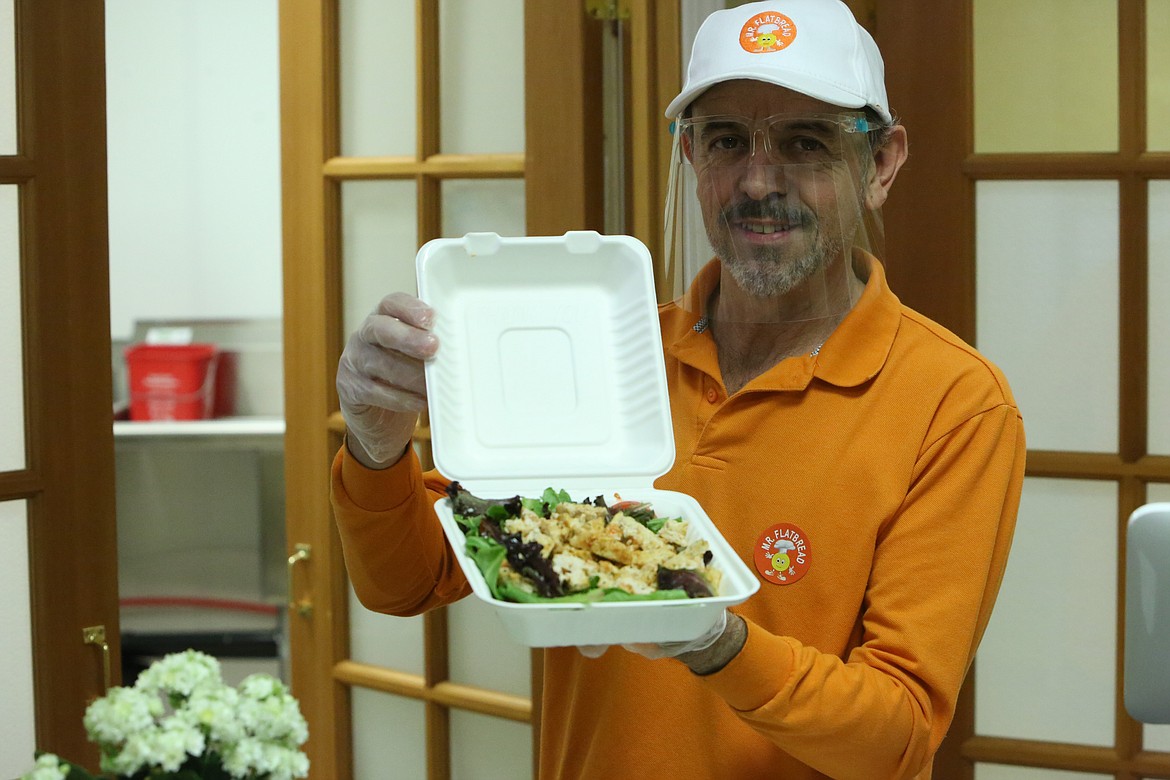 Along with the flatbreads, Mr. Flatbread also serves salads that essentially swap out the bread of greens and vegetables but retains the succulent meat and other fillings that make their food so inviting.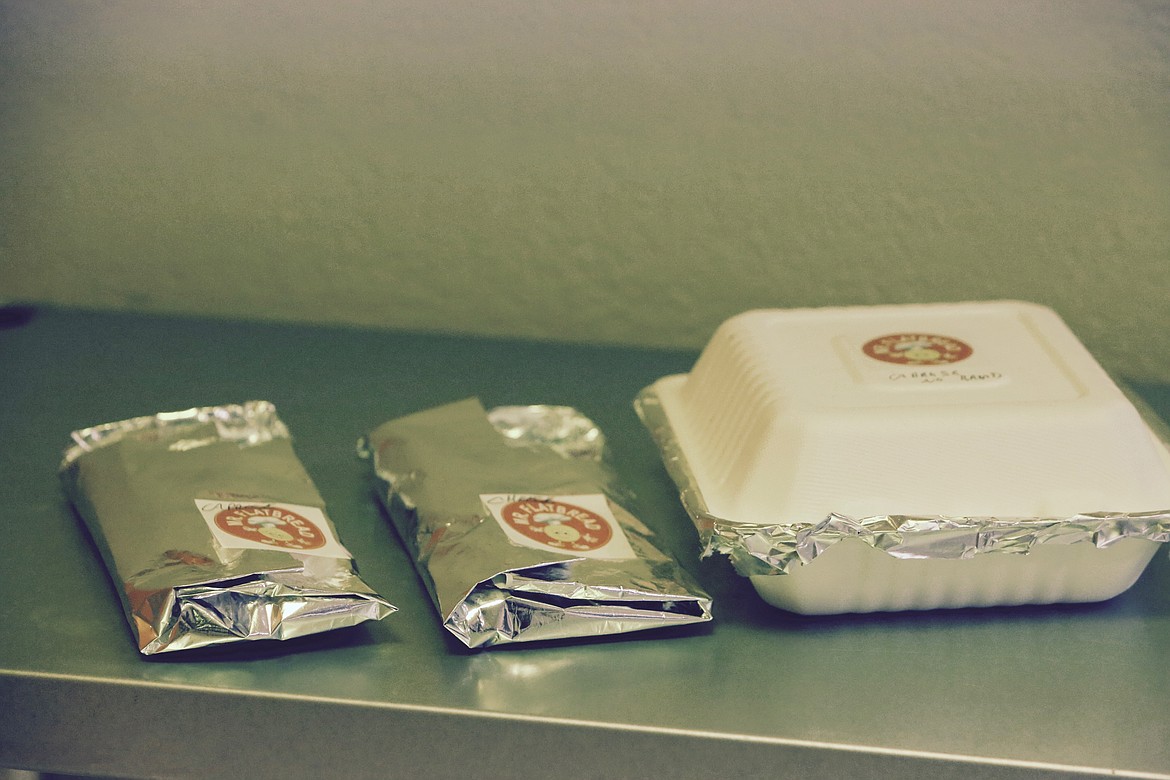 A pair of flatbreads and a salad, both well sealed with aluminum foil to keep the food warm, sit ready to be picked up by a customer.
Previous
Next
by
EMRY DINMAN
Staff Writer
|
January 18, 2021 1:00 AM
MOSES LAKE — In a small business off the corner of East Broadway Avenue and South Alder Street, the warm smell of grilled Mediterranean food with Brazilian influences fills the room.
Mr. Flatbread opened its doors around the beginning of the year, after relocating from Ellensburg where the business saw success for four years. Its owners, Elli and Mary Santis, moved to Moses Lake late last year to be closer to their daughter and grandchild, they said in an interview.
"We like it here already better than Ellensburg," Mary said. "It's bigger than Ellensburg; they have more things to do here, and the lakes and everything are so nice."
The Santises moved to the states from their home country of Brazil in 2012, first to Georgia, where Elli's brothers lived, before moving cross-country to Washington state, quickly falling in love with the great outdoors in the Pacific Northwest, especially the Leavenworth area. The family moved first to the Seattle area, before moving to Ellensburg to get away from the state's urban core.
In 2016, the Santises opened The Boss Brazilian Barbecue, which featured a mix of Brazilian foods and Greek flatbreads. Though Elli is also from Brazil, his family is from Greece, Mary explained. But it didn't take long for a pattern to emerge: the flatbread wraps made up around 80% of the food they were selling.
So, nine months after opening their restaurant, the couple decided to refocus the restaurant just on flatbreads. Not long after, Mr. Flatbread opened its doors for the first time.
While flatbread wraps are a common Mediterranean food, there's still a touch of Brazilian influence in Mr. Flatbread's food, mainly in the form of copious mozzarella cheese, Mary said.
"It's not really Brazil, but it's not really Greek," she said. "We make something new."
The flatbreads are a healthier alternative to other varieties of fast food, Mary said, with grilled meats and fresh ingredients. The most popular is the classic chicken and garlic combo, which also is Mary's favorite. Meanwhile, Elli, who mans the grill in the back, is partial to the chicken and jalapeño, which he likes to mix with pineapple.
That Ellensburg restaurant was larger than the Moses Lake location, with room for tables and dine-in service, and had a healthy stream of customers, Mary said. But it was by the highway and its clientele tended to be commuters or people traveling through town, she added.
"We had regular customers, but they were from the highway, so they take a long time to come back," Mary said.
"In Moses Lake, people come back more times," Elli added.
But the Santises' daughter decided to move again, this time to Moses Lake, and it didn't take long before Mary and Elli, who left Brazil to be close to their family in the first place, packed up their restaurant and made the move themselves.
But there was the small matter of a global pandemic, which made it harder than it already was for area businesses and restaurants to survive, let alone open up a brand new shop.
"We're having to adapt, that's why we just changed from serving tables to just now giving it to people for to-go orders," Mary said. "We're having to wear masks, wear gloves, we're having to ask people to maintain their social distance."
With so much of restaurant business currently centered around take-out during the pandemic, the Santises decided it would be prudent to purchase the small shop where they're now located, which has just enough room for the kitchen, storage and the register.
"For now, we just choose a small place, just for take out, and we don't know how long we'll take it," Mary said. "But we have a plan when things are going well again to rent next door so we can have tables, and for the summer for sure we'll put tables outside."
Despite the economic conditions and the pandemic's restrictions, Mr. Flatbread is already seeing some success in its new home, with support from other business owners and residents, Mary said.
Alongside the flatbreads, the restaurant can turn its wraps into salads, providing options for those who can't eat the breads. As well as the chicken options, Mr. Flatbread has choices for those who want turkey or a vegetarian meal. Either way, Mary said, it's going to be good.
"I always say to my customers, everything is good; anything you choose will not be wrong," Mary said.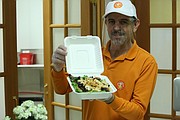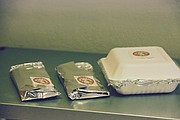 Recent Headlines
---