Housing development springs up near Moses Lake High School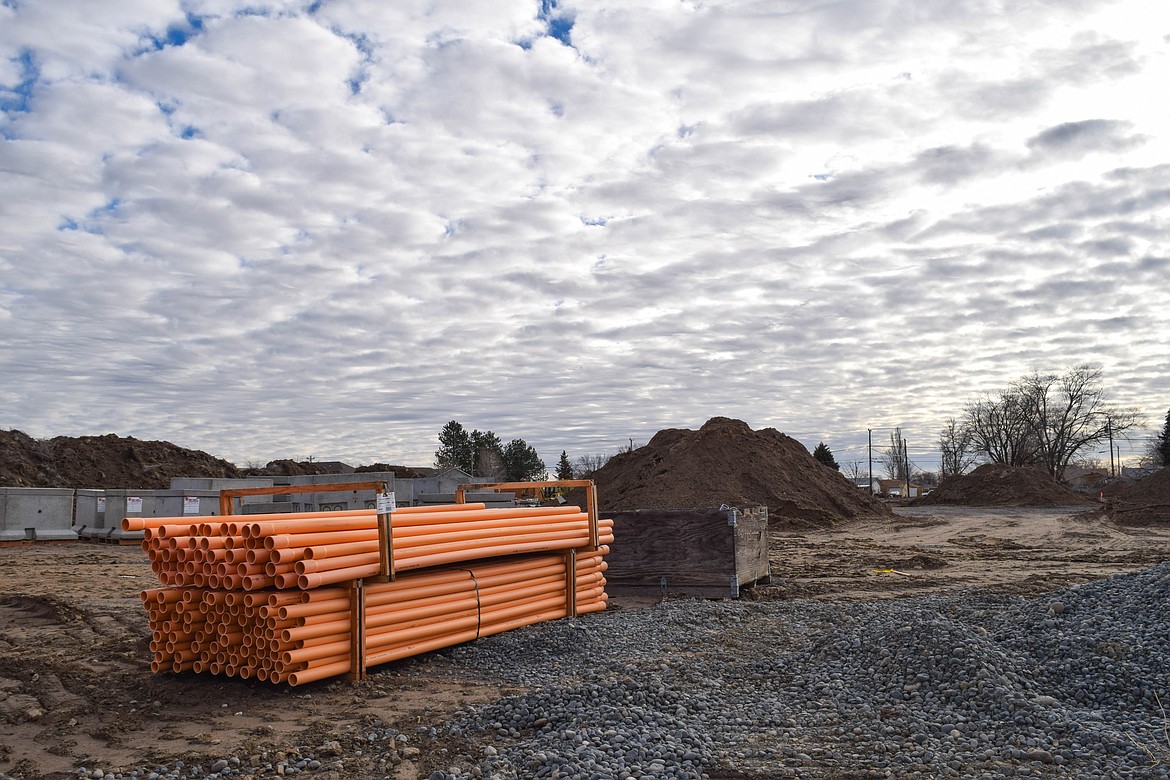 Sydney Acres infrastructure development.
by
SAM FLETCHER
Staff Writer
|
January 17, 2021 1:00 AM
MOSES LAKE — A new 7.7-acre housing development, Sydney Acres, is in its early stages near Moses Lake High School. Ground was broken for the project in November.
CAD Homes LLC was founded in 2014 by father-and-son duo Alan and Drew Scott, according to its website. Based in Moses Lake, they have developments in Warden, Royal City, Othello and Ephrata, with plans for up to 70 more homes across the Columbia Basin this year.
With a growing interest in residential construction, they found a great opportunity in Syndey Acres in its location, diagonally from the high school (at the corner of Sharon Avenue and Monroe Street), office manager Rachel Scott said. The neighborhood is away from busy streets and still close to several schools, as well as Moses Lake's city center.
Sydney Acres consists of 31 lots with nine floor plans to choose from, ranging from 1,200 to 2,200 square feet, its website stated. Every lot has been reserved.
Because of the demand for affordable housing in the area, CAD worked to meet the need by pricing the homes to appeal to as many people as possible, Scott said. Prices for homes start around $190,000.
While the location is great, the area is a bit odd because it's completely surrounded by other neighborhoods, Scott said.
"Sydney Acres is basically smack-dab in the middle of neighborhoods that have been there a number of years," she said. "You have some that have been there since the '50s and '60s."
Many students cut through the empty field going to and from the high school, Scott said, so the new development may bring good things to the older neighborhoods.
"I think there's definitely a potential of (reducing crime)," she said. "When we went out to look at the property initially, there was a lot of spray-painted rocks and signs and things like that. Now, there will be established roads and sidewalks they can walk to school on."
With a unique location come unique challenges, she said, as the team began seeking the city's approval in April 2020. The company must ensure the new development fits into the existing landscape. It will be a balancing act of adhering to modern codes and making the new development look like it belongs.
"It's definitely been a learning curve for both us and for (the city)," Scott said. "But we've gotten past that point. We've gotten everything approved, so now it's a matter of building up to the standards that they've lined out for us. We hope to do good by the city and good by all of the clients that will be living in these homes by making it a really nice neighborhood."
CAD is currently creating the development's infrastructure, she said, establishing power, water, roads and sidewalks. Construction is set to begin by the end of February, with the entire neighborhood built by the end of the year.
"Barring major restrictions," she added. "Knock on wood."
Sam Fletcher can be reached at sfletcher@columbiabasinherald.com.
---