House bill would limit police; ML Chief Fuhr says it could harm more people
by
Angelica Relente, Herald Legislative Writer
|
January 15, 2021 1:00 AM
OLYMPIA — Giovonn Joseph-McDade would not have been stopped by police officers if he was white, his mother said.
"My son was killed after a routine traffic stop — another senseless murder of an innocent young man," Sonia Joseph said during a virtual hearing of the state House Public Safety Committee on Tuesday.
Joseph-McDade, 20, died on June 24, 2017, when he was shot by a Kent Police Department officer, according to the Kent Reporter. His parents filed a civil rights lawsuit against the police department in 2020, alleging he was wrongfully killed.
Sonia Joseph, a member of the Washington Coalition for Police Accountability, was one of the many individuals who testified during the hearing in support of House Bill 1054.
HB 1054 would place prohibitions on tactics and equipment used by peace officers when engaging with the public. The prohibitions include the use of chokeholds and neck restraints, as well as the use of unleashed police dogs to apprehend individuals.
Kevin Fuhr, chief of the Moses Lake Police Department, said the department does not allow chokeholds. Lateral vascular neck restraints, however, used to be allowed, but were discontinued. Only two officers in the department were trained to use a lateral vascular neck restraint, which is why the department did not use it.
"I don't know that in my five years in Moses Lake that we've ever used the LVNR tactic," Fuhr said. "That's not something that we use on a regular basis."
Grant County Sheriff Tom Jones said in an interview with the Herald chokeholds are "almost a form of deadly force," as the hold intentionally blocks a person's airway. Lateral vascular neck restraints are a less lethal option officers can use.
Jones' department has four K-9s, he said. K-9s are accustomed to moving into confined spaces, which law enforcement officers are unable to do sometimes.
"This is just absolutely a bad section of this bill," Jones said, referring to the prohibition on unleashed police dogs.
HB 1054 would also ban the use of tear gas or certain military equipment, according to the bill's text. Officers would also be banned from intentionally concealing identifying information on their badges.
Jones said there is some military equipment that should not be purchased by law enforcement officers, like tanks and rocket launchers. However, other equipment, such as armored vehicles — used for high-risk situations — are essential.
Fuhr said his police department has a tactical risk team, and it has equipment like tear gas and pepper spray. Patrol officers do not use any of it.
Officers would not be allowed to obtain a search or arrest warrant as an exception to the "knock and announce" rule, according to the bill. There would also be restrictions on vehicular pursuits if the bill passes and is signed into law.
Fuhr and Jones both said they are against the bill.
Enoka Herat, lawyer at the American Civil Liberties Union of Washington, said the tactics prohibited in this bill are exceedingly harmful and disproportionately affect communities of color.
"After the tragic death of George Floyd shocked the world, no one can claim to be unaware of the deadliness of chokeholds," Herat said during the virtual hearing Tuesday.
Rep. Mary Dye, R-Pomeroy, said having a bill that micromanages what officers can or cannot do in an altercation is the "wrong starting point." Policymakers need to have an open dialogue with peace officers to better understand what they are faced with.
"This was an issue that the governor put forward as one of his key issues for this year," Dye said. "I think that the best place to start that is to become very knowledgeable … about the rationale that led to these tactics being trained for."
Fuhr said the limitations in the bill would hamper law enforcement. More officers would be prone to injury or death, and as a result, and more civilians and suspects would suffer.
"I think most of this bill is a kind of a knee-jerk to what's going on nationally," Fuhr said. "I don't think the issues that we're talking about in this bill are happening in Washington state."
Fuhr said Washington has already set the bar and the direction law enforcement is heading into with the passage of Initiative 940 in 2018, a measure regarding police reform.
"I think that if they start limiting our ability on using some of our less-lethal weapons, more people are going to end up getting hurt and/or killed on both sides — the police side and the suspect side," Fuhr said.
Sakara Remmu, member of Black Lives Matter Seattle-King County, said Washingtonians are at risk for unnecessary excessive force. HB 1054 can begin implementing appropriate limits on tactics and equipment used by police officers.
"Our communities are not war zones," Remmu said during the legislative hearing, "yet and still it is our communities that have seen firsthand how the police force is increasingly using equipment that is designed for use in war and not for keeping communities safe."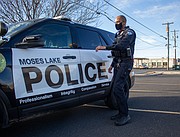 ---