Defensive techniques subject of criminal justice class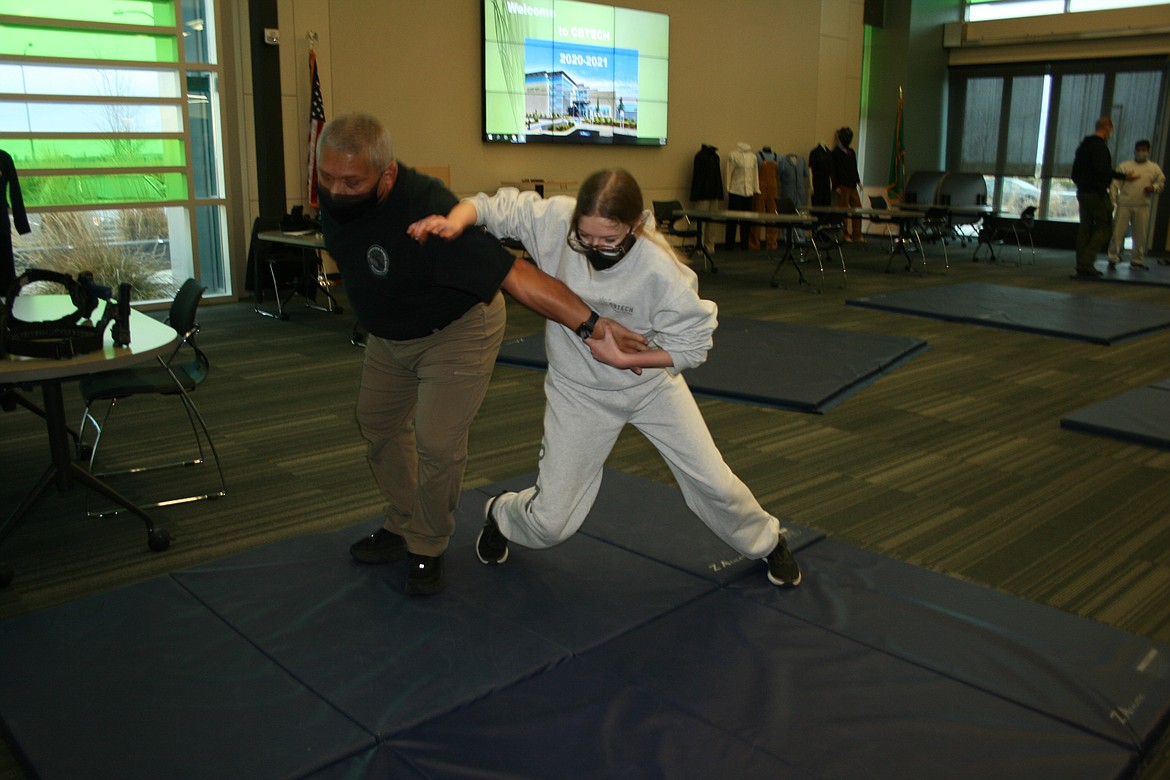 Columbia Basin Technical Skills Center criminal justice student Hailie Ferguson (right) gets instruction from Moses Lake Police Department officer Ray Lopez in the techniques used to deal with an unruly person. The skills center is in Moses Lake.
Cheryl Schweizer/Columbia Basin Herald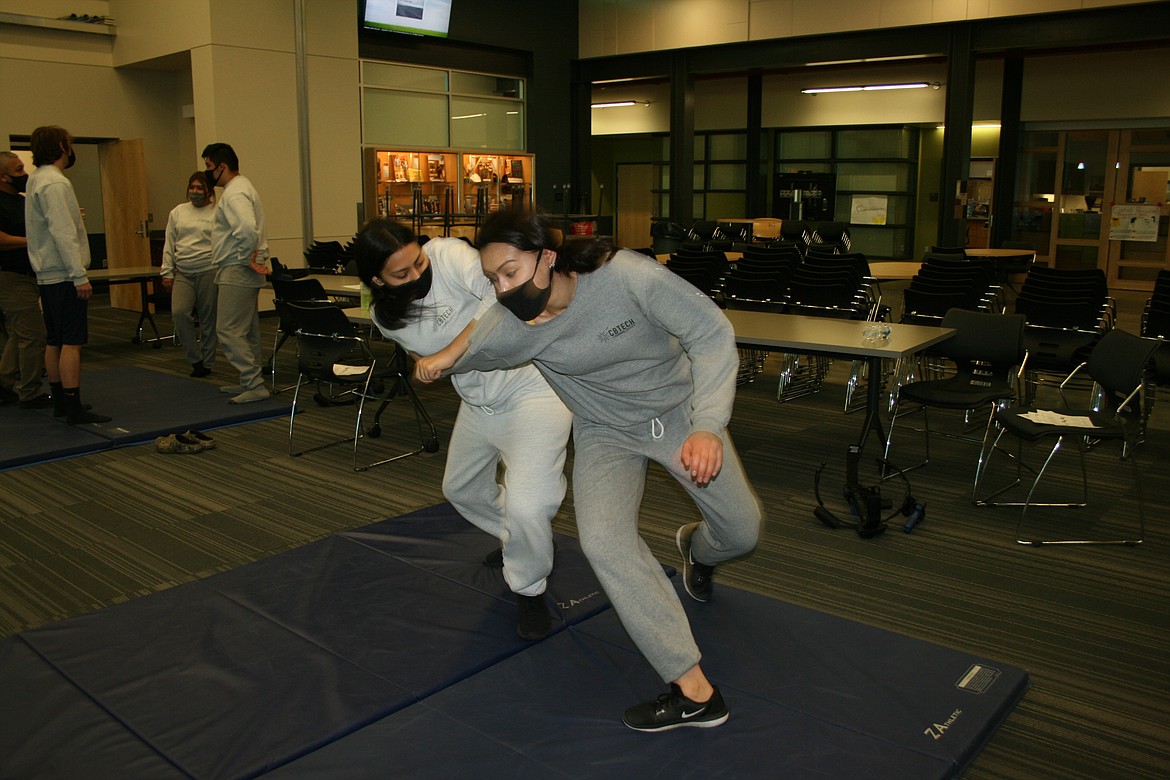 Gloria Barajas (right) and Valerie Raygoza (left), students in the criminal justice program at the Columbia Basin Technical Skills Center in Moses Lake, practice self-defense techniques.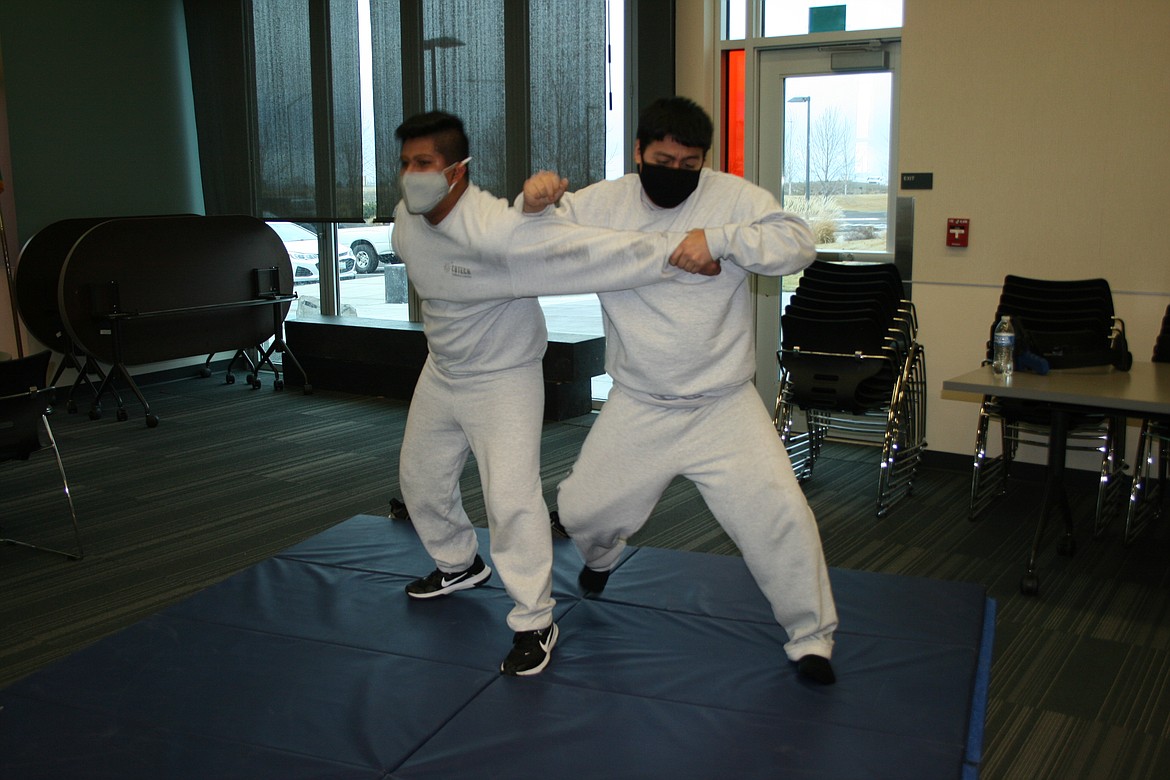 Alex Penida (right) practices law enforcement self-defense techniques with Christoper Martinez (left). Both are students in the criminal justice class at the Columbia Basin Technical Skills Center in Moses Lake.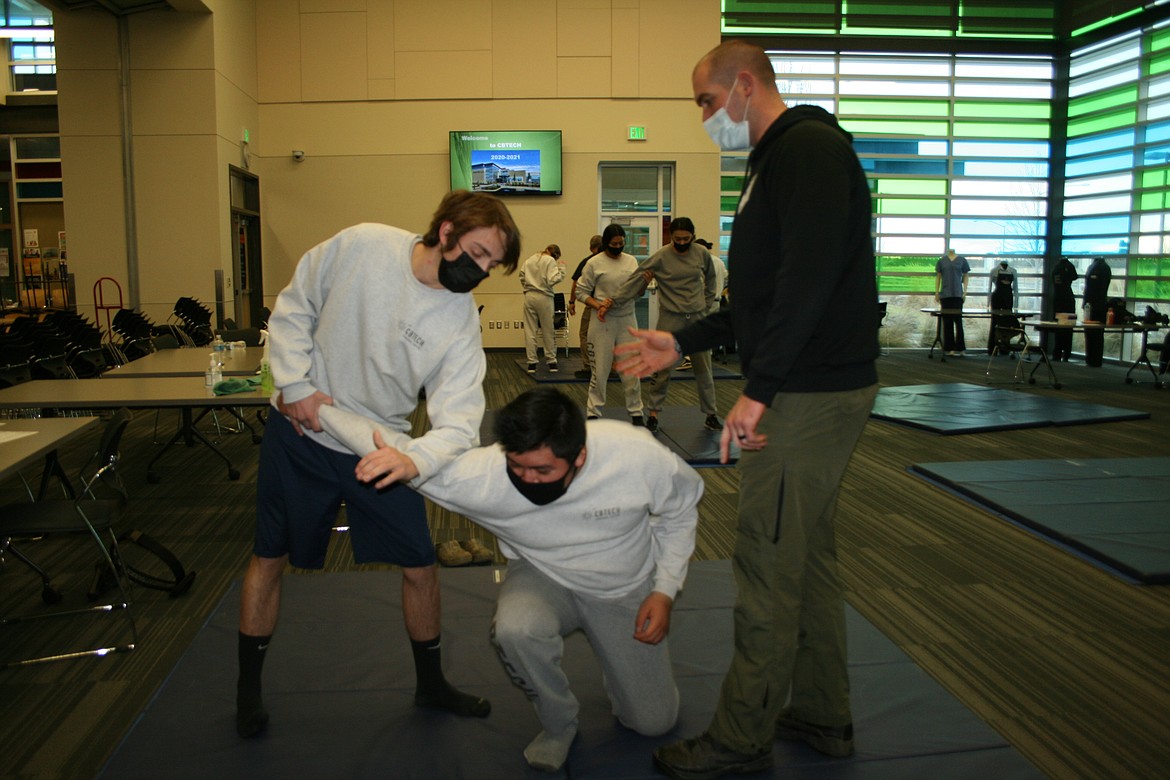 Moses Lake Police Department officer Nick Stewart (right) gives instruction in proper defensive techniques to Columbia Basin Technical Skills Center criminal justice students Jordan Cohee (left) and Osvaldo Garduno (center). The skills center is in Moses Lake.
Previous
Next
by
CHERYL SCHWEIZER
Staff Writer
|
January 14, 2021 1:00 AM
MOSES LAKE — Students in the criminal justice class at Columbia Basin Technical Skills Center got some training Friday on the proper use of techniques to subdue an unruly person.
Skills center criminal justice instructor and former Moses Lake Police Chief Dave Ruffin said the goal was to give students who might be thinking of a career in law enforcement some instruction on the use of force and when it's appropriate.
"What force is reasonable based on the circumstances at that time," Ruffin said.
"Defensive tactics," said student Alex Penida.
"We're learning how to take down a suspect and cuff him," said another student, Elianna Chavez.
It's a hands-on lesson in how a police officer would deal with an unruly suspect, Penida said.
"They are just starting defense tactics," Ruffin said, so the lesson was pretty basic.
Student Osvaldo Garduno was a little winded after an hour or so of practicing the techniques, but he gave the training two thumbs up.
The class included how to stand, how to hold the person's wrist and arm and how to move to complete the maneuver.
"One of many lessons that they learn," said Moses Lake Police Department Officer Ray Lopez.
Lopez and fellow MLPD Officer Nick Stewart also were instructors. Stewart said he's been helping train for two years. Along with helping students understand the techniques and their use in law enforcement, it's also a way for officers to get to know some of the skills center students, Stewart said.
Lopez was working with Hailie Ferguson and Chavez, both of whom said they were very interested in law enforcement careers.
"It's always been my dream to be a police officer," Ferguson said.
Ruffin said the training gives kids more self-confidence and teaches them about self-defense in general. And for those who will become police officers, it's a chance to discuss and consider the issues around safety for both police officers and the people they come in contact with, he said.
"They love this part of it (the class)," Ruffin said.
Cheryl Schweizer can be reached at cschweizer@columbiabasinherald.com.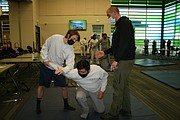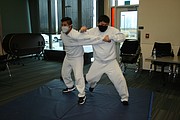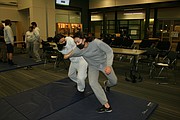 ---