Vaccinations ramping up slowly, but surely, in Grant County, surrounding areas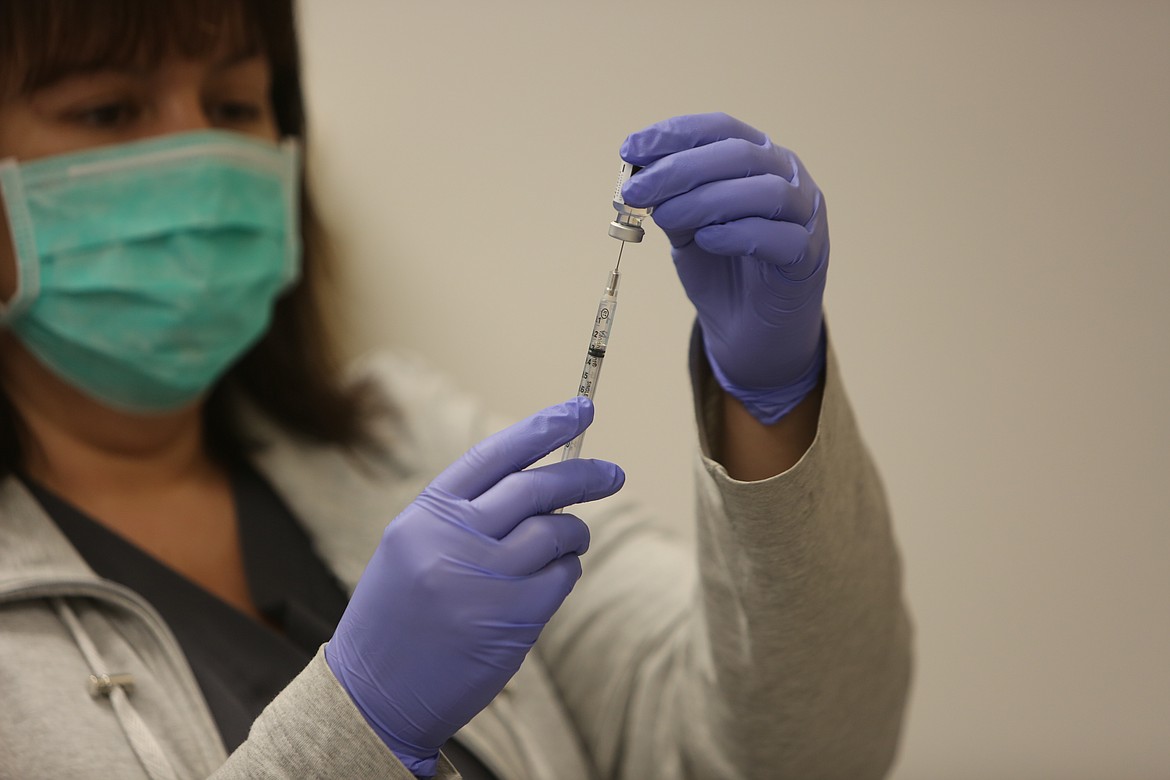 Andrea Martinez, a registered nurse at Samaritan, pulls a single dose of the coronavirus vaccine developed by Pfizer out of a vial containing multiple doses diluted with a saline solution.
Emry Dinman/Columbia Basin Herald
by
EMRY DINMAN
Staff Writer
|
January 13, 2021 1:00 AM
MOSES LAKE — In spite of delays in delivery and some hesitation from potential recipients, distribution of the coronavirus vaccine by health care providers has steadily ramped up across Grant County and surrounding areas in recent weeks.
Samaritan Healthcare received its first shipment of vaccines produced by Pfizer, which requires ultra-cold storage because it contains no preservatives, and inoculated health care workers and first responders in Moses Lake on Dec. 17. Not long after, two other local health care providers, Columbia Basin Hospital and the Columbia Basin Health Association, each received shipments of Moderna's vaccine on Dec. 24, and immediately began administering doses.
The health association has administered around 200 doses in clinics in Mattawa and Othello, said Kelly Carlson, vice president of administrative services for the association.
The Columbia Basin Hospital has vaccinated around 100 people since its first shipment on Christmas Eve, said Susan Scheib, community relations and foundation coordinator for that organization. The hospital has received doses weekly, she added, and can request as many doses as they expect to be able to use in the week ahead.
While Samaritan has initially focused its efforts in the Moses Lake area where the organization is located, staff traveled to Quincy on Dec. 30 to vaccinate health care workers and first responders. A similar mobile event is scheduled in Grand Coulee on Friday, said Gretchen Youngren, executive director of development and communications for Samaritan.
In addition to some issues getting vaccines to providers, some delays were due to a shortage of arms to put vaccines into — Samaritan has received nearly 4,000 doses, Youngren said, four times the amount administered. Half of the doses received by Samaritan are being reserved for booster shots, however, ensuring vaccinations are completed in full, Youngren said. Federal regulators strongly recommend all coronavirus vaccinations come with a second shot, 21 days after the first for the Pfizer vaccine and 28 days after the first for the Moderna vaccine, to ensure efficacy.
The Columbia Basin Health Association received nearly 800 doses of the Moderna vaccine as of Monday, also four times the amount the organization has been able to distribute.
Some of the delays are due to concerns about side effects, including among the health care workers who are first in line to receive the vaccine, according to health officials. Side effects have not been uncommon, but have primarily occurred as sore arms, headaches, aching joints, stomach pains and other symptoms common for other vaccines, according to local providers. Some allergic reactions can also occur, and providers require recipients of the vaccine to remain on-site for at least 15 minutes after receiving their shots to be monitored.
But the effort to vaccinate the state may soon kick into a new gear when the next phase of vaccinations begins. The state recommended only health care providers, first responders and long-term care facility residents be vaccinated during the first round, which is still underway.
The next phase, as soon as Jan. 18, recommends vaccinations for anyone 70 years or older or those who are 50 years or older and who live in multigenerational homes with members of their household who are at risk of severe complications from the coronavirus. This is expected to significantly increase the number of people lining up to receive their doses.
That phase is expected to last until at least February, according to the state Department of Health.
Meanwhile, health care providers have expanded the pool of potential recipients, in some cases taking on residents of long-term care facilities. While those residents currently qualify for the first phase of vaccinations, their inoculation was intended to be handled through a federal program in partnership with private pharmacies, such as Walgreens and CVS.
That program has faced some delays, and while a number of facilities received vaccinations through it, a small number of others have pulled out of the federal program to receive vaccinations through area health care providers, according to officials with Samaritan Healthcare and the Columbia Basin Health Association.
More health care providers have applied to help distribute Pfizer's and Moderna's versions of the vaccine, such as Confluence Health, Moses Lake and Quincy Community Health, and Quincy Valley Medical, among others. Coulee Medical has also applied, but requires an upgraded storage refrigerator and data logger, said Theresa Adkinson, administrator for the Grant County Health District.
Those applications and efforts are being coordinated in part through a countywide vaccine task force, made up of the health district, health care providers and the county Emergency Management Division, Adkinson said.
For those on the front lines of one of the largest vaccination campaigns in U.S. history:
"We're excited to see the light at the end of the tunnel for this," said Carlson. "The vaccine has been a great thing for us, and we're just excited to see as many people vaccinated as possible."
---