Rev. Klockers: Sometimes making a joyful noise involves soft bait and a sharp hook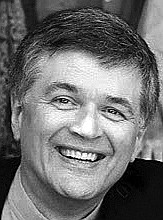 |
January 13, 2021 1:00 AM
The Irish were pagan until being Christianized by St. Patrick in the fifth century. When St. Patrick first encountered the Irish, he was likely soon exposed to a chief characteristic of their culture.
These folks had a blessing for everything, and I mean everything. I envision the words of such blessings not internally processed, not without voice, and not delivered by muttering and mumbling. I envision them being boldly spoken and with both confidence and conviction.
Patrick Christianized these blessings. Instead of being a worship of nature, they became expressions of God's transcendence within nature, life and living. They were all-encompassing.
So, what are we specifically talking about here? Possibilities might include thanking God/asking God for favor after waking for a new day, for favorable weather, before traveling, making the bed, sweeping the floor, hunting for food, before a meal, you name it and they likely had a prayer or blessing for it.
There were other pagan groups in the region who had similar habits. Once Christianized, they had like blessings/prayers. We refer to them as "Celtic." Besides the Irish, this would include Scots, Welsh, Bretons, et cetera.
This morning, I was pondering a piece of Scripture – Psalm 100. From the New Revised Standard Version of the Bible:
"Make a joyful noise to the Lord, all the earth. Worship the Lord with gladness; come into his presence with singing. Know that the Lord is God. It is he that made us, and we are his; we are his people, and the sheep of his pasture. Enter his gates with thanksgiving, and his courts with praise. Give thanks to him, bless his name. For the Lord is good; his steadfast love endures forever, and his faithfulness to all generations."
I wondered what the ancient Celtic culture thought about this passage. I reasoned, on the one hand, it seems to fit quite naturally within the category of Celtic prayer. One could interpret the passage, for personal application, as a prayer before entering a worship space (church).
Sheep within the safety of the enclosure might vocalize peace-filled bleating. People in church might express their comfort and joy through singing.
On the other hand, Celtic prayer views God as transcendent (present in and through everything) and not restricted.
So, there can be "joyful noise" expressed in more forms than singing, and not confided to a specific space.
Once this is understood, the possibilities seem endless.
So, the next time I am in the boat on Moses Lake, a walleye takes my lure, the fishing pole twitches and then bows, and I say "fish on" – I will regard such as joyful noise.
It is a prayer of thanksgiving and a blessing from God as part of life's experience.
Now, I'd only have to get the fish in the boat to say "Amen."
Walter is pastor of Immanuel Lutheran Church in Moses Lake and has served as parish pastor for more than 30 years.
---