Othello's McCourtie named CWAC AD of the Year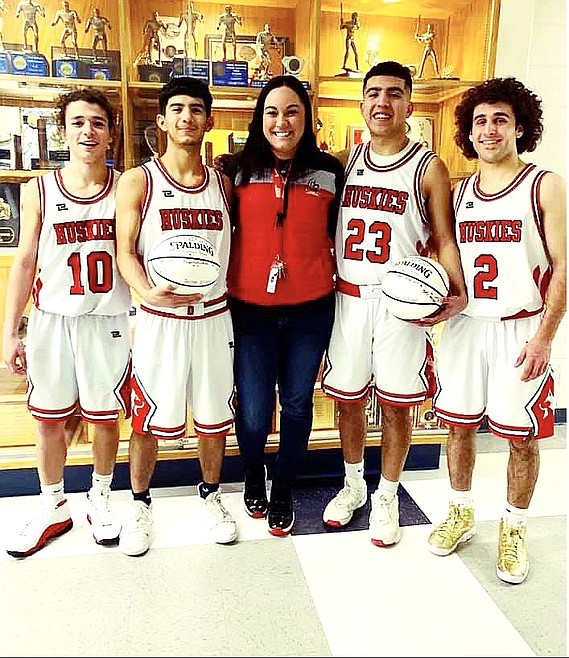 Othello High School athletic director Jenny McCourtie poses for a photo with members of the basketball team last season.
Courtesy Photo/Jenny McCourtie
by
CASEY MCCARTHY
Staff Writer
|
January 13, 2021 1:00 AM
Othello High School athletic director Jenny McCourtie was named Central Washington Athletic Conference Athletic Director of the year for 2020. The announcement became official in last week's CWAC meeting after the athletic directors voted in December.
McCourtie is in her third year as athletic director with OHS. She joined the school district as an elementary physical education teacher about 14 years ago.
She gave credit to her six other colleagues in the CWAC.
"They're awesome, they're super-knowledgable, they're helpful, and I believe I'm the rookie of the group," McCourtie said. "I'm the only female in the group, and they've just been really good to me. Having a good group of ADs to work with has just been awesome."
Receiving the award for 2020, a year when there hasn't been competition since March, was tough to describe, McCourtie said.
In an exhausting and stressful year, she said, receiving the award is a blessing and a positive among all the negatives. Working in her hometown of Othello helped keep her motivated to give her students the same opportunities she had as a student-athlete.
McCourtie said her staff at the high school had a part in winning the award as much as she did.
"I've got great coaches, mentors, secretaries, all of them played into it, too," McCourtie said. "I don't feel like it's just an award for me. A lot of people helped achieve this award."
Being the only female on the CWAC board, she said, has never really been a factor. She grew up with an older brother and always considered herself a bit of a tomboy.
McCourtie said she remembers going into her first conference meeting as athletic director and hoping there was another female there.
Regardless, she said she instantly felt like part of the group and has never looked back. This past year, the WIAA also launched a Women of Washington program that helped connect female athletic directors across the state to collaborate, train and discuss things.
McCourtie said the program has been great to connect with other athletic directors and hopes to expand the program to the female student-athletes down the road.
She said there are a handful of things that make her love her position as athletic director, including having the opportunity to give back to her hometown. Ultimately, she said it comes down to the love for kids, which led her to enter the education profession.
"I enjoy being around competition. I played college ball, and there's a lot you can learn around athletics," McCourtie said. "I just want our programs to be as successful as possible for our kids, because we have amazing kids."
---