Othello talks Ash Street changes, swears in new police officer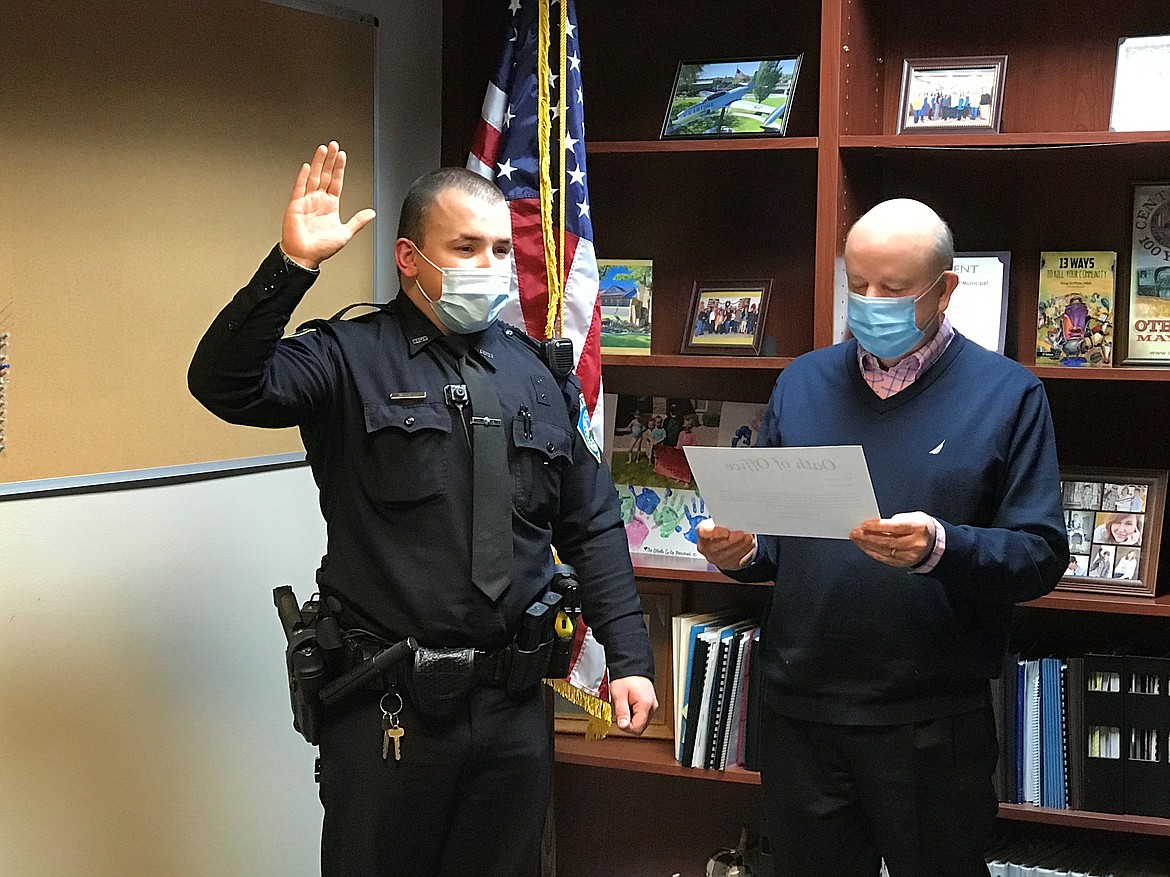 Othello Mayor Shawn Logan (right) swears in newly minted Othello Police Officer Martin Garza during an online meeting of the Othello City Council on Monday.
Courtesy Othello Police Department
by
CHARLES H. FEATHERSTONE
Staff Writer
|
January 13, 2021 1:00 AM
OTHELLO — The Othello City Council on Monday talked about proposed changes to Ash Street and watched Mayor Shawn Logan swear in a new police officer.
During an online meeting plagued with connection difficulties for a couple of council members, Logan swore in newly minted Othello Police Officer Martin Garza, an Othello native and 2014 graduate of Othello High School.
"All honor and glory to God, I wouldn't be here without him," Garza said as he thanked Logan, OPD Chief Phil Schenck, and members of the city council. "I'm here, I'm home, I'm not going nowhere. I'm here to serve and protect you guys."
With Garza's swearing in, Othello now has filled 16 of its 18 authorized positions. According Schenck, the department is looking at hiring two more officers to be fully staffed.
Earlier in the online meeting, Planning Commission Chair Roger Ensz addressed some concerns he has about a proposed $800,000 project — 90% paid for by a state grant — to make Ash Street more pedestrian-friendly by creating a series of curb extensions, crosswalks and curb ramps along the street as part of the state's Safe Routes to School Program.
Ensz said he was concerned that the project would needlessly narrow Ash and turn it into a residential street rather than a collector street.
"Are we making it safer for kids or are we putting them closer to traffic?" Ensz asked.
Logan said the project is still under review and the city council is gathering information on the proposed project and has not yet made any decision.
"We don't need to make a bad decision that will cost the city," Logan said.
However, Council Member John Lallas said the project is important because the three schools along Ash — Desert Oasis High School, Lutacaga Elementary School and McFarland Middle School — mean a lot of kids cross what is now a busy street to get to school.
"We've got three schools down there on that street," Lallas said. "It shouldn't be a collector street. Safe routes for the kids kind of outweighs that."
City Engineer Shawn O'Brien said the bulbouts could be redesigned so they don't make the street so narrow, but any redesign would still have to comply with the state grant.
Finally, the council unanimously rejected endorsing two bills proposed for the current state legislative session. The first bill, House Bill 1069, would allow cities to use the lodging tax to help people with rent and housing costs and a portion of any dedicated law and justice sales tax for mental health care for the homeless.
The second measure, House Bill 1056, would allow city councils and other governing bodies to hold online meetings under certain circumstances, even once the COVID-19 pandemic passes.
"I'd like to go to in-person meetings as quick as we can as quick as they allow it," said Council Member Angel Garza.
"If at all possible, a meeting should be live. Period," said Council Member Corey Everett. "This virtual meeting is ridiculous."
Charles H. Featherstone can be reached at cfeatherstone@columbiabasinherald.com.
---