MLHS looks at regional scheduling for athletics when they return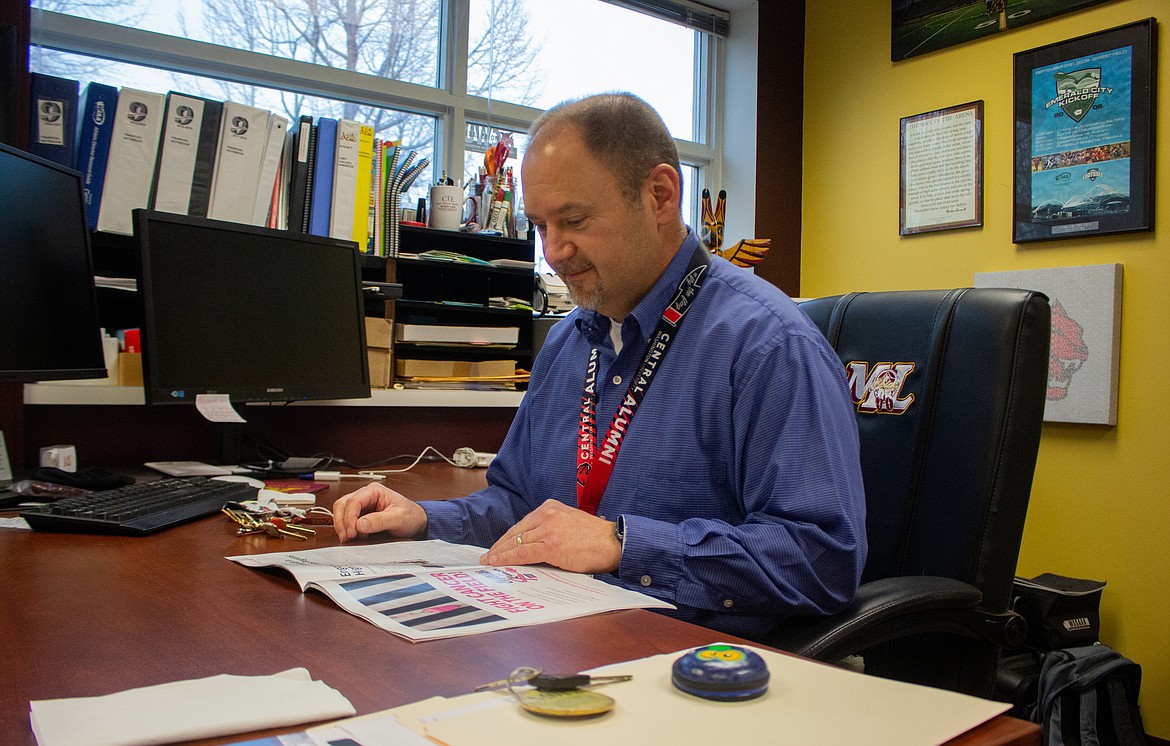 Moses Lake High School athletic director Loren Sandhop works behind his desk at the high school on Tuesday afternoon.
by
CASEY MCCARTHY
Staff Writer
|
January 13, 2021 1:00 AM
MOSES LAKE — High school athletic directors are updating their planning and processes for the season after new guidelines were announced by Gov. Jay Inslee last week in addition to schedule revisions released by the Washington Interscholastic Activities Association.
The WIAA's Season 1, which includes primarily traditional fall sports, is set to open on Feb. 1. Loren Sandhop, athletic director at Moses Lake High School, said the past week has been filled with almost daily changes as he meets with athletic directors from the region and across the state.
Sandhop said athletic directors from across the state met over Zoom the day after Inslee's announcement Jan. 5 to discuss how they would proceed. The WIAA released an updated season calendar the following day.
More recently, he met with athletic directors from the 29 schools in the North Central Washington Region to discuss plans of formulating regional schedules for their schools rather than adhering to their league schedules.
The Columbia Basin Big 9 Conference, which includes MLHS as well schools from Ellensburg and Yakima, announced schools would look to their own geographic region for scheduling. Sandhop said schools from the Yakima area expressed concern whether they would be able to meet the requirements to play in Phase 2 and didn't want to hold back other schools.
Sandhop said numerous leagues, including the CWAC, SCAC, and local 1B conferences, have also been involved in these discussions. Right now, he said, their plan is to kick off fall sports regionally after Feb. 1.
"Our tentative date right now is that football would start on Feb. 16, and the rest of fall sports would start on Feb. 22," Sandhop said. "I'd love to go on Feb. 1, but in this group of schools, some of them aren't even back to school yet and don't plan to be back until Feb. 1."
By scheduling by region rather than by league, Sandhop said the hope is it will help schools avoid having to travel outside their region and worry about meeting state parameters in both regions. He said the ultimate goal is to open up as many opportunities for their students to participate as possible.
Fall sports' six-week schedule will be followed by a six-week spring schedule, then a five-week winter sports schedule at the end of the year. Sandhop said the hope is by pushing winter sports back, including high-risk sports such as wrestling and basketball, more time will be allowed for counties and regions to be in a position to host these activities.
There are still plenty of issues and concerns to address with this revised plan, he said. Competing against schools from across the North Central Washington region opens up the concern about snow for outdoor sports in February, another reason behind pushing the start date back a few weeks.
"A girls soccer ball isn't going to roll in snow," Sandhop said.
Two more question marks involve officials and transportation. Sandhop said there is already a concern with the number of bus drivers available with students coming back to school. Many of the officials who call games locally are in the at-risk population due to their age, raising concerns for Sandhop whether some of them may elect not to call games this season.
"We'll have to work out those issues. Plus, a condensed season means we're going to be at the gym a lot," Sandhop said. "Our focus right now is just to get the kids practicing and playing."
He said there are also concerns how certain sports might match up if 4A schools, like MLHS, are competing against smaller 1A and 2A competition. Bringing a 150-man football roster to compete against a team that typically competes in an 8-man league might cause issues.
With shortened seasons, Sandhop said he realizes the chances of a post-season or culminating events are dwindling as dates continue to push back. He said the best hope might be to host something regionally.
Sandhop said he feels better now about athletics being able to come together than he has when other tentative schedules and plans came last summer and fall.
"I like the idea that all of the athletic directors in North Central Washington have come together and tried to find a way to let our kids have athletics and activities," Sandhop said.
With students back in school, he said, he feels confident they can find a safe way to restart athletics.
---