Fundraising continues for Moses Lake Rotary's skate park project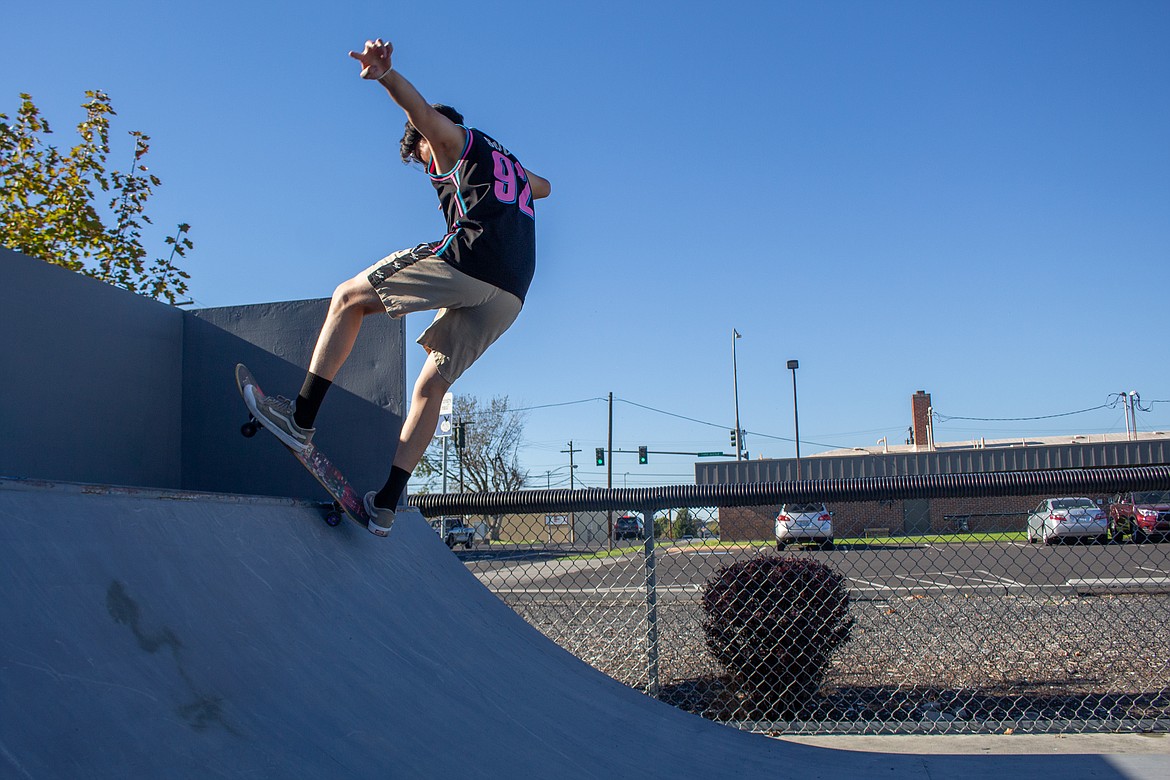 A skater hits the top of the half pipe ramp in the late afternoon at the Moses Lake Skate Park on September 29, 2020.
Casey McCarthy/Columbia Basin Herald
by
CASEY MCCARTHY
Staff Writer
|
January 13, 2021 1:00 AM
Fundraising for the Moses Lake Rotary Club's project to upgrade the Moses Lake Skate Park is continuing a few months beyond the previous final date of Dec. 31.
Rotary Club President Steve Ausere said the club has raised about $64,000 toward its $125,000 goal for park upgrades, including adding new skate features to the current layout.
Ausere said with the current funds the club will at least be able to install new lights and a few additional features to the park.
"We're going to put new LED lighting in so the park can be utilized, maybe not all the way through the night, but into the dusk hours," Ausere said.
The Rotary Club is working with Seattle-based Grindline Skateparks Inc. on designs for the renovations, Ausere said. He added the project is coming together in phases and concepts could change in the coming months if more money is available. He also said the club is hoping some of the new additions will welcome more beginners and not just experienced people.
Ausere said construction could begin this summer and the club is applying for any grant opportunities it can find.
"We were hoping to have it all the way funded by December, but that didn't happen," Ausere said. "So we're going to keep our nose to the grindstone and hopefully get that phase 1 project funded, completed and done."
The Rotary president said it has been amazing having community leaders and business entities help fund this project, especially given everything that has taken place in the last year.
Both Samaritan Healthcare and Confluence Health donated $15,000 toward the project. Moses Lake Community Health Center donated $500 and Moses Lake Industries added another $1,000.
With COVID-19 and the fiscal year many businesses struggled through, Ausere said the club knew $125,000 was a lofty goal to shoot for. However, he said they remain committed to reaching it.
Ausere added the skate park isn't just a place for kids in the community, but multi-generational.
"You have 20-somethings, 30-somethings, 40-somethings that utilize that park," Ausere said. "When you think of people riding skateboards and things like that, it's not just little kids, it's teenagers, young adults and adults."
Casey McCarthy can be reached via email at cmccarthy@columbiabasinherald.com.
---