Former Desert Aire Airport commissioner receives award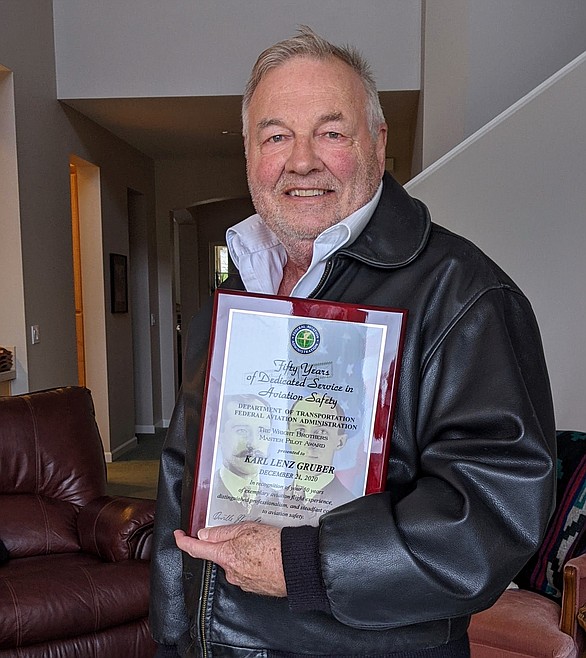 Former Desert Aire Regional Airport commissioner Karl Gruber displays his Wright Brothers Master Pilot award.
by
RACHAL PINKERTON
Staff Writer
|
January 13, 2021 1:00 AM
DESERT AIRE — Former Desert Aire Regional Airport Commissioner Karl Gruber was awarded the Wright Brothers Master Pilot Award.
According to the FAA (Federal Aviation Administration), the Wright Brothers Master Pilot Award is only given to those who have been an aviation pilot for a minimum of 50 years, making it one of the most prestigious awards the FAA offers.
Gruber got his first airplane, a Taylorcraft, when he was 19 years old.
"When I first started to fly and got certified in 1965, you could fly for $10 an hour with an instructor," Gruber said. "I got my entire private pilot certificate for about $400. You can spend that on one lesson today."
With that first airplane, Gruber would fly into Canada to go camping and fishing.
After getting an industrial engineering degree at the University of Washington, Gruber began flying commercially for Renton Aviation. He flew the route into Rivers Inlet Resort, in British Columbia, which was known for its lack of weather reporting.
"What you see is what you get, and it was usually the worst weather," Gruber said.
The year before Gruber took over the route, two other airplanes crashed, but those didn't bother Gruber.
"I thought I was really cool and invincible," Gruber said. "I was young."
Next, Gruber turned to instructing for the Seattle Flight Service. At that time, commercial flight lessons were part of the GI Bill.
"I logged 2,000 hours in a little over a year," Gruber said. "Then the GI Bill stopped. Not a single student walked in the door. Everyone got fired."
That setback didn't stop Gruber from finding new ways to continue flying. He partnered with a friend to purchase an airplane they used to fly associate buyers for the Bon Marche. He did this for 20 years.
"We flew them virtually everywhere," Gruber said.
From there, Gruber began flying billionaire businessmen and celebrities internationally in "$50 million airplanes."
"I flew all sorts of celebrities," Gruber said. "I still can't say who and where I flew because I signed confidentiality agreements."
Around 2011, Gruber and his wife moved to Desert Aire, where he served as an airport commissioner from 2014-2019. During his time as commissioner, the airport received a $1 million grant for the repaving of the runway, an accomplishment he credits to former commissioner Cliff Naser.
Due to health issues his wife was having associated with the pesticides, herbicides and smoke in the Columbia Basin, Gruber moved away in 2019.
"I don't have my house or my hangar," Gruber said. "But my heart is still there."
Gruber currently lives near Port Townsend and is involved in an airplane club. He also continues to do some instructing.
"My one claim to fame in 55 years is that I've never drawn blood or bent metal," Gruber said. "I've never had any infractions from the FFA."
Gruber received the Wright Brothers Master Pilot Award in December of 2020 after friends, who had already received the award, urged him to apply.
"You have to request it," Gruber said.
The award application must include three letters of recommendation and a biography of what the pilot has done during their 50 years of flying.
"Once you send it to the FFA, they investigate you," Gruber said. "It takes about a month. They make sure you have no infractions."
Recent Headlines
---