Auctioneers find freeway exposure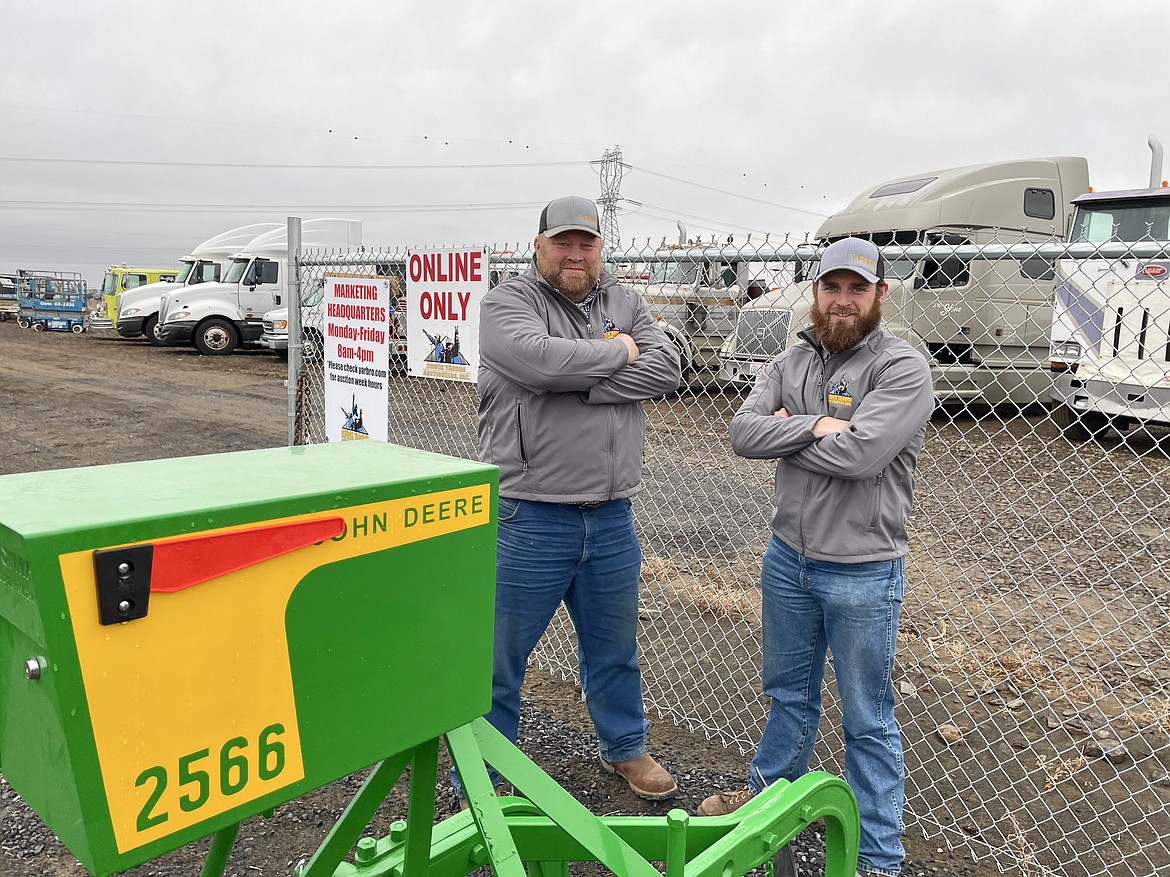 Auctioneers Chuck Yarbro and his nephew Jacob Barth by the mailbox of their new location along N. Frontage Road just east of Dodson Road.
Charles H. Featherstone
by
CHARLES H. FEATHERSTONE
Staff Writer
|
January 11, 2021 1:00 AM
MOSES LAKE — Auctioneer Chuck Yarbro makes no bones about why his company has moved to its new location near the interchange of Interstate 90 and Dodson Road.
"We want to get everything in one location," he said of the big, fenced-off gravel lot that sprang up in March along North Frontage Road. "Because what we sell can't fit downtown."
Which is true, and is why Chuck Yarbro Auctioneers always had its auction lot located across the lake, far away from its Beech Street offices in downtown Moses Lake.
"We needed exposure, freeway exposure, and the access we have here on I-90 is awesome," he said.
There are plenty of things to bid on here — trucks, tractors, snow mobiles, farm machinery, even a couple of old firetrucks — as Chuck Yarbro Auctioneers gets things set up at its new location, eventually with a proper office building and even a giant sign.
But moving to this new location astride the interstate has already paid off, Yarbro said, noting an immigrant Nigerian truck driver who one recent Saturday pulled his rig in and spent an hour looking at and bidding on tractors.
"It adds another element of exposure for the items we are selling," he said. "People will see them from the highway as they're driving by."
Yarbro does its regular auctions once every two months or so. It's something both Yarbro and his nephew, auctioneer Jacob Barth, believe is the best way for people to get the best value on things they have to sell, especially if they have things they need or want to sell.
"The viewpoint with an auction is everybody's going broke, but that's not the case here," Yarbro said. "There's just always a lot of items to sell. And this is a great way to do it."
"Since I came on full time in the last five years, I think there's been maybe three scenarios in which people were, maybe not necessarily forced, but highly encouraged, like maybe it's time to get out when you're ahead," Barth said. "Other than that, it's been voluntary retirements or just surplus liquidation. It's been fun."
Auctions are also the best way to fairly and quickly liquidate estates, he said.
"It's a good way to liquidate and get 'er done," Yarbro said. "When it goes to auction, no one can argue that somebody got a better deal; it goes to the highest bidder."
Which means the auction business is unlikely to slow down anytime soon.
"We're very busy. We've got a lot of stuff going," Yarbro said. "We've always got things going on."
Charles H. Featherstone can be reached at cfeatherstone@columbiabasinherald.com.
---