Margarita (Maggie) Moreno Castillo
|
January 6, 2021 1:00 AM
August 2, 1928 – December 30, 2020
Margarita (Maggie) Moreno Castillo fell asleep on Dec. 30, 2020, in Moses Lake, Washington. She was born on Aug. 2, 1928 in Pflugerville, Texas, to the late Hipolito and Gertrudis Moreno. Maggie was the eldest of 10 siblings, which includes Helen Suniga, Tony Moreno, Tito Moreno, Victor Moreno, Victoria Vadnais, Sergio Moreno, Lupe Fountain, Matilda Montgomery and Julian Moreno, who passed in 1991.
The Moreno family picked cotton in Texas and for a short time resided in Montana to thin beets. They moved to Wapato in 1943 where Maggie worked in the hops, thinned beets and packed apples at Sunshine Ranch.
Maggie met her husband Cesario Castillo (Aug. 27, 1930 – Aug. 23, 2018) at a dance. They married in 1958 and they had their first child, Frances Castillo, in 1959. In the 1960s they moved to Warden, Washington, where they had three more children: Mary Ann Spivey, Gertrudis Abarca and Cesario Castillo Jr. In Warden, Maggie worked for Warden Daycare Center and Skone & Connors Produce.
Maggie never was idle. She loved to sew her own dresses and children's clothing. She baked, quilted, canned, did embroidery and crocheted.
A celebration of life will be held Thursday, Jan. 7, 2021, at Valley Hill in Wapato, Washington. The viewing will be 9-11 a.m. and Mass 11-11:30 a.m. The burial will occur at Reservation Community Memorial Park at noon. Masks are required as well as social distancing for all events.
Special thanks to Christina, Maria, Midge, Jared, Dora and Aberdean, who cared for Maggie for her last few years.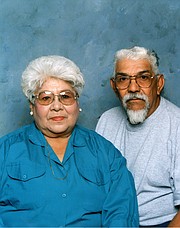 ---