Sand Scorpions burn Christmas trees for 31st year
by
SAM FLETCHER
Staff Writer
|
January 5, 2021 1:00 AM
MOSES LAKE — On New Year's Day, diesel engines quaked across the cookies and cream terrain of snow on the Moses Lake Sand Dunes, as pickups, Jeeps and ORVs pulled up to turn the casual holiday to a sort of "Mad Max" movie.
That was the vision when Rich Archer, Lyle Laves and Randy Radach started the Sand Scorpions Christmas Tree Burn in 1990. They brought out their trees, their rigs and their families and had a fire.
"We've been sand dunes guys, friends forever, and decided New Year's Day we aren't really football guys and didn't want to hang out there," Archer said. "We wanted to come out here."
The event has grown every year, Archer added.
Once the first round of trees was lit Friday for the 31st annual event, an RV rolled in and set up a table for the potluck, soon to be covered with chili, chips and sweets.
Brandon Douglas said he was born into the Sand Scorpions, as his parents were already members. An ideal outcome of the event is for everyone to see a couple of hundred trees burned and have "enough chili in their bellies," he said.
This is not an unusual feat for the group.
With no tree service in Moses Lake, except shoving them in a dumpster, every year Jay Macomber said he advertises on Facebook Marketplace and Columbia Basin Buy Sell Trade, offering to pick up old trees. And every year, Macomber trailers them into the sand dunes to burn.
But the most important aspect of the Christmas Tree Burn, as well as all of the Sand Scorpion events, is family, Archer said.
"It's all about the families," he said. "Everything we do, we try to make sure the kids are incorporated somehow."
And as the fire climbed more than 20 feet tall, kids dragged each other around on toboggans and threw snowballs.
"I love these people, man. These are my family," said longtime member Justin Wolfe. "I've been hanging out with these guys 30 years. I couldn't imagine not."
Many members of the Sand Scorpions have been friends for life, through highs and lows, Wolfe added.
"I sent (my friend) out in a helicopter when I watched him break his neck 20 years ago, and there he is, walking across camp, hanging out," he said. "It's a great feeling."
While the club had to cancel a few of its events this year, Archer said he felt lucky to have events like this one. The event went "really good," he said, adding about 200 people joined throughout the day. And, with a new calendar chock full of events, Douglas said he is looking forward to revving back up in the new year.
Sam Fletcher can be reached via email at sfletcher@columbiabasinherald.com.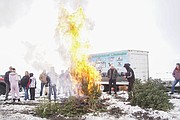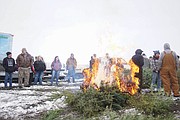 ---