Mortgage broker says it's still a good time to buy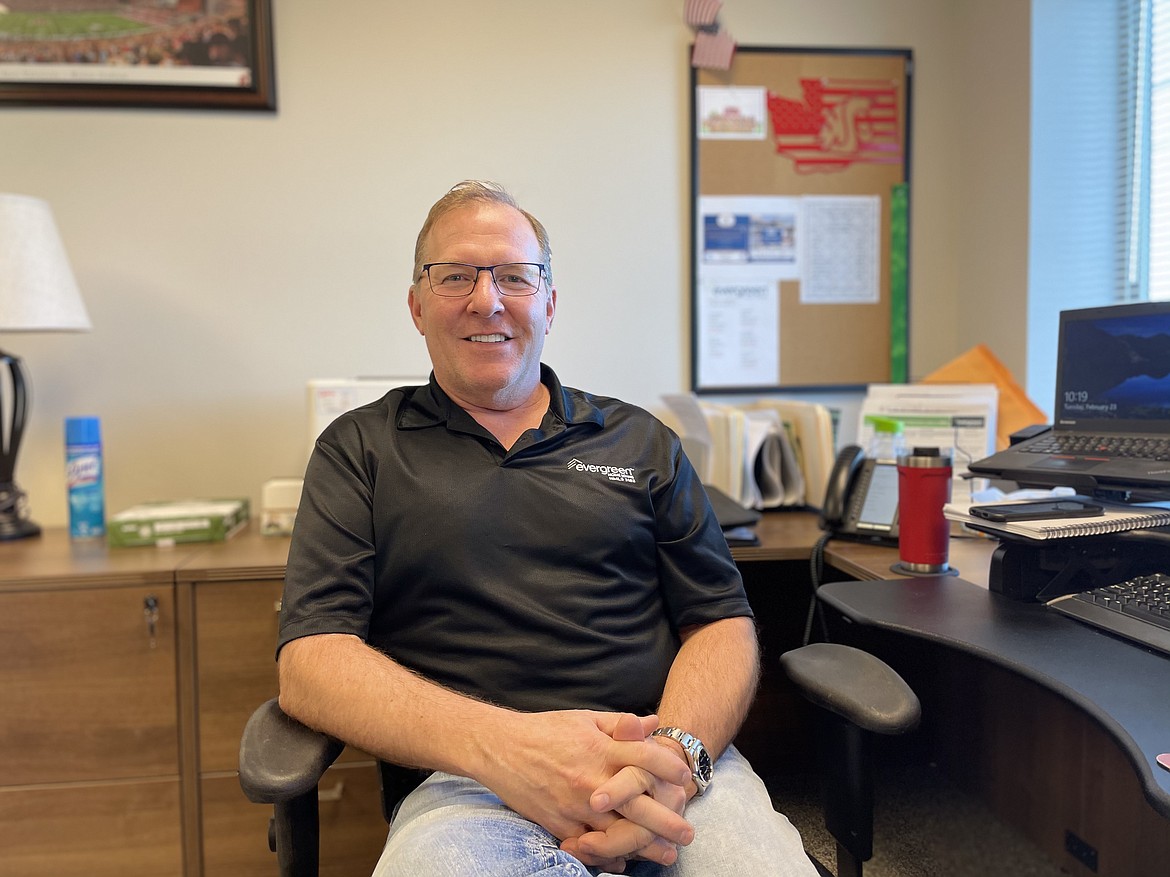 Clark Schweigert, a senior loan officer and the branch manager of Evergreen Home Loans in Moses Lake, in his office on Tuesday. Despite a shortage of houses and a rise in interest rates looming later this year, "It's still a good time to buy a home," Schweigert said.
Charles H. Featherstone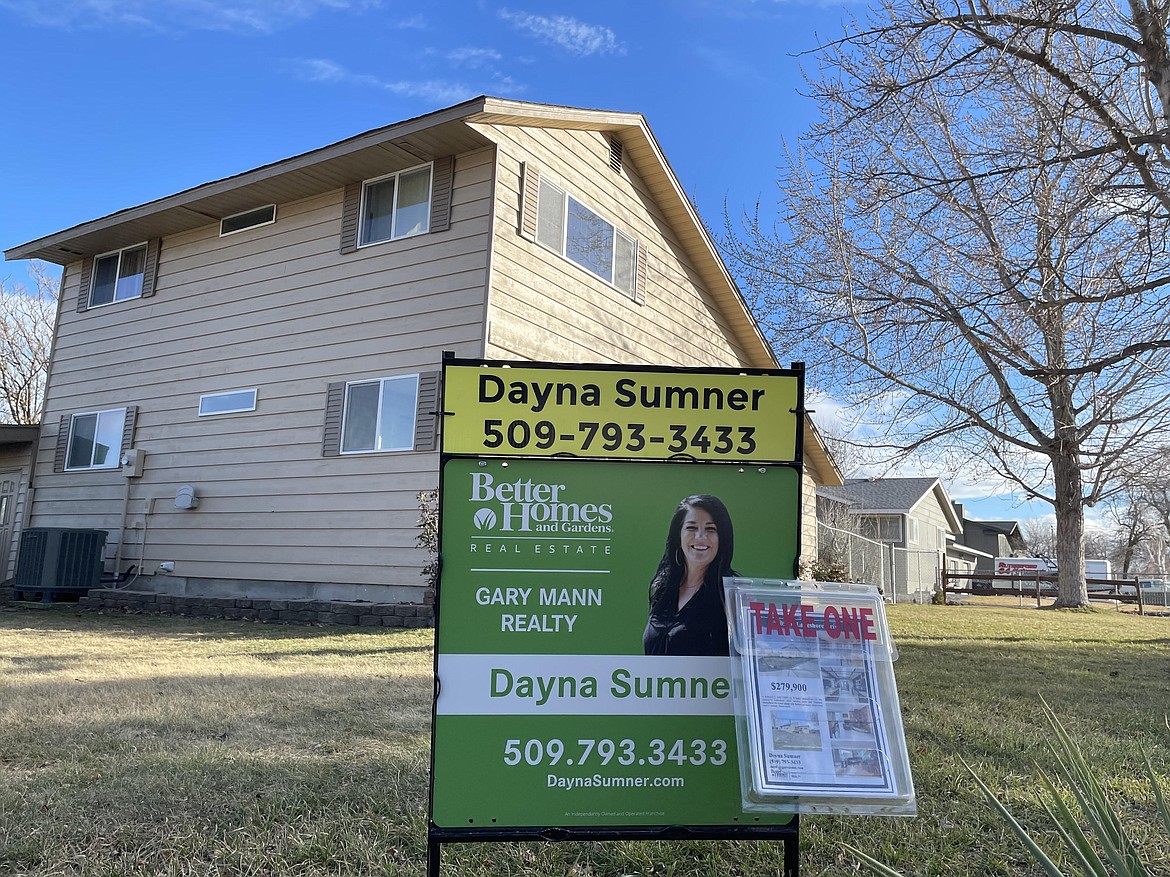 A house for sale in Moses Lake at the corner of West Lakeshore Drive and South Pommer Street.
Previous
Next
by
CHARLES H. FEATHERSTONE
Staff Writer
|
February 28, 2021 1:00 AM
MOSES LAKE — Even as bankers, brokers and lenders are whispering that interest rates may rise sometime this year, it's still a good time to buy a house.
"As crazy as this market is right now, and for as many years as I've been doing this, nobody thought that rates would get as low as they are," said Clark Schweigert, the senior loan officer and branch manager at Evergreen Home Loans in Moses Lake.
"The normal for many years was anywhere from 5% to 6%, and then it dropped to the 4s, went to the 3s, which was great, and then they went to to the 2s, and everybody went ecstatic," he said. "It's basically like free money right now."
Historic low interest rates are bringing all sorts of buyers into the home market, creating shortages and prompting a number of people to decide to build rather than buy.
According to the website Mortgage News Daily, the interest rate for a 30-year fixed-rate-mortgage on Tuesday was 3.12%, up slightly from 3.10% on Monday. The rate for a 15-year fixed-rate mortgage was 2.57%, up slightly from 2.56% on Monday. The rate for a Federal Housing Administration 30-year fixed-rate mortgage was 2.62%, up from 2.55% on Monday.
Rates are based, Schweigert said, on the daily bond auctions by the Federal National Mortgage Association (better known as Fannie Mae) and the Federal Home Loan Mortgage Corporation (better known as Freddie Mac). The harder it is to sell the bonds, the more interest both entities have to offer.
Neither Fannie Mae nor Freddie Mac lends money to aspiring homeowners. Rather, they sell bonds to buy mortgages from banks and other lenders, and also often resell those loans in packages to investors, in order to ensure there is enough liquid cash in the home mortgage market.
However, Schweigert said the actual interest rate you pay will depend a lot on your credit rating, income, and how much down payment you have, or whether you are buying a new home or refinancing an existing one. Different loan programs also have different requirements, he said, which is why it's important to consult with a mortgage underwriter who can help.
"It's always best to call your local lender, your local bank or institution, and get an idea for it whether you are refinancing or purchasing, and check the interest rates," he said.
In addition to FHA and Veterans Administration home loan programs for first-time buyers, Schweigert said the U.S. Department of Agriculture's Rural Development program has a home loan program specifically targeted for low- and moderate-income people to buy or build homes in rural areas. The state of Washington also has a special grant program that will provide 5% of the loan amount as a grant as well as set the interest rate and associated fees, he said.
"Those are the basic two that exist right now. The VA is a zero-down program, but you have to be prior military," he said. "That's all that's out there."
Schweigert said the pandemic last year not only didn't dent the business, it boosted it.
"I've been in this business a number of years, and I've always been very busy," he said. "Normally, we close around $50 million in loans, but last year that was exceeded by $45 million. It was beyond crazy, but I love it and it's good."
Schweigert said the demand has prompted a shortage of homes, and has forced a lot of lenders like him to also finance new construction.
"There's a demand for construction loans because people can't find new houses — newly built or newly listed — they're not there. So they're electing to build to get the house that they want," he said.
But that too is leading to a shortage of lumber, of labor, and of other building supplies, Schweigert said.
"It's a strong, strong market," he said. "Currently, I don't see the market changing. It's an excellent time to buy, if you can find the house."
Charles H. Featherstone can be reached at cfeatherstone@columbiabasinherald.com.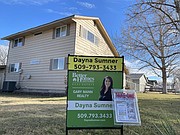 ---