Setting the stage: Masquers eager to welcome back patrons after a year without shows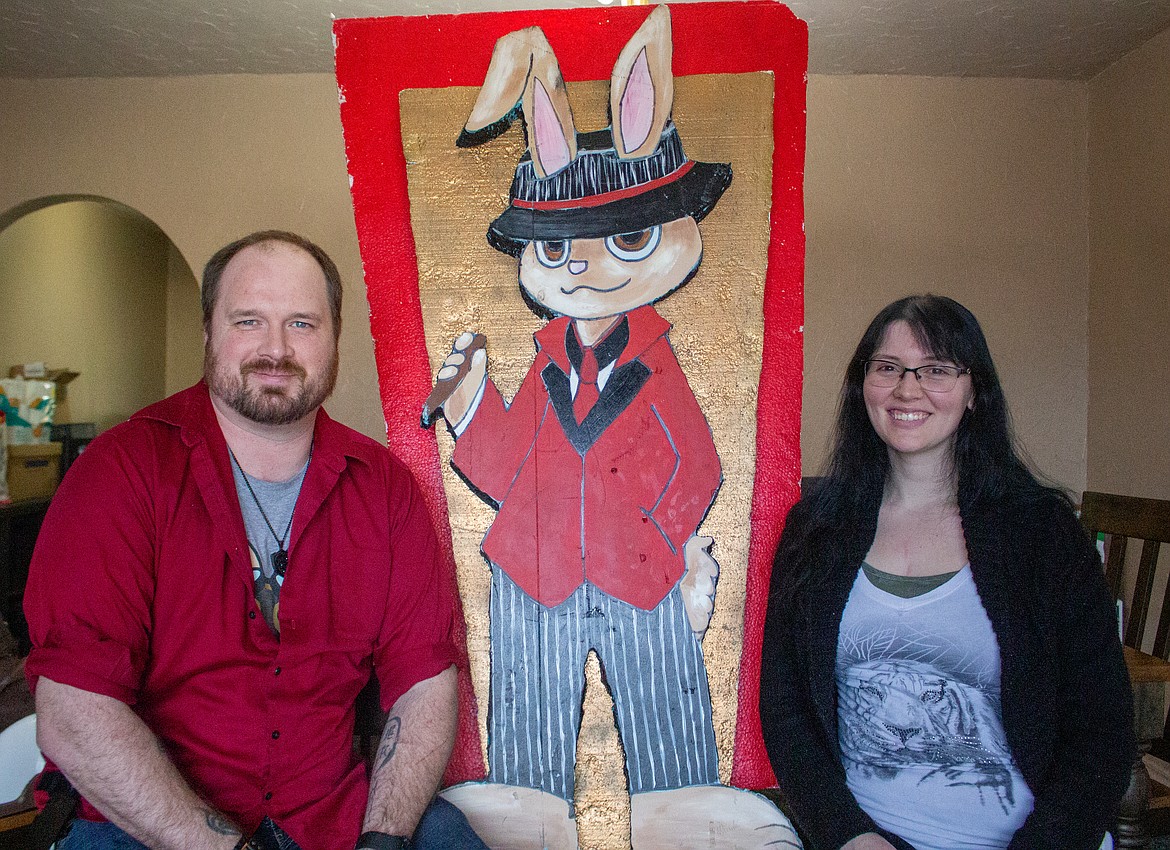 Adam, left, and Mistya Zaleski sit beside a set piece from one of their first Masquers performances together, "Aces Are Feverish," at their home in Moses Lake on Monday afternoon.
Casey McCarthy/Columbia Basin Herald
Cheri Barbre, artistic director for Masquers Theater, stands outside the theater building on East Main Avenue in Soap Lake on Monday evening.
Cheri Barbre, artistic director for Masquers Theater, stands outside the theater building on East Main Avenue in Soap Lake on Monday evening.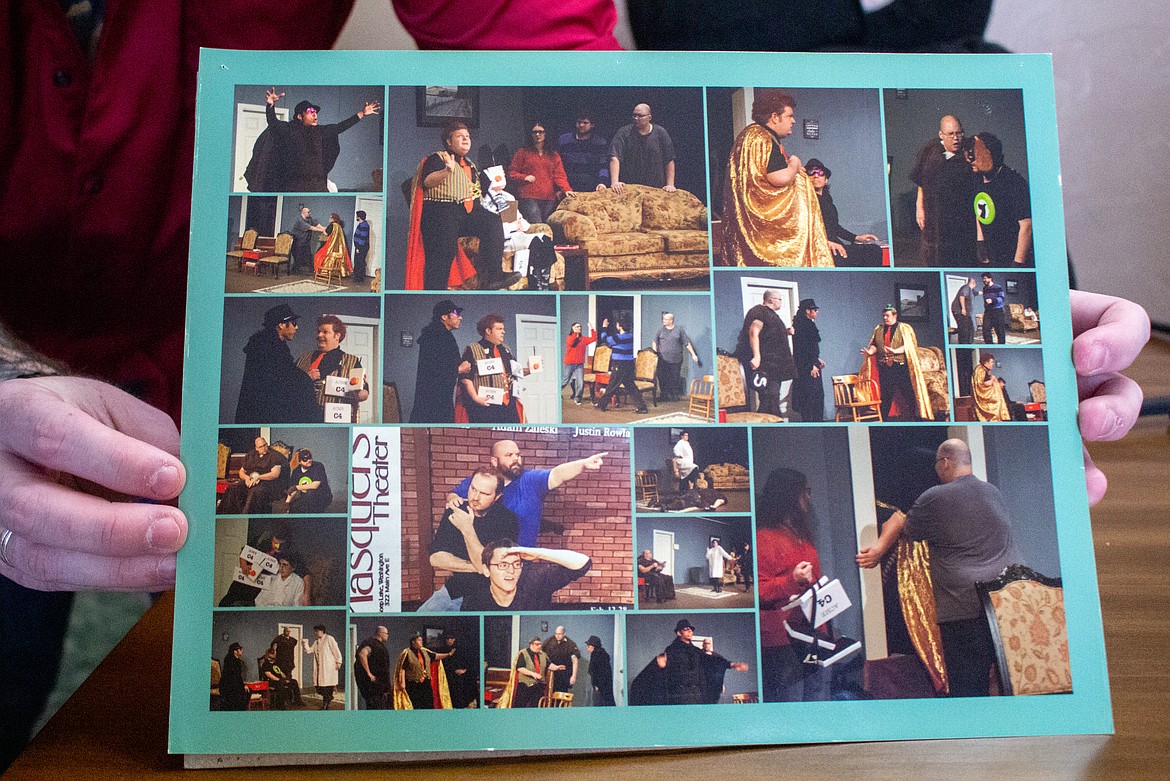 Adam Zaleski holds up a frame with shots from his first directed show at Masquers Theater, "Them Three," at his home in Moses Lake on Monday afternoon.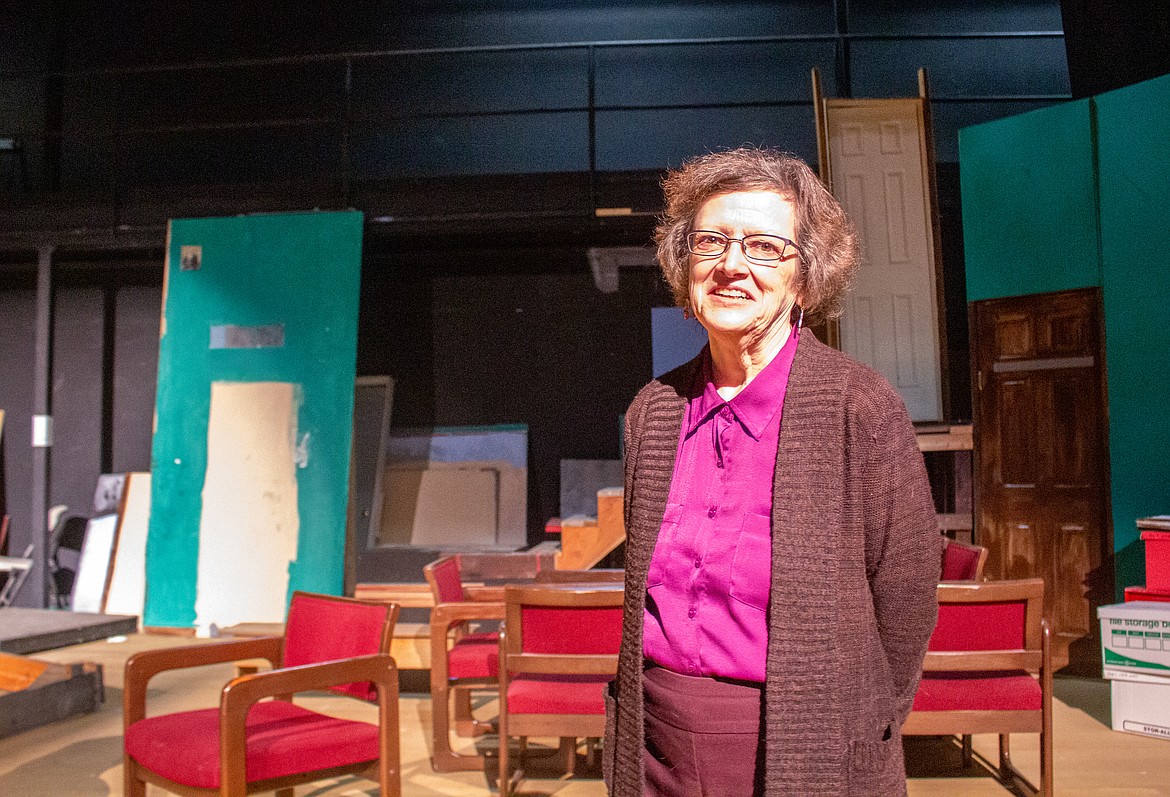 Masquers Theater Artistic Director Cheri Barbre stands on the cluttered stage still filled with set pieces on Monday evening in Soap Lake.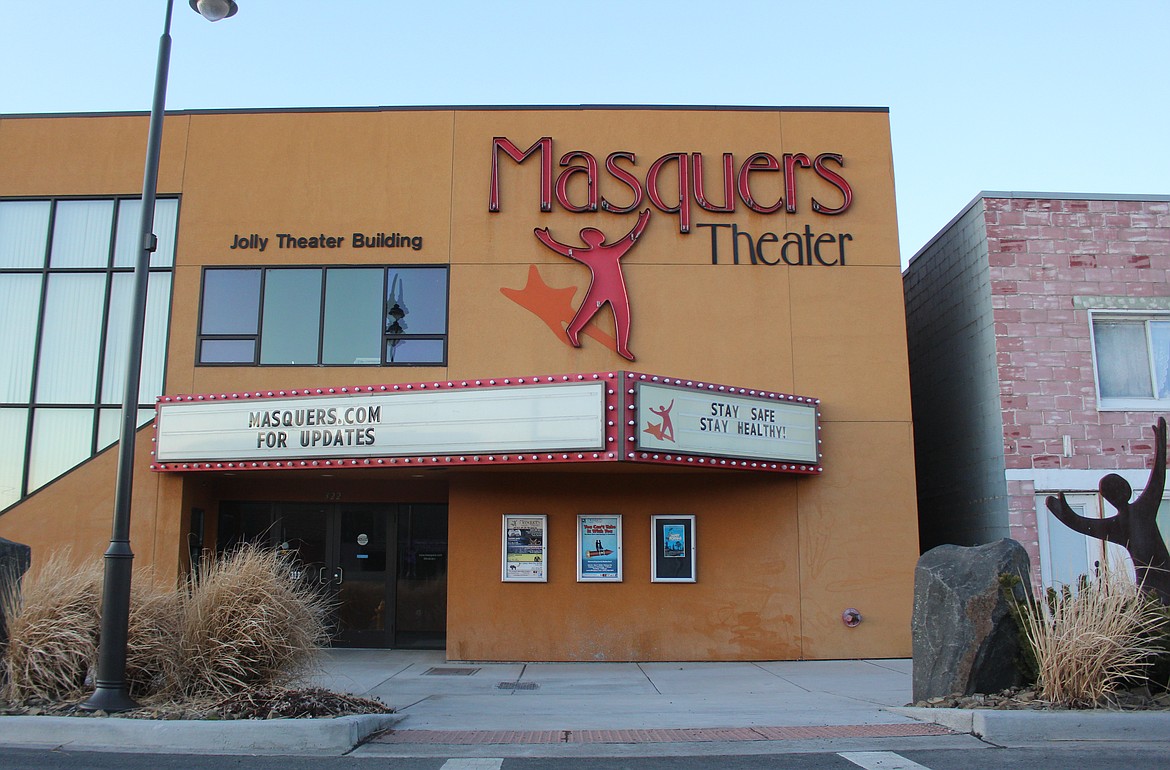 Masquers Theater on East Main Avenue in Soap Lake has remained empty of patrons since their last show in February 2020.
Previous
Next
by
CASEY MCCARTHY
Staff Writer
|
February 26, 2021 1:00 AM
SOAP LAKE — Set pieces still sit on the stage, but the seats have been empty for more than a year at Masquers Theater in Soap Lake.
The region has moved to Phase 2 of Gov. Jay Inslee's COVID-19 reopening plan, and the theater at 322 Main Ave. E. is waiting to entertaining the community.
Cheri Barbre, artistic director for Masquers and with the theater for 25 years, said the theater will wait until it can have at least 50% capacity before opening.
"The theater is staying active and productive; we're just not able to put on shows at the moment," Barbre said. "We hope to by fall; maybe this summer. It just depends on how the phases with COVID go and how Grant County does."
Barbre said the theater has taken advantage of the time without a crowd to take care of some maintenance and long-term projects. Theater staff completed some work on the roof and had some remodeling and fresh designs done in the lobby.
The last show at the theater was in February 2020, called, "You Can't Take it With You." After shutting down in March, Barbre said staff got a lot of calls and messages from the community inquiring when it would reopen. Since then, she said messages don't come in as frequently, but people still stop her walking around town and ask about when there will be shows.
After a quarter of a century of involvement with the theater, she said the time away this season has been almost a "respite."
"I've been involved with the theater 25 years now, so it was kind of nice to have a little away time," Barbre said. "But I think everyone involved in Masquers is ready to get back to presenting entertainment."
Adam and Mistya Zaleski met each other at a performance of "Sweeney Todd" at Masquers in 2015. Mistya has been performing at Masquers for about five and a half years.
Adam Zaleski said he's been performing on stages since he was about 10 years old in Monroe, Washington. After moving to the area about 10 years ago, he said he did his first show at Masquers, "Pajama Game," at the request of his grandmother about six years ago.
Adam Zaleski said he was able to perform a few radio shows through Quincy Valley Allied Arts this past year that helped "scratch the itch" of performing and gave him a chance to try something he'd always wanted.
"For me, I've always wanted to do voice acting and do radio, it's been a dream of mine," Adam Zaleski said. "The fact that I got to do that and act at the same time was just perfect for me. It made me want to do more and more projects like that."
Quincy Valley Allied Arts had a radio performance of "Frankenstein" for Halloween and another show, "It's a Wonderful Life," at Christmas time. Adam Zaleski said getting a chance to voice act was a dream come true.
He said he is missing a lot of the friends from the "Masquers family" he was used to seeing every day, or at least every few weeks. He also said things opening was exciting and a step in the right direction.
MIstya Zaleski said it's wonderful having such a tight-knit community to interact with at the theater. She said the couple recently moved into a new home and had about 30 people from the theater community reach out through social media to offer their assistance.
Mistya Zaleski said she deeply misses performing.
"I actually ran into a member of the theater in the middle of Walmart the other day and I think we spent about an hour just talking about how we missed the theater and how other people and actors are doing, trying to catch up on everything," Mistya Zaleski said.
Masquers President Jessica Hogge said as actors and entertainers, everyone at the theater has been starving for that connection with the community they've come to know and love.
"Having that interaction that we're used to having, to have that taken away from us is a very empty feeling," Hogge said. "We'll get together, we still have small groups that will go to dinner sometimes and talk about theater stuff."
As part of a theater board of directors, she said instead of focusing on shows, members have spent their time focused on the long-term projects that could be completed during the down time. In hosting performances, she said everything is almost like a big question mark, with uncertainty about when things will return to normal.
Hogge said set pieces from the last planned show, "Present Laughter," were readied on stage shortly after the pandemic struck because members thought the next show would happen.
The current plan is to welcome patrons back with "Present Laughter" when the theater reopens. Hogge said within the last two or three weeks, the hopes of returning to the theater have been greater.
Cast members for "Present Laughter" are already chatting with the director and "chomping at the bit" to hit the stage again, she said.
"I honestly feel like once that show starts, its going to be magic there for everybody," Hogge said. "For the people in the theater, for patrons, for the actors, it's going to be a magical feeling for everybody to have that light back on us."
Casey McCarthy can be reached via email at cmccarthy@columbiabasinherald.com.
Recent Headlines
---