Sand Scorpions give to Moses Lake food bank construction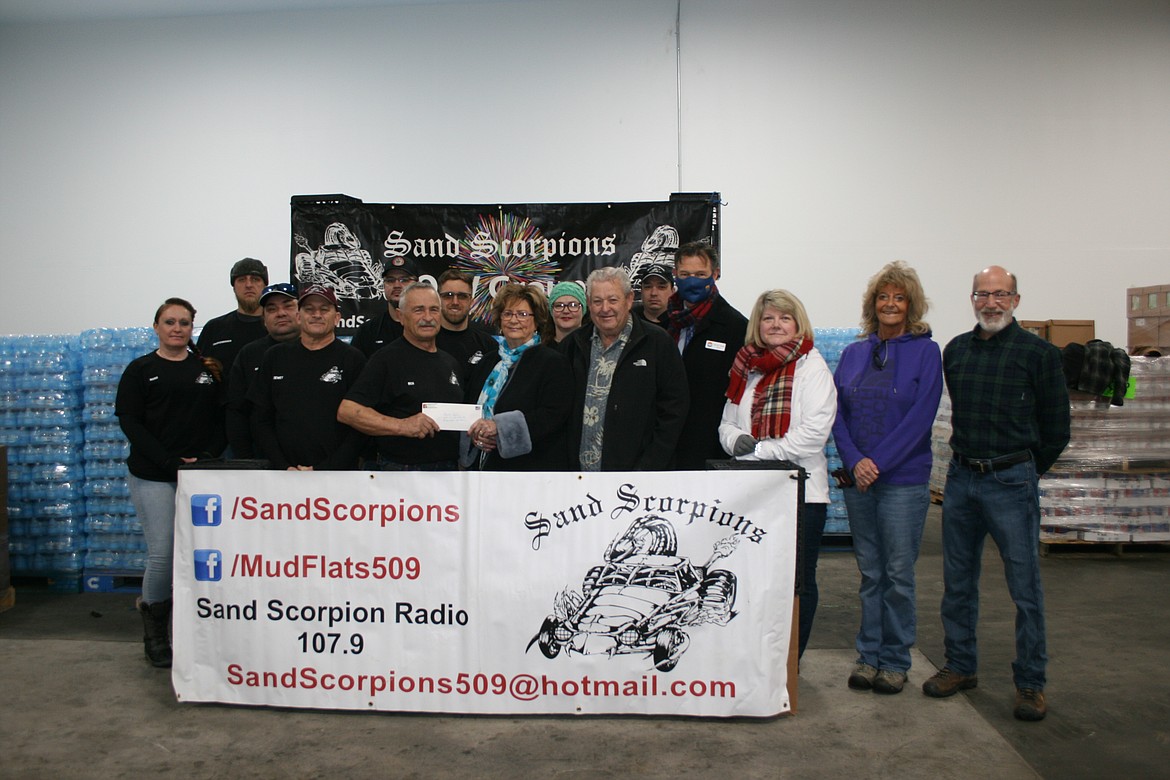 Chris Hansen (center right, front row) of Community Services of Moses Lake accepts a donation from Sand Scorpions president Rich Archer (center left, front row). Also pictured are (back row, from left) Sand Scorpions board members Marie Bruce, Justin Gilbert, Daniel Field, Duane Strong, Aaron Woodiwiss, Brendan Douglass, Jessica Starkweather and Joseph Reindal, (front, fifth from right) Mick Hansen, Moses Lake mayor David Curnel (front, fourth from right), CMSL grant writer Lisa Whitney (third from right), food bank director Peny Archer (second from right) and food bank financial manager Sc...
Cheryl Schweizer/Columbia Basin Herald
by
CHERYL SCHWEIZER
Staff Writer
|
February 24, 2021 1:00 AM
MOSES LAKE — The Sand Scorpions ORV Group's donation to Community Services of Moses Lake for CSML's new building is worth double the money thanks to a grant from the M.J. Murdock Charitable Trust.
The Sand Scorpions donated $1,000 to CSML, which runs the Moses Lake Food Bank. Lisa Whitney, grant writer for CSML, said the Murdock Trust will match the donation dollar for dollar up to $300,000.
The Murdock Trust, based in Vancouver, was established in 1975, and provides grants to nonprofit organizations in Washington, Oregon, Idaho, Montana and Alaska, according to a press release from the trust.
Whitney said the food bank also received a $200,000 grant from the Sunderland Foundation. The Kansas City-based foundation provides grants for construction projects undertaken by nonprofit organizations in areas served by the Ash Grove Cement Company, including Washington.
CSML's new building will be located on land donated by Chris Hansen, of Moses Lake, at the intersection of Grape Drive and state Route 17. It will replace the food bank's current location at 1075 W. Marina Dr.
Hansen said the Moses Lake food bank is a central distribution point for food banks throughout the Columbia Basin.
"We serve 34 food pantries in five counties," she said. "This is for five counties. A huge area."
The project received $2 million from the Washington state 2019-20 capital budget, but director Peny Archer said food bank administrators are still raising money to reach the estimated $2.9 million construction cost.
Sand Scorpions President Rich Archer said his group is a Grant County-based organization whose members like to go off road. The group sponsors a number of events each year at the Moses Lake Sand Dunes.
"We're about families," Rich Archer said.
Sand Scorpions member Brendan Douglass estimated membership at more than 1,000 families.
The Sand Scorpions raise money every year through their fireworks sales, Rich Archer said, and donate to local families and individuals, as well as local causes. The Daze of Camelot Animal Sanctuary receives an annual donation, Rich Archer said, and so does the local AARP chapter.
Cheryl Schweizer can be reached via email at cschweizer@columbiabasinherald.com.
---